Walnut Street Water and Sewer Rehabilitation Project
Purpose

Water and sewer lines in Walnut Street between Mountain and College avenues are some of the oldest in the city, dating back about 100 years. This project will replace these lines, along with some services, and address failing infrastructure that causes water quality concerns, low levels of fire protection and maintenance problems.

Utilities has scheduled the work to be done in phases in 2017 and 2018 to minimize impacts to local businesses, scheduled events and development in the Old Town area.
---
Phase 1. Old 6-inch clay sewer in Seckner Alley also was replaced with 8-inch pipe using a trenchless technology called 'pipe bursting.' Work was completed on schedule in April.

The existing 4-inch waterline in Pine Street was replaced with new 8-inch pipe from Firehouse Alley to Walnut Street in Phase 2. Approximately 240 feet of waterline was installed, along with services and fire lines in collaboration with the Brinkman Exchange development project. Work was completed as planned in September.

Phase 3 begins Jan. 2 and will continue through March 2018. Utilities will abandon two old 4- and 6-inch waterlines in Walnut Street and install 500 feet of new 8-inch waterline from College Avenue to Linden Street. Two new fire hydrants will be installed and water services will be connected to the new line.

Trenching operations, heavy equipment, dirt hauling, materials staging, and associated noise and dust will be present throughout the construction period. Walnut Street will be closed to traffic and parking during construction but deliveries and residential access will be accommodated. Sidewalks will remain open at all times.

Utilities will be distributing a limited number of parking vouchers to businesses on a monthly basis. In addition, signage on the construction fencing in the public right-of-way will be permitted for the duration of the project.

Project managers in the field, Tim McTague (Utilities) and Aly Corcoran (Ditesco), will be on site daily to address any issues that come up.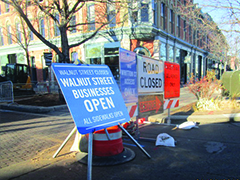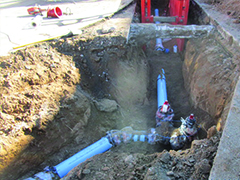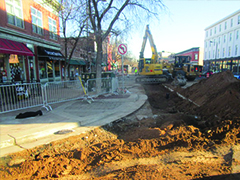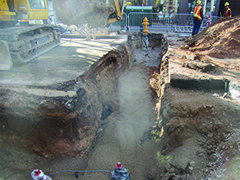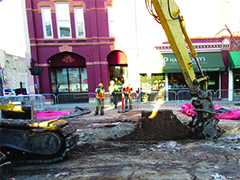 ---
Flyer
Project Map

First week of construction to replace the waterline in Pine Street.





Photos from the second week of construction.




Project Map

Weekly Updates
March 24, 2017 (PDF 2.4MB)
March 31, 2017 (PDF 1.3MB)
April 7, 2017 (PDF 1.9MB)
April 14, 2017 (PDF 1.9MB)

First week of construction to replace the sewerline in Walnut Street.




---

Week #2: Seckner Alley - crews are working around a variety of utilities to replace the sewer main in the alley.


To clean out the sewerline, the Vac truck backed into the narrow alley with only inches to spare on either side.



---

Additional work during the final weeks of construction.