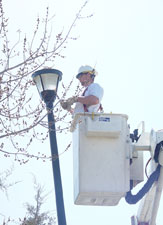 Fort Collins Utilities maintains more than 11,000 streetlights and appreciates your help identifying those not working correctly.

If you see a streetlight that is malfuntioning, tipped over, leaning, or with broken glass or exposed wires, call 970-221-6313. Streetlight outage notices also can be submitted through Access Fort Collins.
Please include the following information:
location (e.g., northwest corner, middle of block)
nearest address
closest intersection
Some lights have an ID number 6-7 feet up the pole, which is useful, if accessible. Your name and phone number are helpful in case we need additional information.

If you are reporting a traffic light issue, please call Traffic Operations at 970-221-6630.
---
Did You Know?
Fort Collins Utilities is committed to providing 'round-the-clock, world-class service to our community. We operate 24/7/365.
The Efficiency Works store sells water- and energy-saving products, including LED lighting, smart thermostats and showerheads.