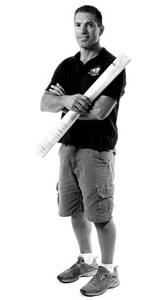 "At Operation Services, we believe a little dedication and effort go a long way in caring for facilities that reflect well on our city."
Bruce Byrne
Building Maintenance Supervisor,
Operation Services
World Class People
Who are the employees at the City of Fort Collins? Our organization is full of world class people with world class commitment. Providing service is more than just a job, it's a source of pride and City of Fort Collins employees do it better than most.
Each year "World Class People" recognizes City workers for their outstanding service, teamwork, individuality, and creativity. It's a chance to show the community who we are, not just what we do. Our organization is fortunate to have employees who take pride in their work, care about this community and see their job as way to make a difference in Fort Collins.
"I truly love the people I work with and appreciate being able to work with them everyday. I also really like being able to have a positive impact on at least one person in our community every day. I just really like being able to help people work through a problem and find a resolution!" ~
2008 Honoree Beth Sowder, Neighborhood and Building Services
"I really enjoy the variety in my position. You never know what is coming around the corner, but I must say that the best thing about my job is the folks I work with. I have always said that if you surround yourself with good people then good things will happen. Good things happen every day in the Parks Department and it all starts with the employees. I am proud to be associated with them." ~
2008 Honoree Mike Calhoun, Parks
"I love working for an organization that has the ability to directly impact the community that I live in." ~
2009 Honoree Suzanne Jarboe-Simpson, Management Information Services
"It's the willingness of the City as a whole organizationally and communitywide to continually question and debate choices for our future that makes this community great. I love being a part of it." ~
2010 Honoree Timothy Wilder, Advance Planning
The City of Fort Collins' vision is, "To provide world-class municipal services through operational excellence and a culture of innovation."

We believe our dedicated employees have contributed to recognition for our community: