2020 Wildfire Impacts on Water Quality
Wildfires, including the Cameron Peak Fire, are burning or have burned in our watershed and very close to some of our water supply infrastructure this summer.
Safe, reliable drinking water is always our top priority. Right now, your water continues to be completely safe to drink. We are monitoring water quality and quantity for wildfire impacts and other issues that can arise at any time in our water system
Water Quality Safety
Safe, reliable drinking water is always our top priority. With the concern over the spread of coronavirus, we want to reassure you that your drinking water is safe to use from your tap as usual, as confirmed by the World Health Organization (WHO), Centers for Disease Control and Prevention (CDC), Environmental Protection Agency (EPA) and American Water Works Association (AWWA).
We will continue to monitor water quality 24/7 at our treatment plants.
Before Opening Your Buildings to Employees - Important Water Quality Message to Businesses: When building occupancy decreases significantly (as it may have throughout the Stay-at-Home Order), the water held within the building's plumbing system can deteriorate. When water is not used regularly, the chlorine residual levels can decrease, which may result in a lower level of drinking water quality in these buildings.
Fort Collins Utilities continues to ensure water in our main lines is high-quality and safe; however, many customers are not aware that it is their responsibility to flush their water service lines and internal plumbing. Keeping water from getting stagnant is even more critical when buildings have had low or no occupancy.
2019 Water Quality Report
Americans drink more than one billion glasses of tap water every day, and Utilities is committed to providing its customers with reliable drinking water of outstanding quality. Learn where your drinking water comes from and how it compares to federal standards. If you would like to print this report, click here.
Fort Collins Utilities does not solicit water quality testing at homes or businesses, though some private companies do. Utilities' treated drinking water consistently surpasses state and federal standards.
If you have questions about water quality, read our 2019 Water Quality Report. You also can call Utilities' Water Quality Laboratory at 970-221-6863.
Fort Collins Utilities monitors water quality in three areas:
source waters (Upper Cache la Poudre River and Horsetooth Reservoir) — where our water comes from
treated water that is returned to the environment and the Lower Cache la Poudre River above and below the water reclamation facilities
The watersheds where our water comes from consist of the large areas of land that drain snowmelt and rainfall waters to the Poudre River and the Big Thompson River, Horsetooth Reservoir and other components of the C-BT project. Watershed monitoring and protection involves minimizing the negative impacts to the quality of these waters from activities on both land and water.
Fort Collins' drinking water comes from the Cache la Poudre River and Horsetooth Reservoir and is treated at the Water Treatment Facility. It is distributed to homes and businesses in Fort Collins through 525 miles of water mains.
After wastewater is treated at the Water Reclamation Facilities to meet or exceed all state and federal pollution control standards, it is returned to the environment where it is collaboratively monitored to protect the Cache la Poudre River downstream.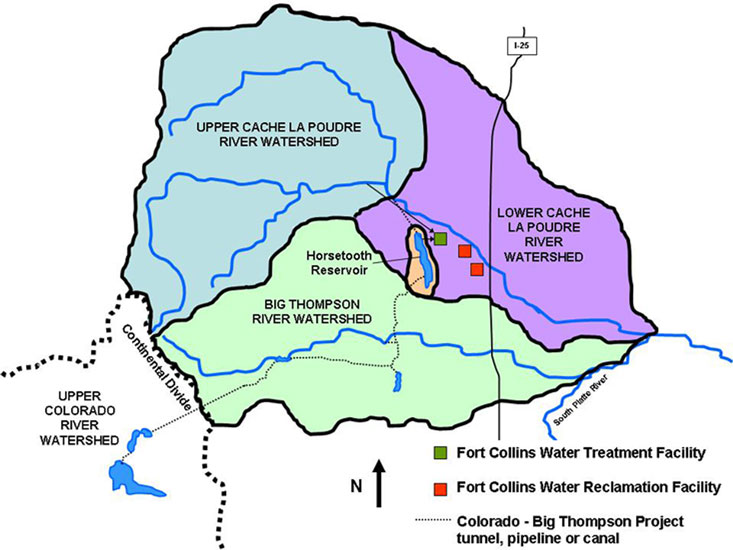 Fort Collins Utilities watersheds.
Best Tasting Water
in

the

Rocky Mountain Section 2019#
Fort Collins Utilities won the "Best of the Rocky Mountain Section" water at the 2019 annual conference of the Rocky Mountain Section of the American Water Works (RMSAWWA) in Keystone, Colorado. Second place was awarded to Aurora Water, Colorado with the City of Cheyenne Board of Public Utilities, Wyoming coming in third.
City of Fort Collins will now go on to represent the mountain west in the national "Best of the Best" water taste test at the American Water Work Association's Annual Conference and Exposition (ACE20) in Orlando, Florida, June 14-17, 2020. Over 11,000 water professionals across the country will gather at ACE20 where the best-tasting tap water in North American will be declared.
The RMSAWWA is the regional section for the AWWA, which is the largest non-profit, science-based organization in the world for drinking water professionals. The RMSAWWA covers Wyoming, Colorado and New Mexico and has over 2,400 members, representing water utilities, engineering consultants and water treatment specialty firms.