Thank you to everyone who joined us at the 2023 Garden Party!
Any information about future Garden Parties will be posted on this page as it becomes available.
This event
is

brought

to

you by:#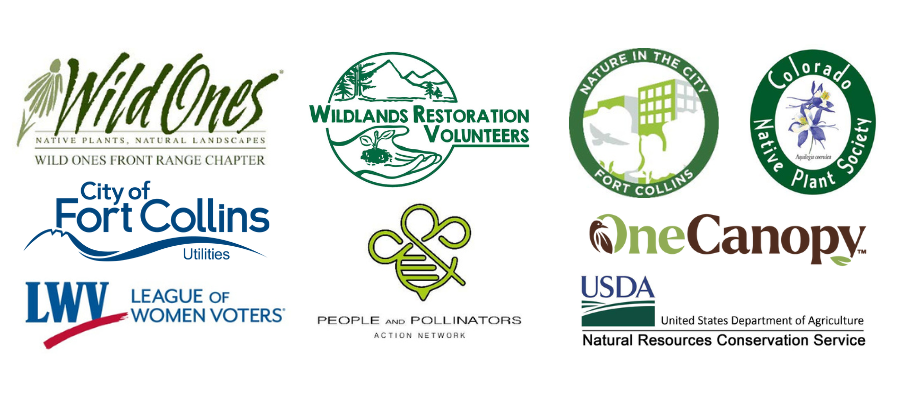 Past Garden Party Webinars
and

Resources#
By Illeane Podolski, Colorado Master Gardener (Reprint from NoCo Bloom)

There are many preconceived ideas and myths about xeriscaping. These myths highlight some of the most common misconceptions of xeriscaping in Colorado.

Myth 1: Xeriscaping is 'no maintenance' gardening
This is not strictly true. But choosing plants that can grow well in the waterwise landscape with as little additional water as possible allows for their adaptability, requiring much less maintenance than the plants in a typical traditional garden. There will still be some maintenance, such as dividing perennials, weeding, spacing, or removing vigorous plants, replacing mulch, and pruning. Smaller turf areas requiring less water will mean less mowing and less fertilizing.

Myth 2: Xeriscaping gardening is like a moonscape or desert
Xeriscape is not "Zero-scape." It is not a dry and dusty environment with no water and only rocks. These xeric gardens are full of life with small creatures, insects, colorful flowers, both native and non-native, ornamental grasses, shrubs, and trees. Many flowers that grow well in xeric gardens produce nectar to attract insects and bees. Gardening with less water doesn't mean water-wise gardens are desert-like.

Myth 3: Xeriscape gardens are boring
Xeric gardens offer year-round interest! There are many visual pleasures in these landscapes such as plants in colorful combinations, grasses, shrubs, textures of mulch and gravel, and interesting rocks. Garden sculptures and statues can also be added.

Myth 4: Without rocks, cacti, and gravel you can't have a xeriscape
Boulders and rocks do add structure and height to any garden, but they don't have to be the focal point of the xeriscape. Water-wise gardens depend on the principles of design, just as other types of garden landscapes. Our drier climate gardens have evolved from this image of rocks, cacti, and gravel use. There is wider availability of native and adapted plant material from high altitude dry climates, as well as various mulches, that make the xeric garden more about the plants than rocks, cactus, and gravel.

Myth 5: Only native plats thrive in xeriscaping
Native plants have adapted and tolerated the intermountain and high plains gardens, but there are many types of plants, shrubs and trees for xeric landscaping. Nurseries and the Plant Select® program have helped offer gardeners so many plant choices. They range from colorful to more subtle. Annuals that require less water can be mixed in seasonally as well.

By Katie Collins, Fort Collins Utilities

Native plants are the stars of the water-wise garden. With careful planning and diligent establishment watering, natives can save water (and time spent watering!) for years to come.

Q: Can I mix natives with non-native plants in the garden?
A: Certainly–this is where planning is crucial. Just as full-sun plants are grouped with other full-sun plants in a design, place plants with similar water needs together. This is known as 'hydrozoning.' A hydrozoned landscape prevents under- and over-watering.

Q: Do I need to water new native plants?
A: Absolutely! Any freshly planted plant–whether tree or grass, native or not–needs regular watering in the first year, with no exceptions. In year two, it is critical to gradually reduce the frequency of watering.

Q: How much should I water my established native plants?
A: Do a little research to understand where the native plants originated. For example, native plants found near bodies of water indicate a need for more supplemental water in the home landscape. That doesn't mean digging a pond in the backyard; instead, consider placing moderate water users in spots where moisture is more abundant, such as near downspouts or not far from a hose spigot. Native plants that originated in dry locations are adapted to dry conditions and may not need any supplemental water once established.

Xeriscape Resources:

Additional Resources:

---
Did You Know?
Planting trees on east, southeast, southwest and west exposures reduce solar heat gain and reduce glare through windows.
Scraping your dishes clean instead of rinsing them before putting them in the dishwasher saves water.