Welcome to Fort Collins, Colorado, an annual Tree City, USA award recipient for the last 33 years. Our staff prides itself in its commitment to maintaining our urban forest. The Forestry staff, within the Forestry Division, maintains more than 40,000 city property trees.
Invasive Insect Alert: Emerald Ash Borer (EAB)
This small beetle, originally from Asia, is responsible for killing over 50 million Ash trees in the United States. Many Eastern and Midwestern municipalities have lost nearly all of their Ash trees due to this deadly pest. Emerald Ash Borer is now present in Boulder, Colorado. The State Department of Agriculture and USDA/APHIS have issued an Ash Quarantine for all of Boulder County, which prohibits the movement of any Ash material out of the Quarantine Area.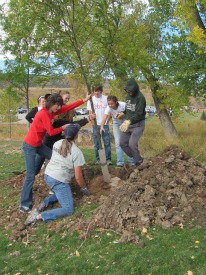 Feel free to contact Forestry (970)221-6660 regarding the following:
Services on City Trees and Property
Tree pruning, removal and requests
Tree planting, questions and requests
Hazard tree identification and inspection
Insect and disease identification and control
Tree work permits on City property (pruning, removal and planting)
Trees blocking traffic signs and signals
The Forestry Division is responsible for trees owned by the City. These are street trees located between the sidewalk and curb, trees in city medians, in parks and those located on other City property. The Forestry Division appreciates hearing from citizens about the location of storm damaged City trees. Contact the Forestry Division office at 970-221-6660 to report a broken City tree.
General Services
Arborist licensing
General information, literature and presentations on trees (City Park Tree Tour, Notable Tree Tour, Champion Trees etc)
Tree mulch program
Tree insect and disease notification (Dutch Elm Disease, Mountain Pine Beetle and Ips Beetle)
Private hazard trees threatening public property
Development review
Arbor Day program
Private Trees
Property owners are responsible for their trees and can contact a private licensed tree service for pruning or removing a storm damaged tree. Businesses that make tree pruning or removal cuts at 10 feet or greater above the ground when working within the City limits are required to be licensed by the City of Fort Collins. Licensed tree services have the skills needed to prune or remove a tree correctly. Homeowners can prune their own trees. Tree work can be dangerous and if not done correctly can further damage a tree. Using a skilled professional to do tree work can help insure that a damaged tree has the best chance for recovery.
Limbs
Branches from private trees can be chipped by a private tree service or hauled to Hageman Earth Cycle located on East Prospect. Limbs can also be hauled to the Larimer County landfill.