Trouble paying your bill due to COVID-19 concerns?
To support our customers during this crisis, we have not turned off utility services due to non-payment since March. As life slowly goes back to a new normal, utility operations, including disconnections, will resume.
Need more time? Contact us at 970-212-2900 and we will work with you to set up a payment arrangement.
Need help paying your bill? In response to COVID-19, the Payment Assistance Fund and the Low-Income Energy Assistance Program (LEAP) have been expanded.
Contact an agency that distributes funds on our behalf to learn more:

Discover Goodwill,1-888-775-5327
Catholic Charities Larimer County, 970-484-5010
La Familia/The Family Center, 970-221-1615
We're here for you. Reach out to the Utilities Affordability team at dXRpbGl0aWVzYWZmb3JkYWJpbGl0eUBmY2dvdi5jb20= if you have any questions or concerns.
Welcome to Utilities Insights! This information will provide information and tools you can use to reduce your energy and water use, which can lower your utility bill. Each month, we will add information about different topics, such as heating and cooling, refrigeration, bathroom water use or electronics. We will also connect you to free City of Fort Collins events and programs.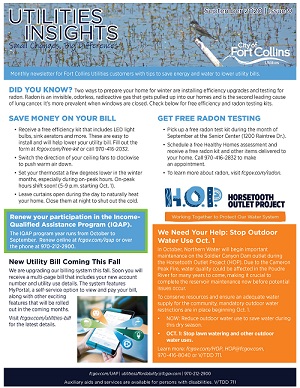 Download Previous Newsletters