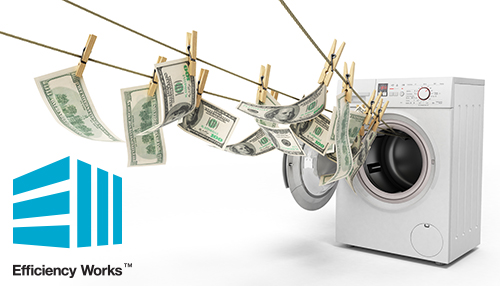 Fort Collins Utilities electric and water customers are eligible for a $50 rebate on "ENERGY STAR® Most Efficient 2023" clothes washers.
Not all ENERGY STAR® machines qualify for a rebate. Before you buy, verify the make and model number here to ensure it qualifies. (Make sure the "Most Efficient" box on the left is checked.)
Equipment must be:

Installed at a Fort Collins Utilities residential electric or water service address
New, qualified models on the ENERGY STAR® Most Efficient 2023 list
Purchased between Jan. 1 and Dec. 31, 2023

2022 applications must be submitted by Jan. 15, 2023. Please allow up to eight weeks for processing. This rebate may not be combined with other instant rebates offered by Fort Collins Utilities or Efficiency Works.

Purchase and install appliances that meet the eligibility requirements above.
Complete the online rebate application.


Payments provided by utilities (including Fort Collins Utilities) to Participants for the purchase or installation of water conservation measures may in some circumstances be considered as (partially) taxable income by the IRS. Participants or their assigns receiving incentive payments totaling $600 or more during a program year and who are not organized as a corporation will receive a 1099-MISC from Fort Collins Utilities in January or February of the subsequent year. Participant, or alternate payment recipient, may wish to consult a tax advisor on this matter.
What
an

ENERGY STAR® clothes washer can do

for

you#
They spin up to twice the speed of a conventional washing machine, drying your clothes faster and saving you time.
They adjust the water temperature to optimize the effectiveness of modern detergents, giving you the best clean and taking care of your clothes.
They accept large, bulky loads, eliminating the need for more loads or trips to the laundromat.
They operate smoothly and self-balance the load, keeping the wash quiet and still.
Lower utility bills:
Prices have dropped and are now close to the cost of a standard machine.
They use 25 percent less energy and 45 percent less water than an old fashioned top loader.
A 10-year-old top loader, costs you nearly $200 more per year to operate than a new ENERGY STAR® machine, which quickly makes up the price difference.
Not ready
for

a

new washer?#

Check out our tips to improve your laundry experience for little to no cost.
Learn More#
Clothes washer disposal

Many local appliance stores will pick up old clothes washers as part of delivery charges for new machines. For information on disposal options, visit Environmental Service's recycling page.
---
Did You Know?
Closing crawl space vents and covering the crawl space floor with at least 6 millimeters of plastic can reduce soil moisture.
Turning off printers, copiers, coffee machines and other equipment at end of day saves energy.