Irrigation Efficiency
for

HOA, Multifamily

and

Commercial Properties#
Looking for help with Excess Water Use surcharges? Check out the Allotment Management Program. Qualified customers may be eligible to receive a waiver from Excess Water Use surcharges for up to three years, if a water conservation project is implemented. To receive a waiver in 2022, applications must be submitted by Dec. 1, 2021.
Looking to convert your landscape? Check out the Xeriscape Incentive Program for HOAs and Commercial Properties. Applications must be submitted by April 9 to be considered for 2021 funding.
Save water and money with a landscape water budget or by working with a Certified Landscape Professional.
Landscape Water Budget Program#
Water bills can be a large expense for HOAs and businesses. Enroll in the free Landscape Water Budget program to see if you can save money on your landscape expenses. Like a financial budget, a water budget helps make the best use of your resources by tracking water use and comparing it to water-use goals determined by vegetation type, irrigated area and weather. This program is only available to Fort Collins Utilities water customers with commercial water taps.
Participants will:
Receive initial report outlining recommended water use compared to current water use.
Participate in a one-hour site visit to review budget and basic opportunities. We ask that the community manger/property manager, landscaper, facility manager, and a HOA member (if applicable) attend to increase communication between groups and encourage common goals.
Receive subsequent reports through the 2019 irrigation season outlining recommended water use and current water use. Subsequent reports serve as "check-ins" to see how the site is performing.
Space is limited so sign-up today! Register here once you have read the Program Guidelines (PDF 182KB).
For more information, contact Abbye Neel, Water Conservation Specialist, 970-416-4371, aneel@fcgov.com.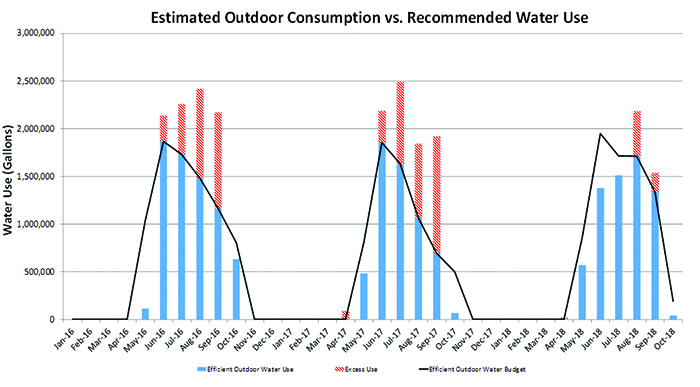 A sample water budget identifies when water is being overapplied (red). Budget is based on the landscape area and Fort Collins' weather for the year.
Free Sprinkler Audits
from

Resource Central

and

Northern Water#

Fort Collins Utilities receives roughly half of its water from the Colorado-Big Thompson (C-BT) project, which is administered by Northern Water. Thanks to a new partnership, businesses and HOAs in Northern Water's service territory, which includes Fort Collins Utilities, can take advantage of Resource Central's Slow the Flow landscape irrigation audits. These 90-minute audits are designed to help identify water waste and offer direction for efficient water use. Restrictions apply and limited appointments are available.

Call 303-999-3824 or view the flyer for details.
Save
by

working with

a

Certified Landscape Professional#

The new Certified Landscape Professionals (CLP) program helps local residents identify certified landscape and irrigation professionals.

CLP members have gone through the rigorous process of obtaining certification from a leading landscape organization, which is why Utilities recommends the following businesses for landscaping and irrigation needs.
Partner
to

Save –

A

Midstream Process#

Utilities no longer offers irrigation rebates directly to commercial customers. Instead, Utilities works directly with contractors (CLPs) to encourage installation of high-efficiency irrigation equipment.

With this approach, more irrigation installs are performed by qualified, water-efficiency-focused contractors. Customers working with CLPs receive high-quality service and are no longer burdened with paperwork.

Partner with a CLP to save today.