Compare Facility Demand
and

Coincident Peak#
Facility demand is the highest rate or speed at which your facility uses electricity each month. Facility demand charges cover the cost of the operation, maintenance and replacement of the electric distribution system used to serve our customers. The greater the demand each customer requires of the electric system, the greater the cost to operate, maintain and replace the electric distribution system.
Coincident peak is your facility's demand during the time when electricity demand systemwide is the highest.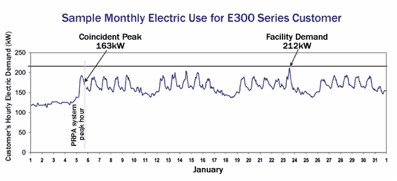 Facility Demand: The customer's highest demand for the month was 212 kilowatts (kW), which occurred noon - 1 p.m. on Jan. 23.
Customer's Facility Demand: 212 kW
Facility Demand Charge: 212 kW x $9.21 per kW = $1,953
Coincident Peak: Platte River's peak hour occurred 6 - 7 p.m. on Jan. 5. The customer's demand for that hour was 163 kW.
Customer's Coincident Peak: 163 kW
Coincident Peak Charge: 163 kW x $11.01 per kW = $1,795
If this example was for the months of June, July or August, the summer coincident peak demand charge would be 163 kW x $14.50/kW = $2,364.
For detailed information, see the Fort Collins City Code Chapter 26, starting with section 26-462 and Electric Service Rules and Regulations (PDF 284KB).