Fort Collins Utilities operates a Flood Warning System to notify the public and emergency services about:
Real-time information on rainfall, stormwater run-off and weather conditions
Early detection of hazardous conditions
Real-Time Data#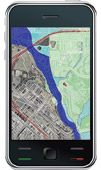 In the new flood warning map, view data collected from rain gauges, streams, irrigation ditches and detention ponds around Fort Collins, all in one location.
The National Weather Service uses the data, along with other information, to issue flash-flood warnings and weather advisories. Data is collected at 54 gauge sites from 38 automatic rain gauges, 35 water-level gauges and five automatic weather stations. The stations automatically report data to computer base stations. If gauges exceed a set level, emergency management and utility personnel are notified.
Larimer County residents may sign up for emergency notifications on cell phones, business phones, via text messages and e-mails in addition to traditional landline phones. Learn more at leta911.org.
Report vandalism
of

Flood Warning System#
Vandals in progress
Call Police Services at 970.221.6540.
Previous vandalism
Contact Utilities.
---
Did You Know?
You can save approximately 50¢ per load by drying your laundry during off-peak hours.
After a rain, skipping watering until the grass dries will save not only water, but also money.
Off-peak Time-of-Day prices are approximately 70% less than on-peak prices.