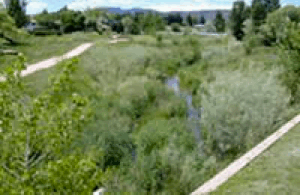 Spring Creek is a major watercourse that flows from Spring Canyon Dam at Horsetooth Reservoir to its confluence with the Poudre River. The Spring Creek drainage basin encompasses nearly nine square miles in central Fort Collins. The basin is dominated by residential development, but also includes open space, parks and isolated areas of commercial and industrial development.


The City revised the Spring Creek basin's floodplain as part of a comprehensive update of the City's stormwater master plans in late 2002. The problems identified in the basin include 178 structures damaged, eight roads overtopped, and overtopping of the Burlington Northern Railroad during a 100-year storm, with an estimated $12.25 million in damage.


The recommended solutions include constructing or enlarging detention ponds, reinforcing the BNRR embankment, stabilizing the banks of Spring Creek and improving storm sewers. These improvements would prevent damage to 154 structures and six roads (in the form of overtopping) during a 100-year event.
The master plan update is currently underway. The goal is to address stormwater quality from rainfall runoff and to identify stream restoration projects that protect the city's watersheds.
Flooding History#
Spring Creek begins at the Spring Canyon Dam at Horsetooth Reservoir. The drainage area below the dam is 12 square miles and predominantly urban development.
Usually an appealing stream adjacent to a popular bike trail, Spring Creek can change into a torrent of floodwaters during severe storms.
In 1938, when floodwater backed up to a width of 200 feet behind a culvert at Stuart Street, it spilled over the top and took the road surface with it. In 1961, Prospect Street and Hospital Road (Lemay Avenue) were flooded for the fourth time that summer, when storm water overflowed a 30-inch storm sewer.
Flooding occurred in 1977 and again in 1983, when a severe storm dropped 2.22 inches of rain in three hours. Spring Creek backed up, filling the basement of a paint store and washing 10,000 gallons of painting chemicals into the waterway.
The most devastating flood occurred in 1997 when 14.5 inches of rain fell in 31 hours. The Flood of 1997 was the City's worst natural disaster. The Coloradoan reported on the "storm that tore city's hearts, homes," when five residents lost their lives, a building exploded, a train derailed and 400 people were rescued from the floodwaters. Across the city, over $200 million in damages were attributed to the storm.
The impact of the storm would have been far worse had the City not taken steps in the early 1990s to mitigate flooding problems.
Over $5 million was spent on stormwater improvements in the Spring Creek basin, including channelization and bridge improvements, reinforcement of the Burlington Northern railroad embankment and acquisition and relocation of structures in high hazard areas (30 mobile homes, nine houses, one business and a retirement home). At least 98 lives were considered "not at risk" because of the acquisition and relocation projects.
Despite Spring Creek's small drainage area, its potential for damaging flooding cannot be overlooked. Spring Creek's legacy can be seen in the high water marks posted on metal signs along the bike path.
---
Did You Know?
Maintaining your cooling equipment ensures it is running efficiently.
To keep your dryer working at its best, make sure its vent pipe is not kinked or blocked.
You can save money by shifting your electric use to the lower-priced, off-peak hours or by reducing your overall use.