Powering Electric Vehicles (EVs)#
The City of Fort Collins is working on an EV Readiness Roadmap. This page is under construction as we transition and develop a new EV program. Check back for more information soon.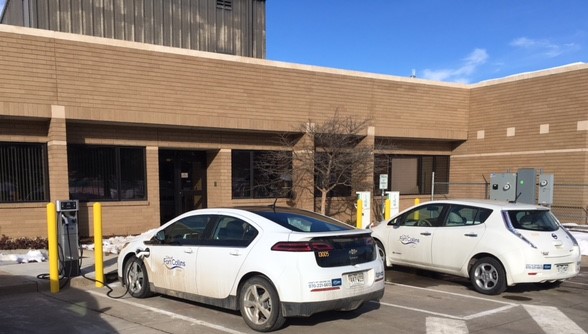 Fort Collins Utilities is responsible for the electric grid that powers your EV. The benefits of electric vehicles closely align with City policy around reducing carbon emissions, providing highly reliable electric service and enhancing local economic health.
To learn more, read the FAQs below. For more information, visit Northern Colorado Clean Cities.
An Electric Vehicle (EV) is a type of vehicle that runs on electricity, powered by rechargeable battery packs.

There are two main types of EVs:

Battery electric vehicle - all power is stored in a battery.
Hybrid electric vehicles - have a down-sized internal combustion engine in addition to the battery.

EVs have several benefits. They are a more energy efficiency and environmentally friendly alternative to conventional vehicles:

EVs do not emit tailpipe pollutants and provide better local air quality.
The cost and savings of EVs are better than gasoline-powered vehicles as there are federal and state tax credits that offset the cost of purchasing an EV. EVs have minimal maintenance cost compared to traditional vehicles. Miles per gallon and miles per kilowatt-hour (kWh) cost comparison for a year shows significant ongoing cost savings while driving an EV.
There's a feel-good factor by knowing that as an EV owner, the carbon footprint is less than a non-EV.
You won't have to go to the gas station anymore because you can often charge from the convenience of your home or at public charging stations.

Yes, EVs are held to the same national safety standards. Charging your EV is just as safe as charging your cell phone.

Visit a dealership to get more information about tax credits, EV charging process, costs and savings. Visit www.driveelectricnoco.org for more information.

Your carbon footprint is the amount of carbon-based energy sources you use to charge your EV. You can reduce the amount of energy that comes from carbon sources through the following programs:

Good news for EV lovers! The City of Fort Collins has replaced all the public charging stations throughout the community with brand new dual-port ChargePoint charging stations. The locations of the new charging stations are:

Downtown Civic Center Parking Garage
Downtown Firehouse Alley Parking Garage
Mulberry Pool
Senior Center
South Transit Center
EPIC (Edora Pool Ice Center)
PRPA (Platte River Power Authority)

The charging stations will still cost drivers a flat rate of $1/hr.

There are other charging stations that are not operated by the City. View an interactive map of all charging stations around Fort Collins at chargehub.com/en/charging-stations-map.html.

*Please note, charging stations are listed here for awareness only. The status of individual chargers may vary.

When we factor in the operation/maintenance, networking and electricity cost, the flat rate of $1/hour does not recover enough revenue to sustain this business model. Therefore, the rate is subsidized through a state grant.

Level 1: Provides charging through a 120-volt plug. It doesn't require installation of additional charging equipment and is the slowest type of charging.
Typical location: homes.
One hour of charging provides 2–5-mile range.

Level 2: Provides charging through a 240-volt plug, just like the one you may have for an electric dryer. It requires installation of specialty charging equipment and may require an electrician.
Typical location: homes, public charging, at-work charging.
One hour of charging provides 10–20-mile range.

DC Fast Charger or Level 3: Provides charging through 480-volt specialty plug and charging equipment.
Typical location: public charging stations.
20 minutes of charging provides 60–80-mile range.

The ability to charge your EV at home is not only convenient, but, if you charge during off-peak hours, it's also cheaper to charge at home than at a public charging station. Many Level 2 chargers are connected via your home Wi-Fi, so that you can manage charging remotely.

The cost varies with different brands of chargers, labor and need for any electrical upgrades. On average, installation of a Level 2 charger at home may cost between $400 and $1000. If your EV home charging unit requires an increase in size of your electrical panel's main breaker, please check with your electric utility for costs associated with modifying your electric service.

Visit the Efficiency Works Store to find out if there are rebates on the Level 2 chargers that may help offset the cost.

The charging cost associated with an EV is about the same or less than the cost required to operate an average central air conditioner or water heater for few hours. Charging during off-peak hours maximizes your cost savings.

Depends on whether you're charging you vehicle during on-peak or off-peak hours.

For example, let's say you are charging your electric vehicle during off-peak hours and it has a 24-kilowatt-hour size battery. If the electricity costs $0.07 per kilowatt-hour, then the cost to charge your EV at home would be $1.68 (assuming the battery is fully depleted).