Commercial Solar Rebate Program#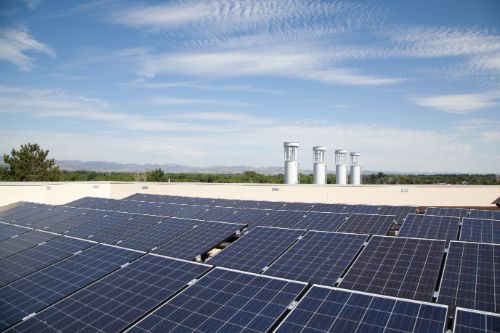 Fort Collins Utilities supports customers generating their own renewable energy using solar photovoltaic (PV) panels. The Commercial Solar Rebate Program provides incentives and guidance to help make sure each project is a success.
Applications for the 2023 Commercial Solar Rebate Program are now being accepted.
Commercial customers can receive rebates up to $50,000. Rebate amounts are calculated based on $0.50/Watt of DC system generation capacity and include a 20-year Renewable Energy Credit (REC) assignment to Fort Collins Utilities. See eligibility requirements below for more details.
Rebate Eligibility#
Must be a Fort Collins Utilities electric customer. View the City of Fort Collins Electric Service Area Map.
PV system must be sized greater than 500 watts and less than the capacity to provide 120 percent of average annual energy use over the previous 24 months.
Systems must meet Utilities Interconnection Standards (PDF 353KB).
Equipment must be new and UL listed and named on the eligible equipment list.
The system cannot be shaded between 9 a.m.-3 p.m. If questionable, the applicant must submit shading analysis (check with your solar contractor).
Customer agrees to manage trees and other potential shading sources to prevent shading from 9 a.m. - 3 p.m.
System orientation must achieve a minimum of 90 percent of estimated ideal annual output for full rebate allowance.
The system must be installed within six months of the rebate reservation letter.
Solar Rebate Application#
Solar Contractors submit the Distributed Energy Interconnection Application, along with supporting documents as outlined in the application.
The customer must review and acknowledge Fort Collins Utilities' interconnection and policies on page 4 of the application.
Note that the application workbook contains the rebate applications for both commercial and residential projects. For commercial solar projects, disregard all references to "Participating Solar Contractor" and to energy audit requirements.
Bill Credits#
When you generate solar power, any energy you don't use immediately flows back into the electric grid. Fort Collins Utilities pays for the energy returned to the grid through net metering credits on your monthly utility bill (see infographic) based on the current commercial rates.
---
Did You Know?
You have the power to cut your energy bill any time of year.
There are more than 500 miles of water mains throughout Fort Collins.
Using an ENERGY STAR® programmable thermostat or wifi thermostat can help you better control your home's comfort and utility costs.