Commercial Rate Codes Only#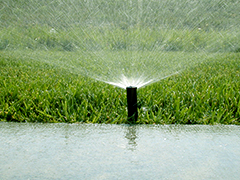 The EWU surcharge is collected when a commercial account uses more than its annual water allotment (definitions below). The current EWU surcharge is $16.67 per 1,000 gallons over the allotment.
Participate in the Allotment Management Program (AMP): Qualified commercial customers may be eligible to receive a waiver from their EWU surcharges for up to three years if they implement a water conservation project.


Sign up for MyWater: Monitor your hourly water use and receive free leak alerts via email with Utilities' online tool (formerly known as WaterSmart).
– MyWater Guide: How to find your allotment and up-to-date water usage.


Reduce water use through efficiency and conservation projects: Apply for rebates and receive a Landscape Water Budget, efficiency check or indoor water audit.
Allotment: The volume of water a given tap can use in a 12-month period (Dec. 1 – Nov. 30) before incurring Excess Water Use surcharges. The allotment volume is based on the amount of WSR satisfied at the time of development plus any increases to the allotment paid for after development. A customer may increase their allotment at any time by paying WSR fees or providing City water certificates and credits.


Excess Water Use (EWU) surcharge: A volumetric charge based on all water used through the remainder of a 12-month billing period once a customer has exceeded their annual allotment. The 12-month accrual period is Dec. 1 – Nov. 30. This surcharge is tied to the cash rate for the WSR fee and is evaluated every two years. EWU is applied in addition to the regular utility rates.
Commercial: All non-residential commercial, industrial, public entity, group housing, nursing homes, fraternities, hotels, motels, commonly owned areas, clubhouses, and pools, including HOA common spaces and irrigation accounts. Multifamily development and redevelopment do not fall into this category.


Water Supply Requirement (WSR): A WSR accounts for the additional water demand, defined in gallons or acre-feet of water, brought into the Utilities water service area by a new development or redevelopment. WSRs provide the revenue to develop reliable water resources for the development, including water rights and associated infrastructure.


WSR Fee: A development fee collected to pay for the use of water necessary to serve the development. It covers the impacts of that new development or redevelopment on the water supply, from the source all the way to the water treatment facility.
How are allotments determined?
Allotments are determined at the time of development and are based on estimated use by business type and existing tap size.


What is the purpose of an allotment?
Depending on the type of business, some customers use more water than others. Water allotments are based on the amount of Water Supply Requirements (WSR) provided to Utilities to meet the customer's needs. Funds collected through the Excess Water Use surcharge, which are applied to water use over the allotment, allow Utilities to acquire additional water supplies if a customer uses more water than their allotment.

What is the purpose of the Excess Water Use surcharge?
Unlike regular utility rates, which cover the cost of operation and maintenance of the distribution system, revenue from the EWU surcharge goes toward acquiring, developing and improving Utilities' water resources to address the impact of customers exceeding their planned water demands/allotments.

How do I know if am going to receive an Excess Water Use surcharge?
Monitoring use is essential to ensuring an account does not exceed its allotment. Sign up for our complimentary monitoring service, My Water. The Landscape Water Budget Program is another great complimentary monitoring service for taps with irrigation.

If I exceed my allotment, when will I start to see the Excess Water Use surcharge on my bill?
The EWU surcharge will appear on the monthly bill when the allotment was first exceeded. The surcharge will be applied for the remainder of the calendar year as well. For example, if a customer exceeds their allotment in the middle of July, the surcharge will appear for the first time on the July bill and will appear on all subsequent bills for the remainder of the year.

How do I determine what my allotment is?
For more information, call Utilities Customer Accounts at 970‑416‑4268 or sign up for our free monitoring service, MyWater.

How do I determine if I need to increase my allotment?
Fort Collins Utilities can determine if an increase to an assigned allotment is needed or if a customer can improve their water efficiency to use less than their assigned allotment. Contact Utilities Water Conservation for more information at 970‑416‑4371 or WaterConservationStaff@fcgov.com.

How can I increase my allotment?
First, contact Utilities Water Conservation at 970‑416‑4371 to determine if it is necessary to increase the allotment. If it is, customers can pay to increase the allotment at any time.


Why has the Excess Water Use surcharge been increasing?
Due to the rising costs of developing water resources, Utilities has proposed increases to the cash rate for the WSR and the EWU surcharge to Council. These have addressed the rising costs to develop additional water resources, which are needed to provide customers with a reliable water supply in the face of drought, population growth and climate changes.
Who can I contact with questions?
Reach out to our Customer Accounts team at UtilitiesCustomerAccounts@fcgov.com or 970‑416‑4371.
---
Did You Know?
You can reduce 'vampire' power waste by unplugging electronics that are not in use or plugging them into a smart power strip.
Installing cooking vent hood controls with VFD fans and sensors (rebates available) at your business can help save energy and money.