Time-of-Day (TOD) Residential Electric Pricing - Effective October 2018
Fort Collins Utilities will transition to Time-of-Day (TOD) electric pricing for all residential customers in October 2018. With TOD pricing, when you use electricity is as important as how much electricity you use. The price you pay (see TOD pricing below) changes based on the time of day, the day of the week and the season.
TOD has two levels of pricing: on-peak and off-peak, and two seasons: summer and non-summer. On-peak hours cost more because that's when electricity use is highest.
On-peak non-summer (October-April) hours: 5-9 p.m., weekdays only.
On-peak summer (May-September) hours: 2-7 p.m., weekdays only.
Off-peak hours are the remaining 19-20 hours of the day, weekends and major holidays, and will be priced approximately 30 percent less than current electric rates.
TOD pricing is similar to the way you pay for other services, including rideshare programs (e.g., Uber, Lyft) and matinee movies with costs that vary based on on-peak and off-peak times.
---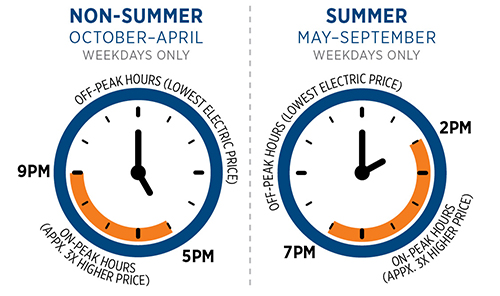 As electric use increases during on-peak times, so do the costs to produce and distribute it. TOD prices reflect the varying costs of electricity throughout the day and provide a more equitable way to charge customers.

Additionally, TOD pricing has been shown to reduce the amount of electricity used by residential customers (during on-peak times and overall).

This pricing structure is part of our effort to modernize our electric grid, creating more flexible, sustainable, equitable and data-driven infrastructure.

---

TOD has two levels of pricing: on-peak and off-peak, and two seasons: summer and non-summer. On-peak hours cost more because that's when electricity use is at its highest.

People are coming home from work, turning on their air conditioners, TVs, ovens, appliances, etc. An increase in rates during on-peak times reflects the higher costs to produce and provide power during that time.

On-peak non-summer (October-April) hours: 5-9 p.m., weekdays only

See below pricing links for specific costs.

On-peak summer (May-September) hours: 2-7 p.m., weekdays only

See below pricing links for specific costs.

Off-peak hours

Remaining 19-20 hours of the day, depending on the season (summer or non-summer)
Weekends
Six major holidays (New Year's Day, Memorial Day, Fourth of July, Labor Day, Thanksgiving and Christmas)
See below pricing links for specific costs.

---

The majority of customers (90+ percent) will be on the TOD rate shown below. Customers with all-electric heat homes will be placed on the Electric Heat TOD rate, as shown in the 'TOD Pricing - Electric Heat Customers' section.

Fort Collins Utilities currently is working to verify TOD rate assignments based on whether a residence is heated entirely by non-electric heat sources (e.g., gas furnaces or gas boilers) or all-electric heat sources (e.g., electric baseboards or electric heat pumps).

TOD Rate (Includes PILOTs*)
This rate applies to all residential customers who have a gas furnace or gas boiler that serves as the primary heat source.

Examples:

Residences heated with a gas furnace for any portion of the home.
Residences heated by hot water baseboards via a gas boiler.
Residences heated by a geothermal or mini-split heat pump without backup electric baseboard heat.

Effective in October 2018
Fixed Charge
Paid by all customers each month
$6.16

Summer
May-September

On-Peak
Monday-Friday
2-7 p.m.

23.45¢ / kWh
Off-Peak
All other hours, weekends and holidays
6.63¢ / kWh
Non-Summer
October-April
On-Peak
Monday-Friday
5-9 p.m.
21.05¢ / kWh
Off-Peak
All other hours, weekends and holidays
6.45¢ / kWh

Tier Charge
Additional charge for all kWh used in excess of 700 kWh in any month

1.76¢ / kWh

*PILOTs: A 6 percent payment in lieu of taxes that is calculated on electric, water and wastewater rates. PILOTs are a payment to the City's general fund to replace revenue the City would have received from the utility in taxes and franchise fees if the utility were privately owned.

Only the primary heating source determines the type of TOD rate for customers, not solar (PV), electric vehicle charging or other factors.

All-electric heat homes, without gas heating, will be placed on this rate.

Fort Collins Utilities currently is working to verify TOD rate assignments based on whether a residence is heated entirely by non-electric heat sources (e.g., gas furnaces or gas boilers) or all-electric heat sources (e.g., electric baseboards or electric heat pumps).

Electric Heat TOD Rate (Includes PILOTs)
This rate applies to all residential customers with electric-resistive (all-electric) heating as the primary heat source for the home.

Examples:

Residences heated solely by electric baseboard heaters.
Residences heated by an electric heat pump through a central duct system.
Residences heated by a geothermal or mini-split heat pump with backup electric baseboard heat.

Effective in October 2018

Fixed Charge
Paid by all customers each month

$6.16

Summer
May-September

On-Peak
Monday-Friday
2-7 p.m.
24.09¢ / kWh
Off-Peak
All other hours, weekends and holidays
7.27¢ / kWh
Non-Summer
October-April
On-Peak
Monday-Friday
5-9 p.m.
21.68¢ / kWh
Off-Peak
All other hours, weekends and holidays
7.08¢ / kWh
Tier Charge
Additional charge for all kWh used in excess of 700 kWh in any month
0

*PILOTs: A 6 percent payment in lieu of taxes that is calculated on electric, water and wastewater rates. PILOTs are a payment to the City's general fund to replace revenue the City would have received from the utility in taxes and franchise fees if the utility were privately owned.

Only the primary heating source determines the type of TOD rate for customers, not solar (PV), electric vehicle charging or other factors.

Effective in October 2018.

Solar PV (net-metered) customers will continue to receive credits for solar energy returned to the grid, based on the on-peak and off-peak hours as shown below.

Fort Collins Utilities is currently working to verify TOD rate assignments based on whether a residence is heated entirely by non-electric heat sources (e.g., gas furnaces or gas boilers) or by all-electric heat sources (e.g., electric baseboards or electric heat pumps).

Only the primary heating source determines the type of TOD rate for customers, not solar (PV), electric vehicle charging or other factors.

TOD Rate (Includes PILOTs*)
Electric Heat TOD Rate (Includes PILOTs*)
This rate applies to all residential customers who have a gas furnace or gas boiler that serves as the primary heat source.
This rate applies to all residential customers with electric-resistive (all-electric) heating as the primary heat source for the home.

Examples:

Residences heated with a gas furnace or boiler for any portion of the home.
Residences heated by hot water baseboards via a gas boiler.
Residences heated by a geothermal or mini-split heat pump without backup electric baseboard heat.

Solar Credits

Examples:

Residences heated solely by electric baseboard heaters.
Residences heated by an electric heat pump through a central duct system.
Residences heated by a geothermal or mini-split heat pump with backup electric baseboard heat.

Solar Credits
Summer
May-September
On-Peak
Monday-Friday
2-7 p.m.


-22.13¢ / kWh

Summer
May-September

On-Peak
Monday-Friday
2-7 p.m.
-22.72¢ / kWh
Off-Peak
All other hours, weekends and holidays
-6.26¢ / kWh
Off-Peak
All other hours, weekends and holidays
-6.85¢ / kWh
Non-Summer
October-April
On-Peak
Monday-Friday
5-9 p.m.
-19.86¢ / kWh
Non-Summer
October-April
On-Peak
Monday-Friday
5-9 p.m.
-20.45¢ / kWh
Off-Peak
All other hours, weekends and holidays
-6.08¢ / kWh
Off-Peak
All other hours, weekends and holidays
-6.68¢ / kWh

Credits for returned energy do not have a tiered rate component.

*PILOTs: A 6 percent payment in lieu of taxes that is calculated on electric, water and wastewater rates. PILOTs are a payment to the City's general fund to replace revenue the City would have received from the utility in taxes and franchise fees if the utility were privately owned.

Only the primary heating source determines the type of TOD rate for customers, not solar (PV), electric vehicle charging or other factors.

Fort Collins Utilities will transition to TOD pricing beginning in October 2018. TOD charges will be dependent on the start of your October billing cycle and reflected on the utility bill you receive in November.

---

As electric use increases during on-peak times, so do the costs to produce and distribute it. TOD prices reflect the varying costs of electricity throughout the day and provide a more equitable way to charge customers.

During the summer months (May-September), costs and electricity use are highest in the late afternoon and early evening hours due to air conditioning.

In non-summer months (October-April), costs and electricity use are highest in the early evening due to lighting and heating.

Electricity prices are lower on nights and weekends when demand is lower and the cost to provide energy is less expensive.

---

TOD pricing gives you the flexibility to control your electric bill:

SHIFT your electric use to off-peak times.
USE LESS during on-peak hours.
REDUCE your overall use.

Consider these simple actions:

Run your clothes dryer and dishwasher in the morning, later in the evening/night or on weekends.
Do your laundry in the morning or on weekends.
Charge electronics and electric vehicles overnight.
Use programmable thermostats to better control heating and cooling costs, and set it to 78° in the summer and 68° in the winter.
Pre-cool your home before 2 p.m. during the summer, and pre-heat it before 5 p.m. in non-summer months.
Make meals that don't require the oven.
Use fans during the on-peak hours of the summer instead of air conditioning.
Install LED light bulbs, and be sure to turn them off when not needed.
Reduce 'vampire' load power by unplugging electronics that are not in use.

Learn about our efficiency programs, services, rebates and home energy audits.

Remember, it's not just about using less electricity, it's also about using it at the right times.

---

The electric line item descriptions on your bill will be associated with your on-peak and off-peak energy use. If the billing period crosses between a summer and non-summer month, your bill will breakout the use for each season according to the different prices.

---
---