The average household could save more than 2,900 gallons per year by installing WaterSense labeled showerheads.

The WaterSense label means the showerhead was independently tested to ensure a good shower doesn't have to be sacrificed to achieve water savings.

Get a $10 bill credit for purchasing a WaterSense showerhead.
---
Eligibility

Equipment must be:
new, WaterSense labeled showerhead (1.5 gpm or less)
installed at a Fort Collins Utilities residential water service address
purchased between Jan. 1 and Dec. 31, 2019
limit two per account, per year
---
Get Started:
purchase and install qualified showerheads according to program rules on the application
return completed application (PDF 526KB) and copy of sales receipt(s) to:
Fort Collins Utilities
Customer Service Division
Home Conservation Rebates
PO Box 580
Fort Collins, CO 80522
or scan and email to cmViYXRlc0BmY2dvdi5jb20=
2019 applications must be submitted by Jan. 15, 2020
allow up to eight weeks for bill credit processing
---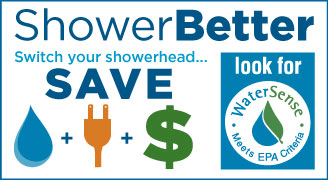 Tax Information
Payments provided by utilities (including Fort Collins Utilities) to Participants for the purchase or installation of water conservation measures may in some circumstances be considered as (partially) taxable income by the IRS. Participants or their assigns receiving incentive payments totaling $600 or more during a program year and who are not organized as a corporation will receive a 1099-MISC from Fort Collins Utilities in January or February of the subsequent year. Participant, or alternate payment recipient, may wish to consult a tax advisor on this matter.
---