Soil Amendment Requirements#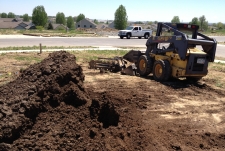 City of Fort Collins' Ordinance 084, 2003 requires the addition of a soil amendment in areas that are cleared and planned to hold plants and grass.

A soil amendment is any material added to the soil to improve its physical properties. It can be compost, peat, aged manure or other material as approved.

Refer to the Soil Amendment Brochure for additional information.
Complete a Soil Amendment Certificate and return to Building Services, 281 N. College Ave. Include the receipt showing the amount and type of soil amendment or a lab result showing proof that the soil added meets the topsoil requirements.

If unfavorable conditions, such as excessive rain or snow, prevent soil amendment application, obtain a Temporary Soil Amendment Waiver.

Reduces compaction
Increases water capacity
Conserves irrigation water
Reduces watering frequency
Promotes deeper root growth

Loosen the top 8 inches
Till or mix 3 cubic yards of amendment/1,000 square feet into the top 6 inches of soil

OR


Add 4 inches of topsoil that meets the following requirements referenced in the table below.
Topsoil Requirements
Sand
20 - 75%
Silt
5 - 60%
Clay
5 - 30%
Organic material
5% or more
pH
6.0 - 8.0
Topsoil must be free from noxious weeds, roots, salts, clay lumps and any non-soil materials (rocks, concrete, brick chips, building materials, foreign matter and any chemical, biological or radiological contaminants).
---
Did You Know?
When warm enough, you can save ~50 cents/load by hanging your laundry on a clothesline. Clotheslines are allowed everywhere in Fort Collins.
Installing cooking vent hood controls with VFD fans and sensors (rebates available) at your business can help save energy and money.
Lowering the thermostat temperature on winter nights and when no one is home can save money and energy.