Michigan Ditch Tunnel Project#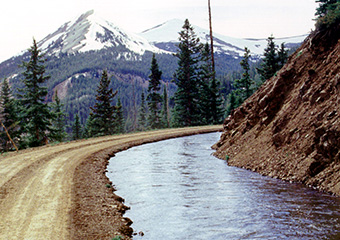 Trans-mountain water is not running this year in the Michigan Ditch due to an ongoing landslide that covered part of the ditch in 2015. Many options were considered to repair the damage to the ditch and a tunnel was determined to be the best solution.

Weather permitting, construction will begin as soon as the snow can be cleared in May and the tunnel will be completed by late fall. The ditch road will be closed to all public access for the summer of 2016.
An 800-foot, 96-inch diameter rock tunnel will be bored through the mountain and lined with wood planks and steel rings (known as "lag and steel").
60-inch diameter Hobas pipe (similar to fiberglass lining) will be placed inside the tunnel and grouted in place, with a capacity of approximately 100 cubic feet per second (cfs), the maximum water right.
Completion of the tunnel will allow full use of all water rights by spring 2017.
A large rock tunnel is a logistical challenge in this remote area.
All work is weather dependent and can only be done during the summer and early fall.

To maintain trans-mountain water rights, an invaluable City asset, repair of the distribution system is essential.
The tunnel is an investment in invaluable water rights infrastructure with an $8.5 million budget
The City of Fort Collins purchased the Michigan Ditch system from North Poudre Irrigation Company in the 1970s.

At the same time, Utilities built Joe Wright Reservoir to complete the trans-mountain water storage and delivery system to Fort Collins.
1,600 feet of 24-inch diameter wood stave pipe are still used in the system.

The Michigan Ditch road is operated by Fort Collins Utilities. Typically, the public has been allowed access to hike, bike, ski, etc. - but not this year due to tunnel construction. The road serves as another route to Lake Agnes and American Lakes Trail.
Michigan Ditch road closed
for

summer 2016 #
Michigan Ditch road will be closed for the entire summer due to construction and safety issues.
All other campgrounds, roads, trails and trailheads in the vicinity will be open – only the ditch road is closed.
What commuters
and

Parks visitors can expect#
no public access on Michigan Ditch Road from May 15 – October 15
potential increased truck traffic from Joe Wright Reservoir storage yard turning into or out of Michigan Ditch road – traffic control and flaggers provided
gates and signage to restrict public access at Hwy 14 turnoff to Michigan Ditch Road
additional signage at parking areas and trails showing alternate routes to American Lakes and Lake Agnes
Joe Wright Reservoir (Courtesy of Dick Stenzel at the Applegate Group)
---
Did You Know?
To keep high-efficiency toilets and sinks performing well, remember to only flush the three Ps and throw FOG in the trash.
Rebates are available to insulate attics, exterior walls and crawl space walls, improving your home's comfort.