Northeast College Corridor Outfall

Site location on Vine Drive looking west
Project Description
Utilities is improving storm drainage as part of the ongoing Northeast College Corridor Outfall Project (NECCO). Portions of the floodplain in the Alta Vista neighborhood will be removed as a result of these improvements.

This project includes construction of a 10-acre regional detention and water quality pond that will flow through stormwater box culverts and eventually into an open channel into Dry Creek south of Vine Drive. In Phase 1, the stormwater infrastructure was installed along the future Suniga Drive right of way north of Vine Drive from Redwood Street east to the Lindenmeir Outfall. A 12-inch waterline was added from Redwood Street to Lemay Avenue. This work was completed in May 2017.

Phase II is the construction of the NECCO Pond located at Suniga Road and Redwood Street and the outfall channel east of the Linenemeir outfall. This work started January 2 and will continue until May with final landscaping complete by August. Through a partnership with City Engineering, Utilities will haul excavated material to the location of the future re-aligned Lemay Avenue overpass and roadway bridge at Vine Drive. Excavated material will be hauled from Redwood/Suniga to the location of the future re-aligned Lemay overpass and Vine Drive. Find more information here about the Vine/Lemay overpass: fcgov.com/engineering/vine-lemay
---
NECCO Pond - Phase 2
The 10-acre pond will be owned and maintained by the Fort Collins Utilities Stormwater Department. This pond will be dry a majority of the time except during rain events and the low flow channels in the pond will stay wet most of the time. The pond will be seeded with native grasses, trees, bushes and wetland plantings for a natural area appearance. Trails will extend across the pond for pedestrian access.

Temporary irrigation will be installed and used for the first two growing seasons to help with plant and tree establishment.
---
---
Truck haul route map.
Flagging operations will occur at Redwood/Suniga and current Lemay/Suniga from 8:30 a.m.-3:30 p.m. daily from Jan. 24 until April 2.
---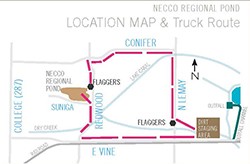 ---
---

(March 14) - The initial phase has been completed. Phase 2 (construction of the Vine and NECCO regional ponds) will begin in January 2018.

(Feb. 1) - The construction that closed Lemay Avenue is wrapping up ahead of schedule. Lemay Avenue will reopen the morning of February 2.

(Jan. 17) - Crews are currently placing 4-foot by 12-foot reinforced box culverts east of Lemay Avenue.

Projects completed include the placement of the 3-foot by 16-foot reinforced concrete box culverts, the excavation of the wetland mitigation area, the extension of the 48-inch steel pipes south of Vine Drive into Dry Creek, and temporary drainage channel. Also completed was the placement of box culverts, the addition of a 12-inch waterline and the relocation of associated utility lines beneath Lemay Avenue.

---
---
---