Fort Collins Community Solar
The Community Solar Program offers the option to own a portion of a solar photovoltaic (PV) array for customers who want the experience of solar ownership but don't have suitable space or ability to install it where they live. Community Solar participants receive credits on their energy bill for solar power generated by the community solar array.
In 2015, Fort Collins Utilities and Clean Energy Collective developed the Riverside Community Solar Project on the northwest corner of the Mulberry Street and Riverside Avenue intersection. It is currently fully subscribed.
Ownership Transfer
of

the

Riverside Community Solar Project

Utilities acquired Clean Energy Collective's assets in the Riverside Community Solar Project Aug. 28, 2020. Utilities will credit owner-customer bills the same way they are done today according to the current Community Solar Time-of-Day pricing. Ongoing customer service and operations and maintenance of the array will be provided by Utilities, as well.

Existing solar panel owners must sign a new Continuing Customer Agreement with Utilities before Dec. 31, 2020, in order to continue to receive bill credits and remain in the Community Solar Program.

Participants will be contacted by email and U.S. mail regarding details of updating their agreement. See the Continuing Customer Agreement, as well as the Riverside Community Solar Program Rules for details.
Riverside Energy Generation
and

Credits

The chart below shows net energy produced from the Riverside Community Solar Project and the monthly credits earned for that energy.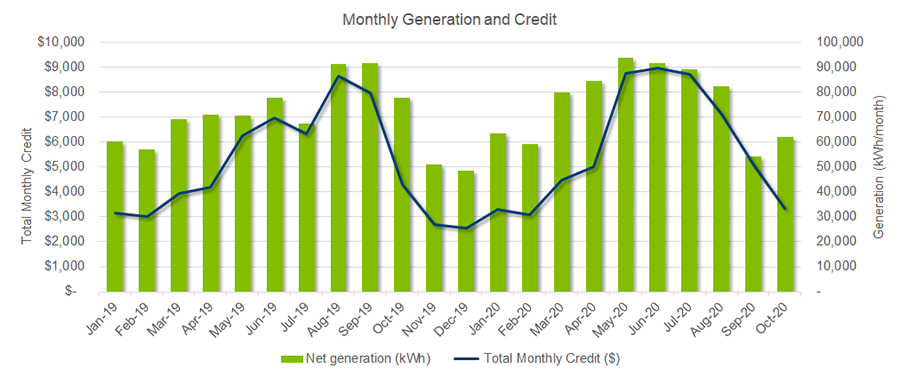 Not sure you're seeing the latest data? Try a hard refresh (shift+refresh) or clearing your history/cache.
For specific information about the generation and bill credits for your specific set up panels, download this spreadsheet and fill in the number of panels you own.
Other Renewable Energy Opportunities
Utilities continues to expand renewable energy supply for all customers in collaboration with Platte River Power Authority.
Customers also can choose to receive up to 100% renewable electricity through the Green Energy Program. The Green Energy Program will add solar to the resource mix in 2021.