Help Fort Collins pedal to the top of the nation in the National Bike Challenge. Log into the National Bike Challenge website to get started tracking your rides and seeing how you, our city and our state measure up to the rest of the country.
Special Events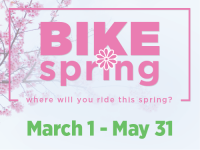 Roll into Spring with events to welcome warm-weather riding.
Family Bike Rodeo | Saturday, April 29, 10:00am-12:00pm | A day filled with bike activities for everyone in the family including bike safety checks, helmet checks/giveaways, a family bike ride on the Spring Creek Trail, helmet decorating for kids, and a basic bike repair session for adults. Note: in case of inclement weather, activities will be hosted inside of Summitview Church. Bring bikes and helmets if you have them. You can also borrow a bike during the event. LOCATION: Rodeo will take place in the parking lot on the NORTH side of Drake Road just across from Summitview Church at 1601 W Drake Rd. Register here to RSVP and to receive updates about the event.
Bike Safety Week | FC Bikes and Fort Collins Police Services are teaming up to make the roads safer for everyone. During Bike Safety Week, April 9 through April 15, cyclists and motorists are encouraged to Ride Smart and Drive Smart through increased education and enforcement. Look for officers and Bicycle Ambassadors throughout the community. Follow us on Facebook and Twitter for tips to Ride Smart and Drive Smart.
FC Rides Series | Saturday, April 22, 10:15-11:30am | Friday, May 5, 4:15-5:30pm | Tuesday, May 23, 10:00am-11:30am | Friday, May 26, 4:15-5:30pm | Join us for slow-paced, family-friendly rides around Fort Collins-this time with a special theme for each ride! Explore new bike infrastructure and natural areas for Earth Day April 22, celebrate Cinco de Mayo on May 5, roll with Silver Spokes on May 23, and kick of summer on two wheels as the school year ends May 26. Stay tuned for starting locations as each ride will feature a different part of the city.
Aprill 22 ride will begin at the parking lot located between Ross Natural Area and Summitview Church, 1601 W. Drake Rd. Meeting location is just north of the church, across Drake Rd.
May 5 ride will begin at Lee Martinez Park Parking Lot and will travel approximately 6 miles along the Center Bikeway and Remington Bikeway. Register Here
May 23 ride (Silver Spokes) will begin at the Fort Collins Senior Center at 1200 Raintree Drive. Register Here
May 26 ride meetup location TBD Register Here
National Bike to School Day | Wednesday, May 10 | Celebrate National Bike to School Day by rolling to school on two wheels. Visit walkbiketoschool.org to register you school's events and activities or to find out what schools in Fort Collins are doing to celebrate.
Open Streets | Stay tune for details about 2017 Open Streets events! Come Ride the Route June 4 along Constitution and Dunbar across W. Drake, and September 17 along Clearview, Springfield, and Pitkin.
Spring Bicycling Classes
To register for classes, and for full details, visit the City of Fort Collins Recreator. Check out our Bike Summer course offerings.
Bicycle Friendly Driver Certification Course | Tuesday April 18 4:30-6pm at 281 N College Ave | Monday May 8 5-6:30pm at 281 N College Ave | Our newest class! Do you ever wonder how to safely navigate the road when cyclists are present? In this presentation we will discuss traffic safety laws and responsibilities for both cyclists and motorists, shared responsibilities, and how to avoid crashes or conflicts. Register here.
Learn to Ride for Women-4-Week Class | Sessions each Thursdays 5/4, 5/11, 5/18, & 5/25 6-7:30PM at 215 N Mason parking lot | Adult Learn to Ride for Women is a free course for adult women (+14 years) interested in learning how to ride a bicycle. Using a safe, easy, and effective method, a female instructor will teach you how to balance, pedal, start, stop, and steer a bike. You will also learn how to properly fit a helmet and will leave with a new set of skills and access to resources to continue to improve. Learn to ride a bike this year! Register here.
Women on a Roll | Wednesday May 31 5:30-8:30PM at REI 4025 S College Ave | Learn tips and tricks for women interested in bicycling including: specific clothing and gear, where to ride, tips for biking with children, safety tips, and how to connect with local women's cycling clubs and organizations. We will also provide you with ways to make your ride more comfortable, convenient and fun! Join us this Women's Month. Register here.
Smart Cycling | Saturday April 8 8:15AM-4:30PM at Westbridge Medical Suites | This fun course is for beginning and seasoned cyclists alike and helps you gain confidence to ride safely and legally in an urban environment this Spring. You'll learn basic on-bike handling skills, crash avoidance techniques, and bicycle safety checks. Use your skills to explore your city with Scavenger Hunt by Bike or play on your bike at Open Streets! NOTE: bikes and helmets are necessary but can be provided if needed; request in advance. Register here.
Back on the Bike | 4-part series Monday April 24 through May 15 5-6:30PM at Senior Center | Each session in this series is designed to get re-familiarized with cycling gear and build confidence both on and off the bike. Visit a local bike shop, conduct safety checks on your bike and helmet, and practice basic bike handling skills that help you ride safer and more comfortably. The series concludes with a comfortable, fun ride on local bike trails and low-stress city streets. Register here.
Silver Spokes Ride | Tuesday May 23 10-11:30AM | Ride 8-10 miles on local recreational trails and low-stress city street routes with Bicycle Ambassadors to guide you. This ride is specialized for residents aged 50 and older. Bicycles and helmets are required, but can be provided on request by calling 970-221-6987. Register here.
To register for classes, and for full details, visit the City of Fort Collins Recreator.
Spring Bicycling Resources
Contact Us
For more information on Bike Spring special events, contact Nick Heimann at bmhlaW1hbm5AZmNnb3YuY29t or at 970-416-2628.
For more information on bicycling class offerings, contact Jamie Gaskill-Fox at amdhc2tpbGwtZm94QGZjZ292LmNvbQ== or at 970-221-6987.