Calling Open Streets Vendors and Sponsors
We're officially calling all vendors and event sponsors for our 2023 Open Streets events! We offer robust benefits for event sponsors and several sponsorship packages. Check out our 2023 Vendor and Sponsor Guide to learn more about the commitment, fees, and by May 20, 2023 to be included!
Mark Your Calendar! Open Streets 2023#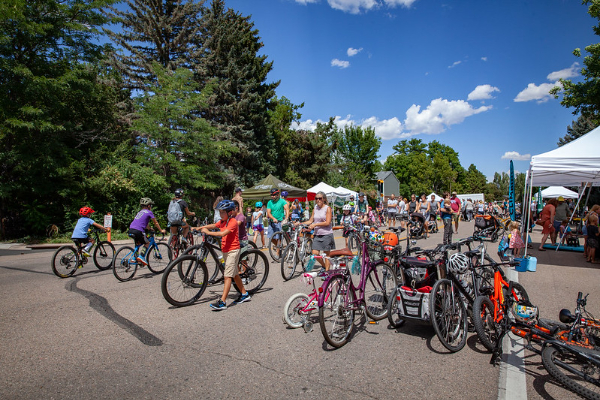 Fort Collins' 8th year of Open Streets is coming up! On June 4th, 2023 we will celebrate one mile of Open Streets from E. Horsetooth Rd. to E. Harmony Rd. along Landings Dr. / Boardwalk Dr.
The event will take place from 10:00 a.m. to 3:00 p.m. Check back for more details coming soon!
Highlights
of

Open Streets 2022#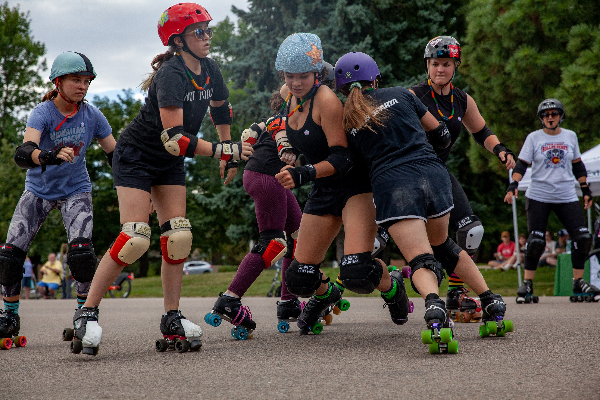 2022 Photo album can be found HERE.
Big THANK YOU to everyone who made Open Streets 2022 a success! We hope that in addition to being a fun day, it helped create a vision of promoting the notion that all people have the right to safe and active mobility.
About Open Streets#
At Open Streets, participants can expect 1-2 miles of car-free, family-friendly streets. Participants are encouraged to Ride the Route and explore areas called "Activity Hubs"- temporary clusters of activity provided by local businesses and organizations. Open Streets routes are generally considered walkable and bikeable, and include attractive neighborhood elements such as parks and other key destinations like churches, schools, and commercial centers.
Open Streets events aim to show participants that travelling by bike, foot, scooter, and other active, car-free transportation modes can be comfortable, easy, and a healthy alternative to driving. Activity Hubs are strategically located throughout the event route to encourage movement along the entire route, although participants can also visit only a portion of the route for a fun-filled, relaxed experience. Each Hub is unique: they could include live music, local food trucks, health- and wellness-inspired activities, and participant-made art! The possibilities are endless at Open Streets.
Open Streets Goals#
Highlight walkable and bikeable routes by creating temporary, car-free streets for the community walk, roll, and bike along.
Encourage future active transportation among participants along Open Streets routes after the event concludes.
Feature local businesses and organizations that support active transportation, health, wellness, and community well-being. Create opportunities to connect participants with these organizations.
Foster social capital by connecting neighbors with one another during the event and beyond.
Live Along
the

Route?#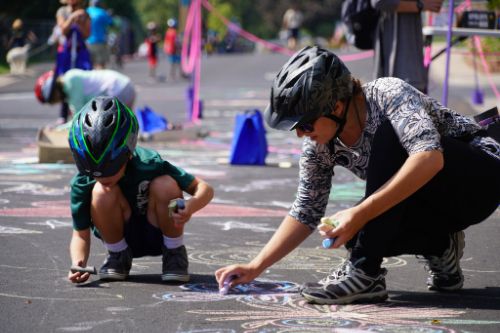 Do you live along an Open Street event route? Check out this important information below.
We encourage residents to park in driveways or on side streets to keep the event route clear for participants.
You will be able to access your residence, including by car, throughout the entire event.
Emergency and delivery service will be allowed.
Volunteers will help escort you to and from your residence. Please follow them and their directions to ensure a safe environment for you and event participants.
Police will be on-site for the duration of the event.
Recommended detour routes will be in place. You will receive information on these recommended detours in the mail before the event. Generally, you're advised to enter and exit the event route from the side street closest to your residence.
Work Along
the

Route?#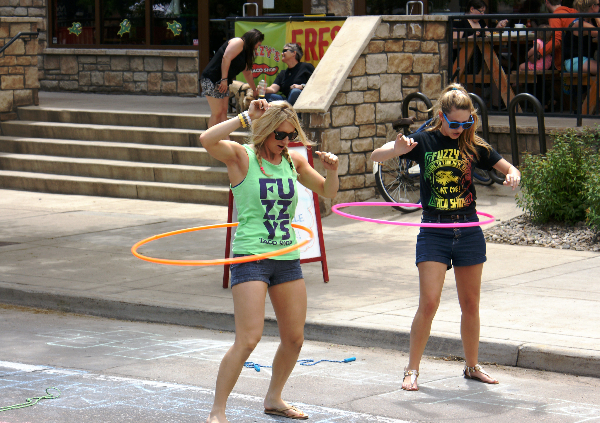 If you work or own a business along an Open Streets route, here is some important information.
We will work closely with you to provide the best possible access for staff and customers, especially if your business entrance is located on the event route.
In some cases, we will establish and sign detour routes for your customers to safely access your establishment. In limited cases, we will allow volunteers to escort your customers directly to your business.
Get involved! We invite you to get creative and join the Open Streets fun. We offer discounted rates for businesses located directly on the event route if you're interested in hosting a tent and free activity like other event vendors.

We also encourage you to provide event discounts and promotions to encourage foot traffic during the event.

We will avoid staging Activity Hubs in front of your business.
Want
To

Be Involved

In

Open Streets?#

Do you live near the Open Streets routes?
Bring your talent, skills, and neighborhood passion to the street! Bring your morning coffee or lunch to the street, chalk your block, or show off your art and talent. The street is yours! Resident access is facilitated throughout the event. Emergency vehicles always have access to the event route. Parking the day of is discouraged, but not prohibited.

Volunteer for Open Streets.
We love our Open Streets volunteers! Morning and afternoon shifts are available and are great options for families or groups. Lunch is provided. Contact AnnMarie Kirkpatrick at akirkpatrick@fcgov.com to learn more, or sign up HERE.

Bring your business or organization to Open Streets.
View our Vendor Guide to learn about benefits, fees, and ideas for bringing your business to Open Streets.

Interested in sponsorship opportunities?
View our Sponsor Guide to learn about our various sponsorship opportunities.
Open Streets, Healthy Streets#

Open Streets initiatives have gained popularity across North America over the past decade. In 2020, as the COVID-19 pandemic has made public engagement a challenge, many communities have adapted their Open Streets initiatives to serve as places for people to recreate safely while decreasing traffic and increasing opportunities for physical distancing.
Exercise and social connection remain important activities during these challenging times. Exercise and social connections can increase one's physical and mental health and in turn work to help improve the community's health and resiliency.
Learn more about our Open Streets plans below on this page, and learn more about national Open Streets initiatives by clicking the button below.
What happens
at

Open Streets?#
Interested in what happens at Open Streets? Watch our promotional video from 2018, one of our best Open Streets events yet!
You won't want to miss this great event to ring in the summer! Enjoy food trucks, live music, local artists, businesses and organizations. You can also watch our 2017 promotional video.