Community Canopy Project Trees Available Now!
Through a partnership with the Arbor Day Foundation's Community Canopy program, 1,000 trees will be provided to residents of Fort Collins for $25 each. These trees will help homeowners in our community lower energy costs, filter air and water, reduce stormwater runoff, slow climate change, and green our neighborhoods. Click here to learn more and purchase your trees today!
Splash Pad End of Season Closures
The splash pad at Spring Canyon Community Park will close for the season on Monday, August 22, 2022.
The splash pad at Fossil Creek Community Park will close for the season on Tuesday, September 6, 2022.
Your Parks. Our Passion.#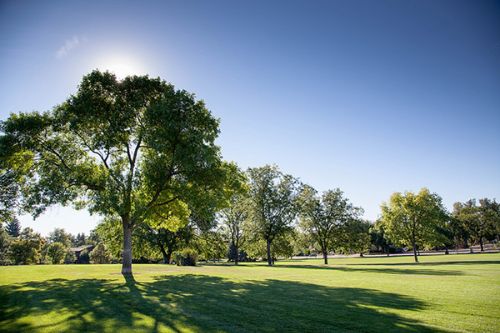 Our parks and trails help define the Fort Collins lifestyle. Fort Collins currently has over 966 acres of developed parks including 7 community parks and 43 neighborhood/pocket parks. Over 45 miles of paved trails connect our community.
We're passionate about providing you world-class parks and trails. The Parks Department maintains parks, cemeteries, trails, medians and other public grounds for the community. We aim to provide you with a clean, safe and attractive environment to enjoy.

Parks are open daily between the hours of 5 a.m.-11 p.m.