Parks
Be A Good Steward: Protect & Respect Your Parks & Trails
Fossil Creek Park Inter-active Water Feature - Delayed Opening date
The opening date for the Fossil Creek Park inter-active water feature will be delayed this spring for several weeks due to equipment repairs. The opening date has not been determined at this time. Signs will be posted in the water feature area of the park
The Warren Park Playground is closed for resurfacing renovation until approximately May 23 (weather permitting).
Do you enjoy working outdoors? Parks has a job opportunity for you!
Parks Division is currently seeking Seasonal Parks Utility Workers to join a highly-motivated, talented team of innovators to help strengthen the future world-class stewardship of parks in our community. The position offers a positive and engaging environment, training, and professional growth opportunities. The Parks Utility Position is a seasonal position which begins as early as March and ends as late as November, but there is potential for advancement and career progression for the self-motivated employee.
Other Seasonal Job Opportunities with Parks include:
Seasonal Parks Utility Workers
TROUTMAN PARK - Court Renovations
Fort Collins Parks will be renovating the Troutman Park tennis courts and basketball court as part of the Parks Life Cycle program. After community outreach, the project will keep and upgrade both tennis courts to a post-tension concrete court. The basketball court will also be a post-tension concrete court.
Work will begin in early March and continue for a few months, weather dependent. During this time, a construction fence will be placed around the court area as well as the northern park walkway entrance off of Wabash (see map in red). Construction access will be limited to this fenced off area. All other park entrances will remain open. For your safety, please follow all closures.
If you have additional questions, please contact the Parks Project Manager, Jill Wuertz (Snd1ZXJ0ekBmY2dvdi5jb20= 970-416-2062).
The City of Fort Collins Parks Department is moving forward with efforts to renovate the playground at Lee Martinez Park. Input from a community survey and interviews with key stakeholders, such as The Farm and The Fort Collins Museum of Discovery, influenced the playground theme and design elements within the playground. Lee Martinez Park is set to undergo playground renovations in late spring or early summer of 2018, and will include the following:
Shade structures will be incorporated throughout the playground, and play features will be oriented to take advantage of natural shade and existing trees.
Nature themed details will be incorporated into playground equipment to contribute to a unique play experience. These details will feature: wave climbers, cattail spinners, fish spring rides, learning panels, leaf wobble pods, log bench and climbr, and rock climbers.
A 50-foot zip line with dual bays, will allow for racing and game play. One bay will feature a seat to assist children with limited upper/lower body strength.
A play house and canoe will be in the sand play area. This play house, for ages under 2, was developed with guidance from the National Head Start Association and Too Small to Fail, the activities and messaging of this play area will prompt adult-child conversations and support whole-child learning across key developmental domains.
A challenge circuit will keep children moving, challenge their balance, coordination, upper, lower, and core body strength.
With this renovation, the number of play components offered will more than doubled, and include enhanced opportunities for children with disabilities to engage. Renovations are predicted to be finalized by fall 2018. If you have any questions or concerns, please contact the Parks Department at 970.221.6660, cGFya3Nob3BAZmNnb3YuY29t
Park Hours: 5:00 AM to 11:00 PM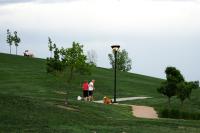 For Park questions or to make reservations:
Please contact the Parks Department at 970.221.6660 or cGFya3Nob3BAZmNnb3YuY29t. Park offices are located at 413 S. Bryan Avenue, Office hours are Mon.-Fri., 8:00am-5:00pm.
After Hours
If you have an urgent park related situation after hours, please call call 970.219.3450. If you have an emergency please call 911.
For Concerns Requiring Corrective Action (i.e., graffiti, vandalism, safety, etc.)
Please use Access Fort Collins
Your Parks. Our Passion.
Our parks and trails help define the Fort Collins lifestyle. Fort Collins currently has 875 acres of developed park land including 6 community parks and 42 neighborhood/pocket parks. Over 35 miles of paved trails connect our community.
We're passionate about providing you world class parks and trail. The Parks Department maintains parks, cemeteries, trails, medians and other public grounds for the community. We aim to provide you a clean, safe and attractive environment to enjoy.
If you would like to know more about public events and races happening in the Parks, along the Trails and throughout City streets, check out the Public Events Calendar. You can subscribe to the calendar for updates and add specific events to your own calendar.
Access Fort Collins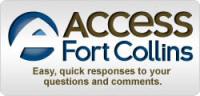 Receive a quick response to your question or concern by using Access Fort Collins - it's easy. You can also use it to let us know how we're doing.
Vision
We care just as much about the product we deliver as the people who deliver it. Our goals are to promote professional development, safety and wellness, service to our community and a lasting legacy of stewardship and camaraderie.
Mission
Operational Excellence
Excellent care for parks and public spaces for the community.
Parks
Physical Address: 413 South Bryan Ave, Fort Collins, CO 80521
Phone: 970-221-6660
Fax: (970)221-6849
Email: cGFya3Nob3BAZmNnb3YuY29t
Normal Business Hours: Office Hours: 8:00am-5:00pm M-FClosed Holidays