Shift Your Ride This Autumn#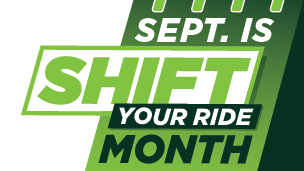 This September, we want you to Shift Your Ride!
Why Shift Your Ride? By making simple choices about how we move around, we can save money and save time and shift extra time and money to activities that really matter to us, like spending time with our family, clean air and crisp mountain views, or getting and staying fit. Save money by fueling up a car less often. Save time by getting exercise while you commute instead of spending free time exercising. Shift to what matters most to you.
Shifting your ride can be easy! There are many ways to get around Fort Collins without using a car, even if you have extra errands to run. We've compiled several resources on this page to help you get out of your car and actually enjoy your transportation options. Check our our Shift Your Ride website for details.
Contact Us#
For businesses interested in hosting a Bike to Work (or Wherever) Day breakfast station in the future, please subscribe to our business email list (form at the top right of this page).
For more information on Winter Bike to Work (or Wherever) Day, please contact AnnMarie Kirkpatrick at akirkpatrick@fcgov.com or at 970-416-4384.
For more information on bicycling class offerings, contact lnagle@fcgov.com or at 970-224-6112.