Outdoor Water Restrictions at Cemeteries
City Manager Darin Atteberry signed a declaration and order for mandatory action level IV water restrictions on lawn watering and other outdoor water uses in order to avoid a water shortage due to the ongoing drought conditions, Cameron Peak fire, and infrastructure repairs known as the Horsetooth Outlet Project (HOP).
Exceptions to this declaration allow for water use on athletic/active fields for health and safety purposes as well as raw (untreated) and well water customers, as this water is not affected by HOP.
Examples of properties that fall under these exceptions include public parks, municipal golf courses, two City cemeteries, The Gardens on Spring Creek, Colorado State University, and schools, though all are working together to save water.
The Parks Department will continue to water parks, golf courses, and cemeteries with raw water to protect the green infrastructure in the parks system, as these are valuable public assets. Promoting the growth of the turf prevents it from deteriorating from overuse. Play at sites with potable water has been intentionally restricted, with exceptions being obtained for watering of sports fields at those locations. If watering does not continue in some capacity on sites that are still being used by the public, the cost and resource needs for future restoration efforts could become unmanageable.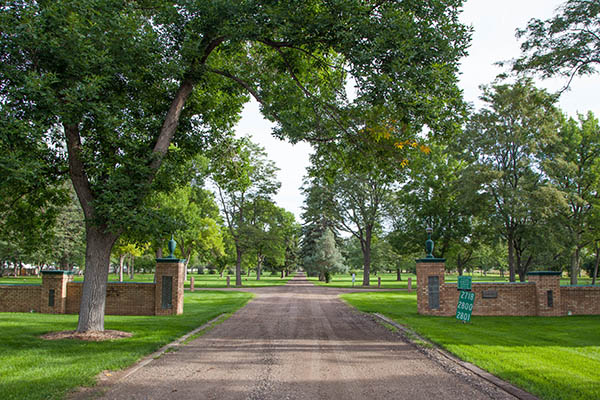 Roselawn Cemetery
2718 E. Mulberry Street
Fort Collins, Colorado 80524
970-221-6810
Hours: Open dawn to dusk daily
Roselawn Cemetery has been certified by the Green Burial Council, Inc. as an approved provider for Hybrid Burial Grounds.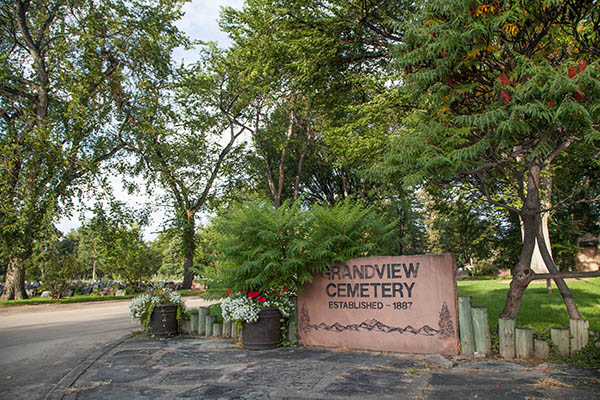 Grandview Cemetery
1900 W. Mountain Avenue
Fort Collins, Colorado 80521
Hours: Open dawn to dusk daily
Grandview Cemetery is a Certified Audubon Cooperative Sanctuary through the Audubon Cooperative Sanctuary Program (ACSP), an Audubon International program.
Find information on interment (burial) sites at Grandview and Roselawn Cemeteries by linking to the GIS maps.
To search for a person's burial site, when you enter into the site:
Click on I want to... (located in the upper left of the screen).
Click on Find a Grave Space by Name type in the individual's name.
Click on search it will show a list of grave sites.
Click on Grave Space above the person's name you are searching for and the system will zoom in to that site and additional details about the person will be provided on the left side of screen.
Grave Space ID "Key" Example G E2 1 1 1:
G = Indicates Cemetery (G=Grandview R=Roselawn)
E2 = Indicates Section
1 = Indicates Lot
1 = Grave1 = Unique number (refers to possibility of more than one burial on site)
View the Cemeteries Brochure for more information about burial options, information, and fees.
Feel free to Y2VtZXRlcnlAZmNnb3YuY29t with questions or to schedule an appointment.
Our staff is committed to providing compassionate customer service to those honoring loved ones who have passed. The City manages two cemeteries: Grandview Cemetery and Roselawn Cemetery.
VISION
Anticipating the needs and services for our families while preserving the history of our community forever.

MISSION
Exceptional Care of the Cemeteries for our Community

VALUE
Commitment
Empathetic
Accuracy
Resourcefulness
Compassionate
Perpetual Care
Teamwork
Flexibility