Bring Your Organization
to

Open Streets
Is your business or organization interested in participating in Open Streets by hosting a tent and free, interactive activity? View our vendor and sponsor package to sign up today. Open Streets is a great way to get your organization in front of thousands of participants. We anticipate 5,000+ participants at each of our events.
Vendors are strategically placed in small groupings, or "plazas", that feature food trucks, places for people to gather and mingle, as well as other organizations/vendors, live music, and tons of free activities.
If you have questions about involvement, contact Nick Heimann, FC Bikes Program Specialist at bmhlaW1hbm5AZmNnb3YuY29t.
The call for vendor applications will close on May 8, 2019.
---
Calling Bike
to

Work Day Station Hosts
FC Bikes is calling station hosts for the 32nd annual bike to Work Day, to be held Wednesday, June 26, 2019 between 6:30 a.m. and 9:30 a.m.
In 2019, we expect to see more than 6,000 people hop on two wheels to ride to work, school, or anywhere! Cyclists can stop at more than 60 free breakfast stations where your business or organization provides breakfast, camaraderie, fun, and more. New to Bike to Work Day events? Learn more with our Station Host Toolkit. Ready to sign up? Fill out our sign up form today! The call for station hosts will end on Wednesday, May 8 at 5:00 p.m.
Contact Nick Heimann, FC Bikes Program Specialist at bmhlaW1hbm5AZmNnb3YuY29t with questions.
---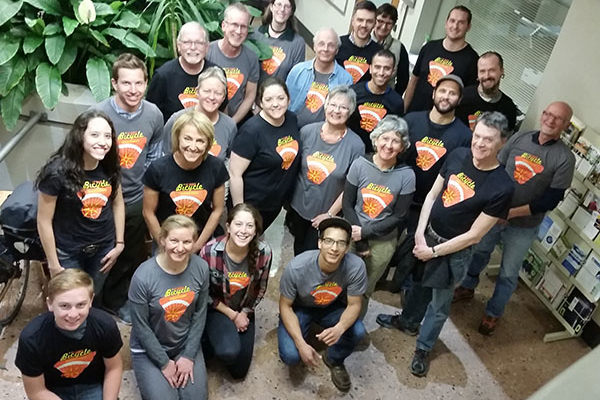 Borrow our Bicycle Ambassadors
Get your business, organization, scout troop, HOA members or any other group pedaling! Members of our Bicycle Ambassador team will provide your group with customized programming to fit your needs. Examples include:
Classes (classroom style or on-bike)
E-bike demos
Bike rodeos
Safety presentations
Fill out the online application or call us at 970-221-6987 to get your group rolling! Download our flyer to tell a group member about the program.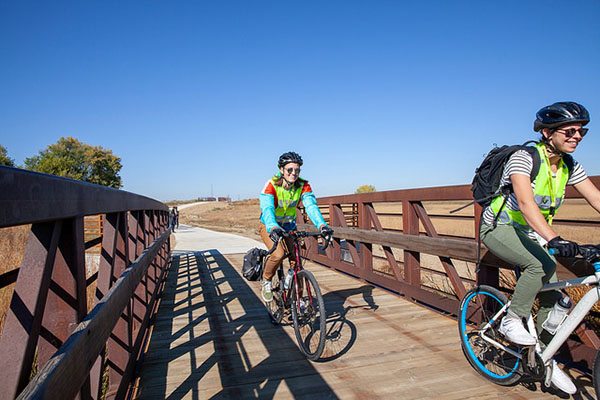 Bike Buddy Program
Need help in learning the ins and outs of bicycle commuting? Whatever your situation, a BIKE BUDDY can help get you bicycling to work, school or wherever you're heading.
The program matches you with a trained Bicycle Ambassador who can help with:
Selecting a comfortable route
Riding safely in traffic
Fixing a flat tire or other basic bike maintenance
Choosing gear for your commute and more!
Apply online to request a Bike Buddy or call 970-221-6987. Download our flyer to tell a friend about the program.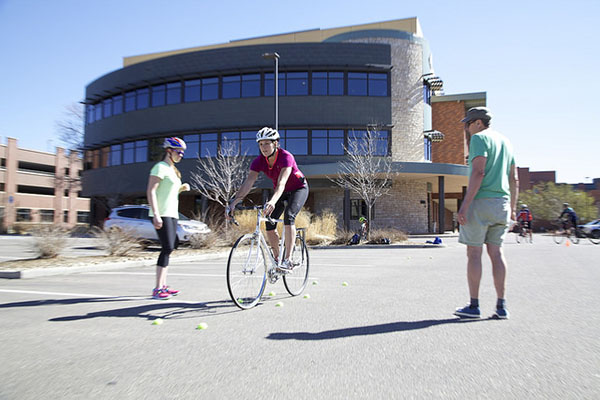 Take a Bicycling Class
FC Bikes offers classes to the general public to encourage people to ride their bikes safely and confidently. Classes include:
Smart Cycling (formerly Traffic Skills 101)
Learn to Ride for Adults
Bicycle Friendly Driver
Bicycle Traffic Citation Course
And many others, including seasonal classes and classes for women!
E-bikes on Fort Collins trails
On April 19 the Fort Collins City Council approved a one-year electric assist bicycle pilot program that will allow e-bikes on paved trails in Fort Collins beginning May 1, 2019.
The change is prompted by a new state law allowing e-bikes on trails unless otherwise restricted by a local jurisdiction, and the growing popularity of e-bikes. The City's Bicycle Advisory Committee, Transportation Board and six other City Boards passed recommendations in support of a pilot program to allow and evaluate e-bikes on paved trails.
The pilot program includes:
One-year trial period beginning May 1, 2019
Class 1 and Class 2 e-bikes only (electric assist provided up to 20 mph)
All paved trails (no unpaved trails)
Extensive education and evaluation
---
Electric Scooters Are Coming,
and

Fort Collins

is

Getting Ready!
As electric scooters (e-scooters) increase in popularity across the country, the City is laying the groundwork to ensure safe, effective, and sustainable operation here in Fort Collins. Successfully managed use of e-scooters could help fill first mile/last mile geographic gaps in the City's transit system, reduce motorized vehicle emissions, improve air quality, expand sustainable travel throughout Fort Collins, and provide additional sustainable travel options for those who are mobility-challenged.
City Council approved first reading, February 19, 2019, updates to City Code related to where shared mobility devices, including e-scooters, are allowed to park and a requirement that operators of these devices dismount in existing dismount zones. Council will vote on final approval at second reading on March 5, 2019. If the proposed Code updates are adopted by City Council, the City, in cooperation with Colorado State University, will administer a Request for Proposals inviting e-scooter companies to submit a proposed plan to develop, install, own, operate, and maintain an e-scooter share program in Fort Collins in spring 2019.
Stay tuned for more information about Code updates, e-scooter company selection, and guidance for e-scooter users.
---
Shields
and

Magnolia Bicycle

and

Pedestrian Signal Project
The City is planning to install a signal dedicated to pedestrians and bicyclists crossing Shields at Magnolia, and considering two different design options. This project is a part of the Magnolia Bikeway, a Safe Routes to School Corridor, and the continuation of the W. Mulberry east-west bike route. The selected design is anticipated for construction in Spring 2019.
---
Stop
as

Yield

In 2018, Colorado Senate Bill 18-144, "Concerning the regulation of bicycles approaching intersections," was passed into law; this bill permits a municipality or county to adopt a local ordinance or resolution regulating the operation of bicycles approaching intersections with stop signs or illuminated red traffic control signals, and specifies the content of such local regulation. Under a local regulation, a bicyclist approaching a stop sign must slow to a reasonable speed and, when safe to do so, may proceed through the intersection without stopping. A bicyclist approaching an illuminated red traffic control signal must stop at the intersection and, when safe to do so, may proceed through the intersection. The bill sets the reasonable speed limit at 15 miles per hour. The state bill does not change the law in Fort Collins; rather, it provides consitent language for Colorado jurisdictions interested in establishing a "Stop as Yield" law.

In 2013, the City's Bicycle Advisory Committee (BAC) initiated a discussion of the Stop as Yield law and expressed interest in further research of the topic and its application to Fort Collins. In October 2013, the BAC unanimously voted against the pursuit of a Stop as Yield law in Fort Collins at that time. A summary of the analysis if available here.

With the adoption of the new 2018 State law, the City's Bicycle Advisory Committee and Transportation Board are revisiting the topic. The BAC will be discussing this at their August 27, 2018 meeting.
---
Are You Ready
To

Take

The

Big Jump?
Fort Collins was one of 10 cities in the nation selected to participate in PeopleForBikes' (PFB) Big Jump Project with the goal of getting more people on bikes. Through this three-year initiative, we will work with community organizations, leaders and residents to implement a comprehensive bicycle program in Northwest Fort Collins with the goal of creating a safe, connected, comfortable and vibrant environment for bicycling. Learn more about the project and how to get involved at fcgov.com/BigJump.
---
Ride Smart Drive Smart is an education, enforcement and encouragement initiative developed by FC Bikes in partnership with Fort Collins Police Services. The initiative is designed to educate both cyclists and motorists how to safely and lawfully share the roadways, encourage smart riding and driving behavior and enforce laws for safety.
Look for the Ride Smart Drive Smart van around town where we will be doing field education and events. Learn how to Ride Smart and Drive Smart in our free classes offered year round.
---
Did you know?
Overall bike crashes increased from 2015 to 2016. However, they are lower than the peak in 2012, and severe crashes have seen a general downward trend. Compared to 2012, overall crashes are down 11% andsevere crashes are down 32%.
The first step to make our roads safer is to understand how many and what types of crashes occur in Fort Collins. By carefully reviewing traffic data and crash reports, we are able to determine safety trends and identify priorities. Take a look to see how we are improving safety across Fort Collins and understand how these trends enable us to focus our safety and prevention efforts.
---
Like Us On Facebook
And

Follow Us On Twitter!
FC Bikes is jumping on the social media train and now has our own Facebook and Twitter page! Please like our page to stay up-to-date on projects, upcoming events, how to get involved in the local bicycle scene, and lastly, industry and partner news. You can find us at FC Bikes Facebook and FC Bikes Twitter.
---
For the latest info, check out detours posted on the City's Trail System Status Page. Sign up to receive notifications regarding trails in your area. For on-street maintenance projects, check out the Street Maintenance Program's page. Cyclists should always adhere to construction closures and posted detours. These are put in place for your safety.
---