Contact Information
Wed-Sat noon-6 p.m.,
Extended hours (6-9 p.m.) on First Friday Gallery Walks
About the Carnegie Center for Creativity
The Carnegie Center for Creativity (CCC) at the Historic Carnegie Building is owned and operated by the City of Fort Collins, and managed through the Lincoln Center. The CCC is also home to public gallery and performance spaces that are available to rent for exhibition, performance and event purposes. The CCC is intended to be used by artists from various disciplines, employing a wide range of artistic expressions.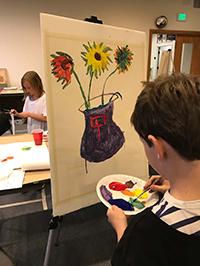 Ideas Happen Here: Children's Art Classes
Now registering for winter session art classes at Carnegie Center for Creativity 200 Mathews St.
6 Weeks: January 15 through February 22, 2018
Classes meet Tuesday, Wednesday, OR Thursday from 4:30-6:00pm (students come once a week)
Art Show: November 1 at 6:30-7:30pm
Kids ages 5-10 (any returning students of any age are welcome)
Cost $150, includes all materials and art show
To register contact: c3RlcGhpZV9tb3J0b25AeWFob28uY29t
---