Bike
to

Work (or Wherever) Day 2021#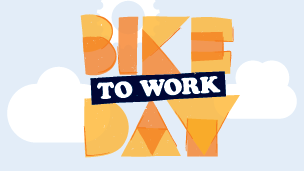 Every June, Colorado celebrates Bike Month and here in Fort Collins, we love anything that highlights and promotes people who ride bicycles. In 2021, we're back on track with Bike to Work (or Wherever) Day, planned for Wednesday, June 23, 2021.
What is Bike to Work (or Wherever) Day? Some have described it as "Fort Collins' best holiday". Others love the celebration of people who ride bicycles. Some hosts want to contribute to our Platinum-designated bicycle culture and community. During BT(W)D, community members are encouraged to travel by bike wherever they're headed, be it work, errands, to drop kids to daycare, or just for fun. Participants who ditch the car in favor of a bicycle can find free breakfast located all around Fort Collins. Some participants try to hit as many stations as possible. Other are happy to fine a scenic spot to comingle with a few other folks. The point is to get on your bike wherever you're headed that morning!
Visit our Bike to Work (or Wherever) Day website for more information.
Pledge
to

Shift Your Ride#
Dust off your bike, dig out your walking shoes, it's time to pledge to Shift Your Ride!
It takes the whole community to make progress on our ambitious climate action goals. We know that transportation is the second-largest producer of greenhouse gases in Fort Collins, so making small changes in how you move around the community can add up to a big impact.
This spring, we hope you'll pledge to Shift Your Ride just one trip per week. For example, if you drive five times per week, try to shift one trip to bicycling, walking, transit, or carpooling to combine trips.
In addition, Shifting Your Ride can earn you points towards eligibility to great prizes as part of the City's Earth Day Challenge. Learn more about the Earth Day Challenge here.
Join
The

National Bike Challenge May 1 - September 30#
Help Fort Collins pedal to the top of the nation in the National Bike Challenge. Log into the National Bike Challenge website to get started tracking your rides and seeing how you, our city and our state measure up to the rest of the country.
Classes
No upcoming classes, check back soon.
---
---
Contact Us#
For more information on Bike Spring special events, contact AnnMarie Kirkpatrick at akirkpatrick@fcgov.com or at 970-416-4384.
For more information on bicycling class offerings, contact lnagle@fcgov.com or at 970-224-6112.