Where
to

Find Us

in

Spring 2019
---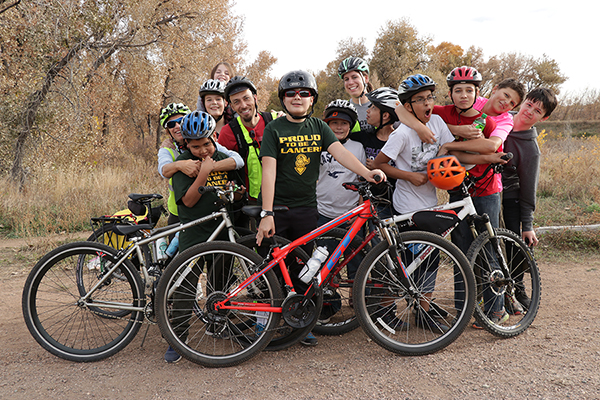 Thanks, FoCo Fondo!
Lincoln Middle School hosted an after-school bike club in fall 2018 led by an SRTS instructor from Bike Fort Collins and Lincoln teachers. This club, along with the Riffenburgh Elementary Rock Riders MTB club, was sponsored by the FoCo Fondo. A portion of the proceeds from the 2019 FoCo Fondo will again go toward after-school bike clubs and summer bike camps. So be sure to register, and help us get more kids on bikes!
October 10
Is

International Walk

to

School Day
Thousands of Fort Collins K-12 students will join students at thousands of schools across the nation and the world in celebrating the 22nd annual International Walk to School Day on Wednesday, Oct. 10.
Check your school's website for information about events planned on International Walk to School Day.
If you are organizing activities for your school, please be sure to register your event on the national website.
---
School Rotation Schedule
for

Fall 2018
Once again, Safe Routes to School is gearing up for another school year, and we're looking forward to working with Bike Fort Collins, Overland Mountain Bike Club, the CDOT SRTS program and other key organizations to provide biking and walking programs at local schools. We'll be providing safety education during PE classes at the following schools:
Johnson Elementary
Tavelli Elementary
Blevins Middle School
Boltz Middle School
Kinard Middle School
Webber Middle School
We'll also be working with several schools on activities such as after-school biking and walking clubs and bike field trips. Check with your school principal, wellness team or PE teacher to see if we'll be at your school this school year!
---
Statistics
from

Winter/Spring 2018 (January-June)
4,000 -- # of K-8 students educated about bike-ped safety by SRTS team
272 -- # of individual classes and events conducted by SRTS team
1,530 -- # of students' bikes checked for safety and adjusted by trained mechanics
286 -- # of parents and other volunteers who assisted SRTS instructors
784 -- # of hours spent by volunteers assisting SRTS instructors
14,000 -- # of total miles biked by K-8 students during SRTS educational programming
---
New Bike Clubs on Tap Thanks
to

FoCo Fondo Festival
Thanks to the generosity of event organizers Zach and Whitney Allison and Jake Arnold of the FoCo Fondo Festival, SRTS will be able to lead new after-school bike clubs starting this fall. A portion of the proceeds of the FoCo Fondo Festival on Saturday, Aug. 4, will support the new bike clubs.
FoCo Fondo ride options include two family-specific rides (12 miles and 25 miles), with kids 12 and under riding free of charge. Parents accompanying their kids get 50% off with this coupon code when registering: 50%offparentreg.
The festival also includes longer-distance dirt-road options, up to 100 miles long, with prize money available.
Join us for a fabulous event on Aug. 4, starting and ending at New Belgium Brewery, with great food and drink and lots of bicycling fun!
---
Will Safe Routes Visit You This Spring?
Safe Routes to School is gearing up for an eventful semester of bicycle and pedestrian safety education classes. Many schools will receive education in various ways, from classes during PE to after-school clubs and field trips. Check if your school is listed below and see which type of program will be hosted there.
Bike Field Trips:
Mountain Sage Community School and Shepardson Elementary
Bike-ped Education Program (School Rotation Schedule):
Irish, Laurel, O'Dea and Putnam elementary schools
Blevins, Boltz, Lincoln, Preston and Webber middle schools
Fossil Ridge High School
After-school Bike Clubs:
Irish, Laurel and Riffenburgh elementary schools and Lincoln Middle School
Other Events:
BaseCamp Family Fun Fair (Feb. 24)
Rocky Mountain High School Wellness Fair (March 1)
SRTS Train-the-Trainer Workshop (April 21). To register, visit engage.fcgov.com.
Bike Week (May 7-11) and National Bike to School Day (May 9)
If you would like assistance from Safe Routes to School for another type of biking or walking program, please contact us at c2FmZXJvdXRlc0BmY2dvdi5jb20=.
---
Expansion
Of

School Rotation Schedule
Thanks to additional funding approved through the City's budgeting process for 2017-18, the SRTS School Rotation Schedule expanded in 2017 to reach all sixth-graders at PSD middle schools. All sixth-graders taking PE will be able to participate in the SRTS "Bike PE" curriculum, which teaches students how to bicycle safely and courteously on Fort Collins streets and multi-use trails. Successful pilot-testing of this plan was carried out in 2015-16 with support from a grant from the Colorado Department of Transportation's Safe Routes to School Program.
---
SRTS Annual Summary
for

2017
The SRTS program achieved many significant accomplishments in 2017, including full implementation of the School Rotation Schedule. Click the "View summary" link to learn how the program addressed all Six Es of Safe Routes to School in 2017 (Education, Encouragement, Engineering, Enforcement, Evaluation and Equity). Read about Lesher Middle School here.
---
SRTS Annual Summary
For

2016
In 2016, the Safe Routes program taught bicycle and pedestrian safety to more than 6,000 students at 30 local schools, led numerous after-school walking and biking clubs, partnered with the Recreation Department to provide summer bike camps, finished construction of the new Tavelli Multi-use Path, completed pilot-testing of the School Rotation Schedule, and so much more.
---
SRTS Annual Summary
For

2015
View our new infographic summary for calendar year 2015. It was an outstanding year that included programming at 24 local schools, bike-ped education for 8,000 K-12 students, an expanded SRTS bike fleet, bike-ped infrastructure improvements via the SRTS Strategic Traffic Infrastructure Project and much more!
---
Fort Collins
In

Spotlight

At

SRTS National Conference
The City's SRTS coordinator, Nancy Nichols, presented on "Equity in Safe Routes to School Educational Programming" at the Safe Routes to School National Conference in early April 2016. Her co-presenter was Dot Dickerson of Bike Fort Collins, a nonprofit contractor that delivers the SRTS School Rotation Schedule to all public schools in Fort Collins. Three cornerstones of equity in local SRTS programming are "Saturation" (making sure students from all public schools participate), "Empowerment" (including students of all ages and abilities through adaptive equipment and methods) and "Meeting Kids Where They Are" (taking SRTS to places that are convenient and fun for kids and families). For information on the conference, visit saferoutesconference.org. For other details, please email Nancy at bm5pY2hvbHNAZmNnb3YuY29t
---