2022 Asphalt Art Wrap-up#
As we conclude the 2022 asphalt art season, FC Moves is pleased to report the successful reinstallation of our three original murals as well as our newest installation in the Alta Vista neighborhood. The asphalt art program is a participatory, community-based initiative aimed at traffic calming, place making and community building through street beautification. Each piece is site specific and holds special meaning and symbolism for the people who live there, as well as the history and story of place.
In 2021 we saw the installation of asphalt art at the following locations: Romero Street – "Somos Fort Collins", Hickory Street – "Mi Frida Linda", and Roosevelt Street & Romero Ave – "Circles on Roosevelt & Maple". New for 2022, we also installed "El Corazon de la Colonia" at the intersection of Alta Vista Street and Martinez Street. Scheduling installations early in the year coupled with the addition of a clear coat, we are optimistic that these efforts will improve the lifecycle of the installations.
Remaining true to the participatory spirit of these projects, community members from each neighborhood were invited to join in the fun. Young and old alike grabbed brushes and rollers as we brought each piece to life on the streets of Fort Collins. Local artists Luis Sant Cruz, Brian Barrett, and Moses Oqueli were also onsite to assist and guide the installation of their respective designs.
Moving into 2023, we look forward to adding three to four new locations to the collection and incorporating more ambitious applications for traffic calming. Coupling plastic delineators with bulb-outs and curb extensions, we hope to fully actualize the potential of asphalt art to offer quick build/low cost alternatives to bicycle and pedestrian friendly infrastructure.
Why Asphalt Art?#
Fort Collins has a long history of incorporating art in public spaces. Mixing art into our everyday lives brings a calming and unique feel to our town. [www.fcgov.com/artspublic].
From sidewalk pavers, to Pianos About Town, to full-scale wall murals, public art can be found in many places around Fort Collins. These projects, the creation of local artists, offer nudges of curiosity and appreciation for taking extra time to notice our surroundings.
In 2021, the City of Fort Collins FC Moves department launched a program to implement asphalt art on our public roadways.
Asphalt art are paintings or other surface installations that increase proximity and access to public art in our community. The thoughtful location of these art installations also lends to traffic calming resulting in safer streets.
Community members lead and drive the process by identifying locations, proposing designs, and installing asphalt art. Low-income neighborhoods and community members have the opportunity to access the Paint Pot, a grant- and philanthropic-funded resource to ensure that cost is not a barrier to participation.
Fort Collins' asphalt art program is led and driven by community members. This means that community members are responsible for the following activities:
Identifying locations for asphalt art, generally low-volume local streets and their intersections.
Building support among neighbors in the vicinity of the proposed installation.
Preparing a design proposal, or working with an artist (in the neighborhood or at-large) to prepare a design.
Purchase paint and materials. The Paint Pot is available to support material costs.
Apply for an Art Permit to install the art, which includes a plan for managing traffic during installation.
Maintain the installation into the future according to pre-determined schedules.
Celebrate the installation.
The City will help guide each project from conception to completion. The City will help in the following ways:
Approve of proposed design through an internal process.
Provide technical assistance in completing applications and in advancing projects.
Help coordinate celebrations and archival activities.
The Asphalt Art program is currently not open for public application. Current installations are made possible through the grant funded Paint Pot program and we welcome community engagement and participation in these projects.
Please direct questions and comments to program manager, Anna Kelso, at akelso@fcgov.com
Check out our completed murals at:
"Mi Frida Linda" by Luis Santa Cruz at 400 Hickory St.
"Somos Fort Collins" by Luis Santa Cruz on Romero St. next to the Museo de las Tres Colonias (425 10th St).
"Circles at Roosevelt and Maple" at the intersection of N. Roosevelt Ave. and Maple St.
"El Corazon de la Colonia" at the intersection of Alta Vista St. and Martinez St.
Paint Pot#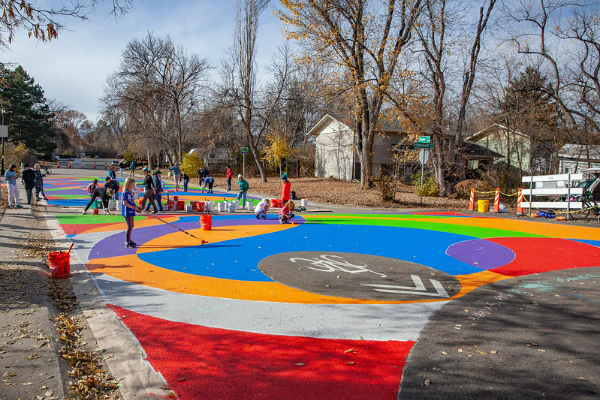 Asphalt art installations can involve significant costs. We expect that many community members will be able to cover the costs of their installation with neighborhood support. However, in order to ensure that everyone in our community has equitable access to the program, we have developed the Paint Pot, a fund available to low-income community members or neighborhoods that will support the costs of hard materials, such as paint, brushes, rollers, etc., and/or the costs associated with artist consultation in developing, scaling, or transferring your proposal from paper to the street.
To be eligible for the Paint Pot:
Community members shall reside in historically underserved neighborhoods recognized by Neighborhood Services.
Community members shall be presently enrolled in City LEAP programs.