E-Bikes, E-Scooters,
and

More#
On-Street Parking Pilot Program#
The City is employing several countermeasures to reduce conflicts between pedestrians and improperly parked bicycles and scooters, and to reduce barriers for people with disabilities. The countermeasures include:
Rider penalties for improper parking, ranging from a warning to a permanent ban.
A quiz that teaches proper parking, with a ride credit for passing the quiz with 100% correct answers.
Bike/scooter parking boxes, or designated parking areas.
View the completed and upcoming locations of bike/scooter parking boxes on this interactive map.
The parking boxes are marked by white paint and two white pylons. They are preferentially placed within 30 feet of a spot sign, where parking is not allowed, so they usually do not take away parking and they help protect visibility of the stop sign.
They are located at:
Orchard Place and Skyline Drive (northeast corner on Skyline)
Baystone Drive and City Park Avenue (northeast corner on Baystone)
Jamith Place and Laporte Avenue (southeast corner on Jamith)
Pitkin Street and Welch Street (southeast corner on Pitkin)
Crestmore Place and Bryan Avenue (northeast corner on Crestmore)
Jackson Avenue and Mulberry Street (northwest corner on Jackson next to bike rack)
North College in front of Bike Co-op next to transit stop (north of Bristlecone), west side sidewalk
The City plans to install additional parking boxes in September 2023 at:
Remington Street, west side, south of Parker Street
Riverside Avenue and Pitkin Street, south corner on Pitkin
Spring Canyon Park near the playground
Avery Park next to the bike racks at Clearview Avenue and Cragmore Drive
Oak Street and Sheldon Drive, by the bike rack
Irish Drive and Vine Drive, southeast corner of Irish
Concrete pad on neighborhood trail off Jerome Street north of Vine Drive
The locations were identified through a study that assessed where Spin e-bikes and e-scooters were parked in areas where on-street parking is not marked or metered. Most spaces are located in street sections where motor vehicles are not allowed to park (such as within 30 feet of a stop sign or 20 feet of an intersection) and thus do not take away on-street parking from cars.
This program is in response to complaints about improperly parked scooters and bicycles and feedback from Spin users who said they needed better parking options. In Fall 2023, the parking boxes will be evaluated for effectiveness. For more information, please contact Rachel Ruhlen at (970) 416-2040 or rruhlen@fcgov.com.
What
is

micromobility?#

Micromobility means light-weight vehicles. There are many kinds: bicycles, scooters, skateboards, longboards, one-wheels, hover boards, skates, and more. They can be human-powered or have a motor which usually has a top speed of 20 mph or less.
The legal classifications of micromobility are bicycles, e-bikes, e-scooters, and toy vehicles. Although they are classified as toy vehicles, they aren't just toys. Many people rely on them for transportation.
Shared micromobility is self-service rental programs, such as Spin e-bikes and e-scooters.
Choose Your Ride, Shift Your Ride#
Through Choose Your Ride, Shift Your Ride, people with low income received an e-bike or a Spin pass.
What are e-bike
and

e-scooter rules?#
There are different rules for each kind of micromobility.
Batteries
and

Fires! Learn what

to

do#
Fires can start when batteries are stored, charged, or disposed of incorrectly. This includes the batteries many of us regularly charge in our homes and those that power e-bikes and e-scooters. You can protect yourself and your home - and continue to enjoy your e-bikes and e-scooters - with a few simple precautions.
1. Be careful about deals that are too good to be true. Shoddy batteries or batteries with fake certifications are a fire hazard.
2. Only charge the battery with its designated charger. Using chargers or cables that aren't designed for the battery can damage your battery.
3. Don't overcharge the battery. If you aren't sure whether your charger cuts off automatically when the battery is fully charged, unplug the battery after charging, or consider using a timer on the outlet to shut off charging after a few hours.
4. Store the battery in a cool, dry place.
5. If you are storing the battery for a long time, check on it regularly. If you see discoloration or notice a smell, dispose of it. For proper battery disposal, visit Recycling.
2022 E-Bike Evaluation#
As electric-assist bicycles (e-bikes) are gaining more popularity we wanted to assess perceptions and impacts of allowing e-bikes and other e-devices on paved trails in Fort Collins. We collected information on trail utilization and experience, use of e-bikes, safety behaviors, speeds, and user perceptions.
Under Colorado and Fort Collins law, e-bikes are defined as bicycles with two or three wheels, fully operable pedals, and an electric motor.
Class 1 E-bike
Class 2 E-bike
Class 3 E-bike

Provides electrical assistance only while the rider is pedaling, up to 20 mph.

Allowed on paved trails. Not permitted on soft-surface trails.

Provides electrical assistance regardless if the rider is pedaling or not, up to 20 mph.

Allowed on paved trails. Not permitted on soft-surface trails.

Provides electrical assistance while the rider is pedaling, up to 28 mph. Must be equipped with a speedometer, and may not be ridden by people under 16 (unless as a passenger). People under 18 must wear a helmet.

Not allowed on paved or soft-surface trails. Allowed on streets and in bike lanes.
E-Bikes Allowed
on

Trails#

On April 21, 2020 the Fort Collins City Council approved City and Traffic Code updates to allow Class 1 and Class 2 e-bikes on paved trails following the completion of the 2019-2020 pilot program.

In 2021, Spin began an e-bike and e-scooter share program in Fort Collins. Spin e-bikes are geo-fenced to a maximum of 15 mph on paved trails and will not operate on soft/natural surface trails. Spin e-scooters are geo-fenced and will not operate on any paved trails.
Thank you for your feedback!
During the one-year 2019-2020 pilot program, City staff and volunteers collected data and feedback from the community to assess perceptions and impacts associated with allowing e-bikes on paved trails. A report summarizing the information collected and recommendations is available below.
E-bike Literature Review#
During the pilot program, the City of Fort Collins joined Boulder County, Larimer County, and the City of Boulder as a funding partner in the completion of a Literature Review to provide a snapshot of relevant research related to e-bikes and how they are being addressed in other jurisdictions. The literature review also assessed broader topics related to recreation conflict and emerging technology. The key findings from the literature review were:
Literature Review Key Findings:
E-bikes provide increased access to recreation and transportation; older adults are more likely to use e-bikes for recreation and fitness whereas younger adults are more likely to use e-bikes for commuting, utilitarian trips, and to replace car trips.
The addition of the electric-assist encourages people to take more and longer trips by bike, and offers individual health benefits.
E-bike users indicate feeling safer on an e-bike than a conventional bike given the ability to travel through an intersection quickly or traverse challenging terrain.
Safety, speed, crowding, and user conflict are common concerns related to bicycles, and even more so for e-bikes. However, e-bike research has shown that people tend to view e-bikes more favorably once they are exposed to or become familiar with e-bikes.
The literature review found little research to suggest that e-bikes have greater negative impacts on trails or wildlife than regular bikes.
Many Colorado jurisdictions have acted to allow some or all classes of e-bikes on their trails.


E-bike Pilot Program Overview (April 2019 - April 2020)#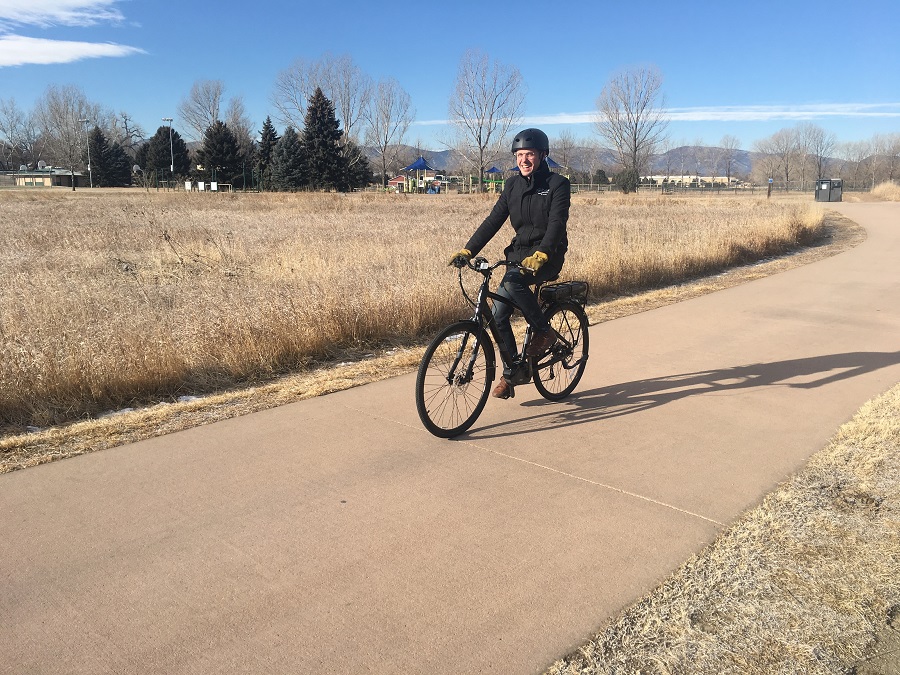 On April 19 the Fort Collins City Council approved a one-year electric assist bicycle pilot program allowing e-bikes on paved trails from May 1, 2019 through April 30, 2020.
The change was prompted by a new state law allowing e-bikes on trails unless otherwise restricted by a local jurisdiction, and the growing popularity of e-bikes. The City's Bicycle Advisory Committee, Transportation Board and six other City Boards passed recommendations in support of a pilot program to allow and evaluate e-bikes on paved trails.
The pilot program included:
One-year trial period beginning May 1, 2019
Class 1 and Class 2 e-bikes only (electric assist provided up to 20 mph)
All paved trails (no unpaved trails)
Extensive education and evaluation