Naturally Yours
Explore Pelican Marsh Natural Area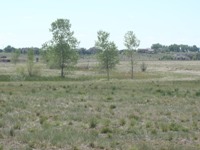 Pelican Marsh Natural Area provides a nice natural view from College Avenue, trails, and a wildlife viewing point of Robert Benson Reservoir. It is adjacent to the new Water's Way Park (construction will be completed soon). In total, there is about 1 mile of trail- a paved trail connects Carpenter Road with Water's Way Park, a gravel trail runs along Carpenter Road and a short paved spur connects the Park with a wildlife viewing area. Visitors will experience the shortgrass prairie, mountain vistas and views of the reservoir and its associated wetlands. And yes, it lives up to it's name, pelicans have been seen here, at Robert Benson Reservoir.


It's Wildflower Season Outdoors and Online

Don't worry, a dry spring doesn't mean the absence of wildflowers- there are just fewer in dry years. You can experience wildflowers on your own, with a guide or even online!

On your own
- try
Bobcat Ridge
,
Cathy Fromme Prairie
or
Pineridge
natural areas which usually have a variety of blooms.

Guided walks
- Volunteer Master Naturalists are leading free guided wildflower walks at
Bobcat Ridge Natural Area
on Saturday, June 9 and Sunday, June 10 (1-3 miles, easy, 9-11 a.m., meet in the parking lot), no registration required.

Online-
Wildflower identification sheets are produced by Lynn Rubright, Master Naturalist, for
Soapstone Prairi
e
and
Cathy Fromme Prairie
. They are available on-site as well as online!
Oil and Gas at Soapstone Prairie
The City of Fort Collins Natural Areas Department would like to inform you about an important issue that has the potential to significantly affect Soapstone Prairie and surrounding properties. Learn more here >>>
Over 30 Activities and Events in June!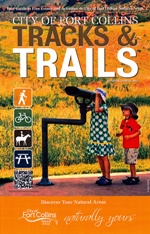 Keep track of them all with
Tracks and Trails
is the Natural Areas Department's guide to free activities and events, June-October.
The 2012 version is here!
Printed copies are available at trailheads and at 75 local businesses. Just a couple highlights:

Nature Nuggets- Ferocious Mini-Beasts: Insects & Spiders
, Thursday June 14, 10-11 a.m. at
Bobcat Ridge Natural Area.
Children ages 3-7 and adult companions will learn about nature in an interactive setting with stories, puppets and hands-on activities. Parents/guardians must be present throughout the program. No registration required.
Birds of Summer
(not in
Tracks & Trails
), Saturday, June 16, 8-10 a.m. and repeated Saturday, June 30, 8-10 a.m. at
Fossil Creek Reservoir Regional Open Space.
Take a leisurely stroll and look for water birds, songbirds, and birds of prey. 1-2 miles, easy. No registration required.
3rd Annual Carp Fishing Derby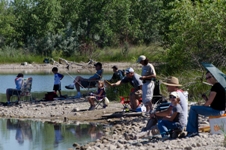 Saturday, June 23, 8 a.m.-noon
at
Arapaho Bend Natural Area.
Want an excuse to go fishing? Bring your family and come out for the Carp Fishing Derby! This is a fun community event that helps the ponds at Arapaho Bend by reducing the number of invasive fish. Anglers of all ages and skill levels welcome; 16+ must have a valid fishing license. Free,
REGISTRATION REQUIRED
,
www.fcgov.com/webtrac
(activity # 39904-01) or call 970-416-2815.
Seeking Fire Tower Restoration Volunteers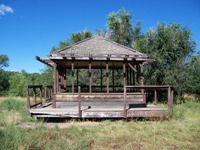 Help restore a historic fire lookout tower that was originally on White Pine Mountain in the Roosevelt National Forest. Volunteers will seal and paint the tower and construct a new trail to link the lookout to the current trail network.
Friday, June 8
, 9 a.m.- 12 noon,
Running Deer Natural Area
.
Registration required
, email cdillon@fcgov.com or call 970-219-1106.
Caution: Rabies

From a 6/1/12 press release:
The Larimer County Department of Health and Environment cautions County residents and visitors that the number of skunks with rabies in Larimer County continues to grow. Two more skunks near Fort Collins have tested positive for rabies in the past week, bringing to total number of skunks tested and confirmed to have rabies to ten since May 4.
The 9
th
skunk was found near Michaud Lane, at the entrance to the
Reservoir Ridge Natural Area
trailhead. The skunk was seen walking through a Memorial Day barbecue at a residence next to the trail and then wandering around the trailhead parking lot, and was reported to the Humane Society. The 10
th
skunk was found on Thursday wandering in the daytime on Richards Lake Road in northeast Fort Collins.
Everyone is reminded to
never touch wildlife
, especially bats and skunks in areas where rabies is present.
More from Larimer County Health Department>>>
-----------------------------------------------------------------------------------------
Natural Areas News is published on the first Tuesday of the month with occasional mid-month updates. Newsletter comments are welcome. Please contact Zoe Whyman, Natural Areas Community Relations Manager, 970-221-6311 or zwhyman@fcgov.com

Back to Natural Areas News Archive »