Dept Director
8 a.m. to 5 p.m. (M-F, except for holidays)
Trail Maintenance Explained
Learn about City of Fort Collins Natural Areas trail work.
Help keep trails open by being good stewards
You know the drill- head out with household members, stay local, remain six feet apart, wear a mask, and don't end up in the E.R. As you social distance here are a few other things to consider:
Everyone can yield. Be courteous and wait, and then figure out the next move.
When yielding to other visitors, step off-trail and wait for the passing tail user. Don't walk off-trail and create a new trail; wildlife, native vegetation, and trail durability count on it.
If you are stopped and talking to someone else on the trail, stay on the same side of the trail. It's not fun for passing trail users to have to pass through the "gauntlet" of two visitors' respiratory droplets by traveling on the trail.
Go at less busy times- before 9 a.m. or after 5 p.m. and on weekdays.
Walk single file with your group.
Thanks for keeping your community safe and accessible for all!
For more information visit: Outside Online
Natural Areas Trail Maintenance Goals
Improve trail durability for high use
Repair trail damage
Create more sustainable trails
Restore natural drainage patterns
Reduce or eliminate erosion
Enhance visitor safety
Reduce the duration or incidents of trail closure due to wet and muddy conditions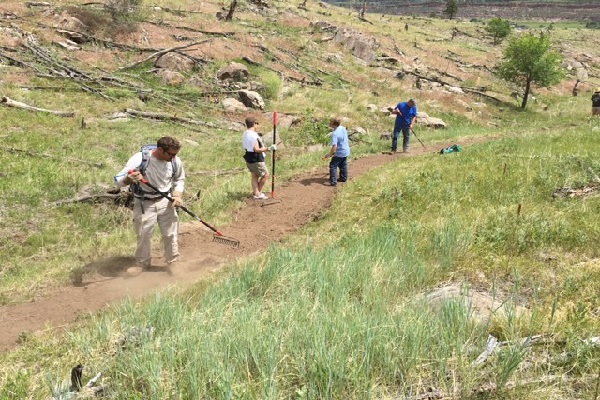 Upper Valley Loop at Bobcat Ridge
Natural Areas staff began trail maintenance on the northern part of the Upper Valley Loop trail in early May 2020 at Bobcat Ridge. The purpose of the project is to improve trail drainage and durability as well as visitor safety. The trail will remain open, but visitors should expect to encounter crews, machinery and temporary obstructions in the trail such as large rocks and piles of soil. Signage will be posted at each end of the work site to alert visitors of the project. Please respect Natural Areas staff safety and practice social distancing when traveling through the worksite.