The City of Fort Collins is Conducting the 2018 Fort Collins Employee Travel Survey!
During the months of September and October 2018, the City of Fort Collins is conducting an employee travel survey targeting employees who work in Fort Collins (residents and non-residents) to understand modal share and trip-making behavior for their work commute and the trips they make during the workday. The information gathered from this project will be used to assist transportation planning and evaluation.
On behalf of the City, National Research Center, Inc. will provide links to employees, via their employers, to access the survey online or through an app (iOS and Android). If a participant chooses to complete the study by app they will be asked to download the app, agree to tracking and be tracked starting with that acceptance and until the end of the next full 24 hour day. Their trips will be imputed and they will be prompted to fill in details (mode, purpose, number in car, etc.) for each completed trip. On opening the app they will also be asked some background questions about their workplace and household. Employers will have the option to request paper versions of the survey, if their employees are not computer-based.
A report of findings will be completed in November 2018.
Privacy Policy
Employer Company
The employer company name is used to distinguish statistical sub-groups of participants from the rest of responders. This is important as it is needed to ensure the responses will be representative. While answers may be associated with a particular company, they are not associated with an individual's name, which the survey will never ask for.
Privacy and Confidentiality
The data collected through this survey will be kept in strict confidence and results will only be reported in aggregate; for example, in statements like "33% of respondents drive a SUV". This means that individual answers and travel behavior will never be reported. The dataset will retain the answers to the survey questions and the geographic locations visited throughout the tracking day, but specific places visited will never be analyzed or reported. Location information will only be used to verify the distance traveled.
Exclusivity
This data will not be shared with any other parties or used for any other purpose.
If you have questions or comments about this survey, please contact Amanda Mansfield at YW1hbnNmaWVsZEBmY2dvdi5jb20= or 970-416-2040.
The Transportation Board advises the Fort Collins City Council on transportation issues. The Board examines issues relating to financing, the development and implementation of master plans pertaining to pedestrian, streets, transit, bicycles, automobiles, congestion, traffic signalization, and transportation facilities, the use of technology, and education of the public and private industry on transportation topics.
In 2018, the City of Fort Collins is developing an Electric Vehicle (EV) Readiness Roadmap to support current and future EV adoption in our community. The Roadmap will establish a vision, goals, and clearly defined roles for City of Fort Collins Departments, the private sector, and the Fort Collins community.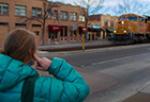 The City of Fort Collins filed a petition for a waiver of a portion of the Train Horn Rule with the Federal Railroad Administration (FRA). On Friday, December 11 the FRA denied the petition. At the same time, in an unprecedented move, the FRA Administrator will establish a Fort Collins Working Group with the Federal Highway and Federal Transit Administration staff. The historic move will help develop solutions and recommendations for the City moving forward.
West Elizabeth Enhanced Travel Corridor (ETC) Plan
Interested in shaping the future of West Elizabeth Street? Make your voice heard and get involved early with the West Elizabeth Enhanced Travel Corridor (ETC) planning effort, which will focus on enhancing biking, walking and transit in the area! The corridor master plan focuses on West Elizabeth Street from Overland Trail to Shields Street, with an eye towards connectivity to CSU's Foothills Campus on the west, and CSU's Main Campus (including MAX stations) on the east.
Fort Collins Named a Platinum Bicycle Friendly Community

We are pleased to announce the League of American Bicyclists announced the latest round of Bicycle Friendly Communities (BFC) and Fort Collins earned Platinum! Read the news release.
Fort Collins Named a Bronze Level Walk Friendly Community

The City of Fort Collins and its application partners, University of Colorado Health and CanDo, Coalition for Activity and Nutrition to Defeat Obesity, are pleased to announce Fort Collins was named a bronze level Walk Friendly Community (WFC) by the Walk Friendly Communities. Read the news release.
Safe Cycling Takes a Community, So We're Building a Town!

What if there was a place your family could practice safe cycling skills? Transportation Planning and Parks Planning staff are working to identify a location and design the bicycle safety town. For more information and updates throughout the summer visit fcgov.com/bikesafetytown or subscribe to Momentum, the City's e-newsletter on bicycling.
Fort Collins' First Bicycle Safety Education Plan
Fort Collins is one of the best cycling towns in the United States, and it's going to get even better. City Council adopted its first Bicycle Safety Education Plan (BSEP) to encourage safer cycling in Fort Collins. This includes education outreach for cyclists of all ages and abilities, as well as motorists and law enforcement. Check out the full plan here or the handy summary to learn more about this safe cycling effort.
Pedestrian Plan
Did you know Fort Collins has a Pedestrian Plan? First developed in 1996, the Pedestrian Plan addresses citywide pedestrian needs like gaps in the sidewalk, safer ways to cross the street and better ramps at street corners. This update to the Pedestrian Plan is part of the Plan Fort Collins efforts to update City Plan and the Transportation Master Plan, and we would love to hear from you. Find out more, visit fcgov.com/pedestrianplan.
Videos