9am-noon, 1-4pm (M-Thu, closed on Fridays and holidays)
City Plan Walking Principle
The City of Fort Collins will support walking as a safe, easy and convenient travel option for all ages and abilities by building a connected network of sidewalks, paths, and trails. (see City Plan for more information).
Walking is one of the healthiest activities for all ages and abilities. Walking for 30 minutes a day or more on most days of the week is a great way to improve or maintain your overall health. Some of the benefits include:
increased cardiovascular and pulmonary (heart and lung) fitness
reduced risk of heart disease and stroke
management of conditions like high blood pressure, high cholesterol, and diabetes
stronger bones and improved balance
increased muscle strength and endurance
reduced body fat.
Walking builds community. It's a great way to meet neighbors and get to know your City. Some ideas to make your walk more social include:
Schedule a regular family walk
Look for the self-guided nature walks that have been set up in many parks.
Ask neighbors or friends if they would like to join you on your walks.
Think of starting a walking group
Everyone is a pedestrian, even for parts of a trip. Walking to the bus, walking from your car to the store, walking to get the mail. This is true for people in wheelchairs, people on foot, or people being pushed by others. Walking is an activity shared by all of us and should be easy and fun to do for everyone.
Current Walking Programs
and

Projects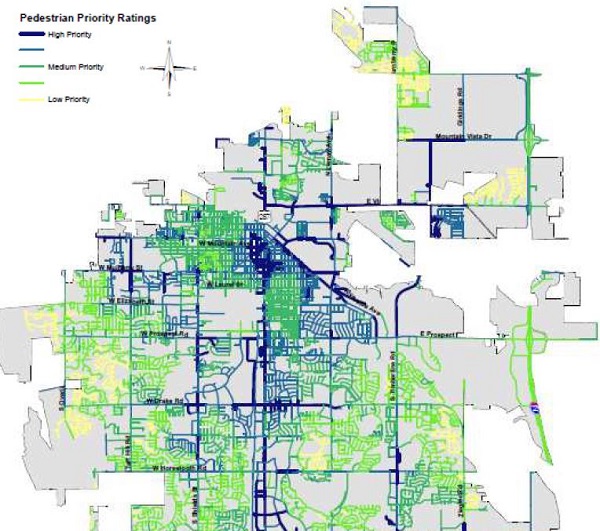 Pedestrian Needs Assessment
This project provides a complete City sidewalk inventory, identifies sidewalk inadequacies, and access needs under the Americans with Disabilities Act (ADA) requirements. For more info click here.
Staff has implemented a methodology and analysis program used to prioritize pedestrian projects. This program takes into account a variety of factors such as, but not limited to, demand, corridor function, and high priority areas.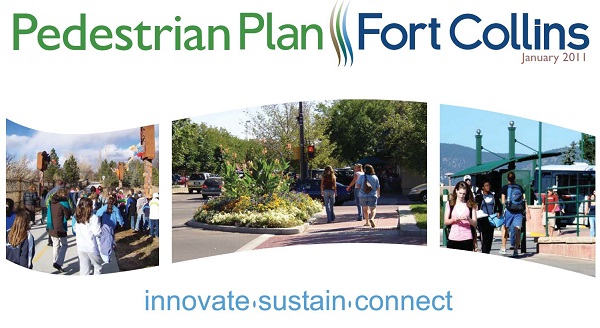 Pedestrian Plan
The Pedestrian Plan outlines issues and proposes solutions to problems for pedestrians; the ultimate goal being adequate and safe pedestrian travel for our community. The Pedestrian Plan summarizes these findings and acts as a guide as our community grows and changes. This effort prioritized a list of pedestrian improvement projects and explore potential funding options.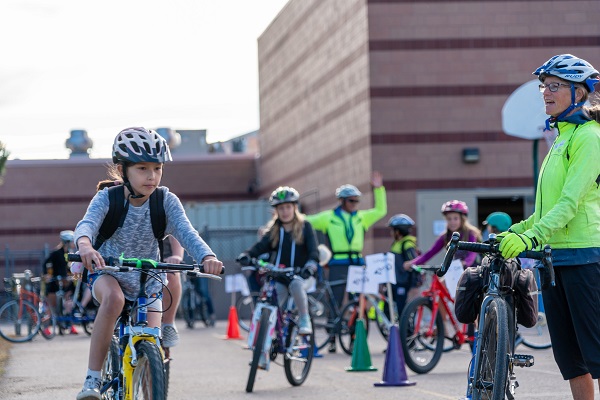 Safe Routes to School
The City's Safe Routes to School program works with strategic partners such as Poudre School District and Bike Fort Collins to increase the number of students safely walking, bicycling and taking the bus to school. Whether through bicycle and pedestrian safety classes, improved sidewalks and bike lanes, or enforcing school-zone speed limits and other "traffic calming" in school areas, our community is working together to make walking, bicycling or taking the bus a great choice for kids!