West Mulberry Street Improvements & Pilot Project
Take our Follow-up 2020 Feedback Survey Here
In 2018, the City completed a redesign of the W. Mulberry Street corridor, which added a center turn lane, protected bike lanes, crossing improvements, and reduced travel lanes to one lane in each direction. This project has been in place for more than one year, and we'd like to hear your thoughts. The survey will be open until February 21, 2020.
You're invited: Transportation Projects Fair
Want to know more about upcoming transportation projects in Fort Collins, including the W. Mulberry Street Project? Stop by Fort Collins' Transportation Projects Fair on Feb. 27 to learn about and provide input on a variety of transportation projects planned throughout the city. Refreshments will be served and an interpreter will be available.
THURSDAY, FEB. 27, 2020
5:30-7:30 P.M.
LINCOLN CENTER
COLUMBINE ROOM
417 W. MAGNOLIA ST.
Shields
and

Magnolia Bicycle

and

Pedestrian Signal Project

The City is planning to install a signal dedicated to pedestrians and bicyclists crossing Shields at Magnolia. Based on neighborhood feedback, the City has revised the design options and timeline for the Shields and Magnolia Bicycle and Pedestrian Signal project. This project helps complete the Magnolia Bikeway, a Safe Routes to School Corridor, and the continuation of the W. Mulberry east-west bike route. The selected design is anticipated for construction in summer 2020.

We've received great feedback on the design options and have determined the preferred design for this intersection based on this feedback and further analysis. The preferred design is available for your review below. Additional outreach will occur with the neighborhood to provide information on construction.

Pedestrian and Bicycle Crossing Design

For questions, please contact Tessa Greegor at dGdyZWVnb3JAZmNnb3YuY29t
Thanks
for

your feedback

on

the

Mulberry Project!

In 2018, the City completed a redesign of the West Mulberry Street corridor, which included adding a center turn lane, adding protected bike lanes, and reducing travel lanes from two lanes in each direction to one lane in each direction. The protected bike lanes were completed as part of a pilot project, which includes testing different types of bike lane protection to determine the best approach for future projects. As part of this pilot project, the City is conducting evaluation of the project to seek feedback on different aspects of the design. This information will be used to inform future project design and to determine whether additional refinements are needed for the Mulberry corridor. Thank you for taking the time to provide feedback!

The City received over 700 responses to its preliminary online survey in 2018. An initial draft of the survey results is available here. Now that the project has been in place for more than one year, we are conducting a follow-up survey, which will be open until Feb. 21, 2020.
Building on the recommendations adopted in the 2017 Old Town Neighborhoods Plan and 2014 Bicycle Master Plan, the City will be improving W. Mulberry Street between Jackson Ave. and Overland Trail in 2018. This project will restripe Mulberry to add a center turn lane while also piloting protected bicycle lanes. The lower traffic volumes in this section of Mulberry Street means traffic can continue to flow smoothly with one travel lane in each direction, while the new center lane allows for safer and more convenient left turns to residential driveways and local streets. Space gained from the reduction in lanes will be utilized to enhance bicycle mobility, while also increasing the buffer between the sidewalk and travel lanes. Bicycle and pedestrian crossing improvements are also planned at the following locations along the corridor: Mulberry at Impala / Ponderosa, Mulberry at City Park, and N. Shields at Magnolia.
Download our Project Overview and FAQs Here
Background
The City's 2017-18 budget included funding to complete a protected bike lane pilot project building on the recommendations in the 2014 Bicycle Master Plan. In 2017, Staff evaluated multiple corridors to determine the optimal pilot project location and ultimately selected W. Mulberry St. from Jackson Ave. to Overland Trail as the preferred corridor for this. W. Mulberry St. was selected for the following reasons:
Deficient bicycle infrastructure
Included in the City's Big Jump focus area, which aims to triple bicycle ridership in northwest Fort Collins
Recommended for improvements in adopted plans
Lacks parallel low-stress bicycle route alternatives
Provides access to City Park, Poudre High School, and other destinations
Known safety issues
Opportunity to test protected bike lanes on a higher speed, higher volume arterial
Opportunities to improve the corridor for motorists, pedestrians and transit users
Further, a reconfiguration of W. Mulberry St. between Taft Hill and Jackson Avenue was recommended as a near-term action item in the 2017 Old Town Neighborhoods Plan. Proposed changes included reducing travel lanes to one lane in each direction, and adding a center turn lane and new bicycle facilities.
Project Design
The following design changes are planned:
New center turn lane
Protected and buffered bike lanes
Crossing improvements at Mulberry at Impala, Mulberry at City Park and N. Shields at Magnolia
Green paint in areas of conflict
Parking-protected bike lane around Sheldon Lake
2-way protected bike lane on Impala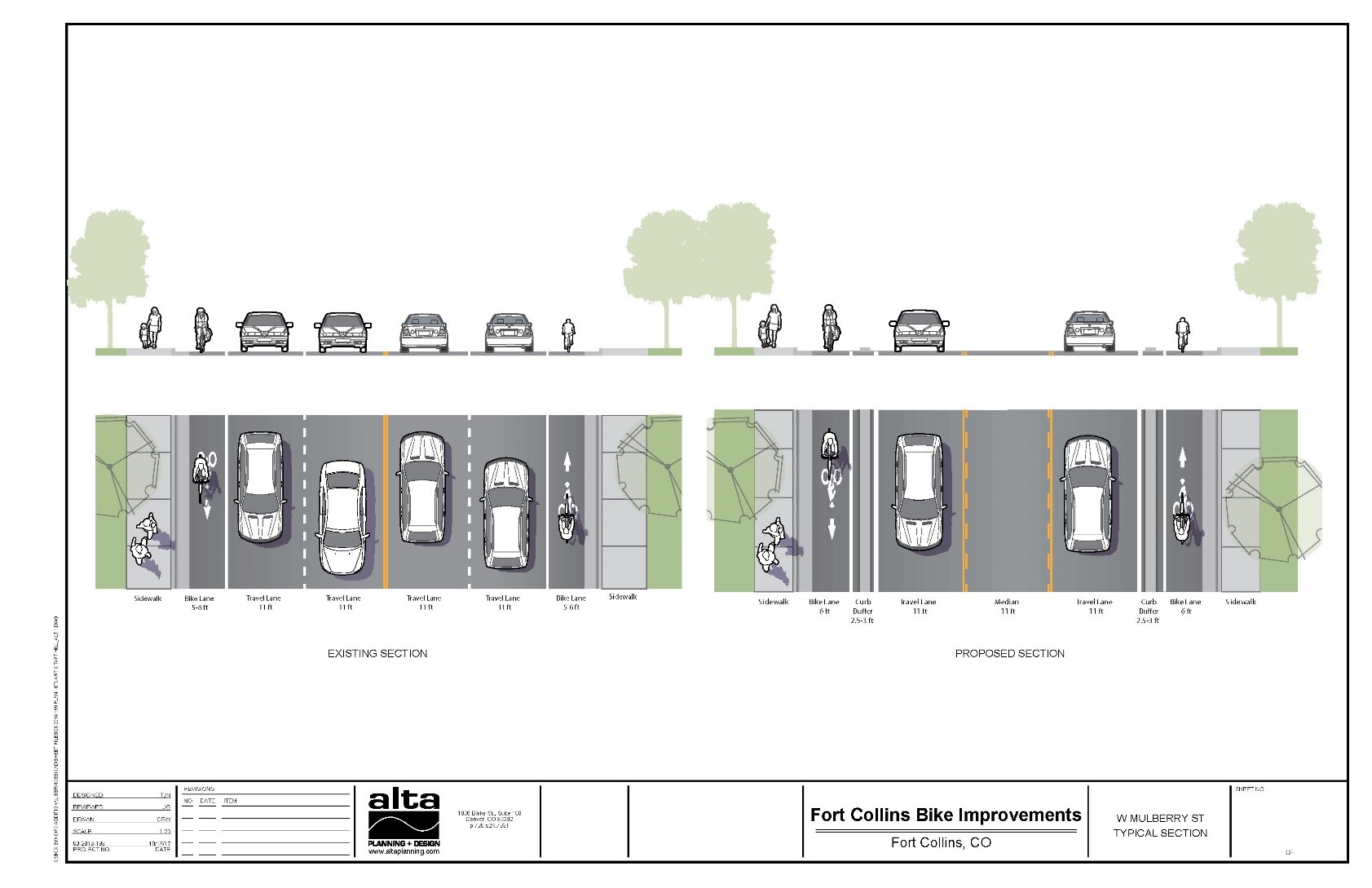 | | |
| --- | --- |
| Project Selection | Spring/Summer 2017 |
| Concept Design | Summer/Fall 2017 |
| Public Outreach | Fall 2017 - Spring 2018 |
| Final Design | Winter 2017 - Spring 2018 |
| Project Evaluation (Pre) | Spring 2018 |
| Project Implementation | Summer 2018 |
| Evaluation and Education (Post) | Fall 2018 - Fall 2019 |
Laurel Street Pilot Project
A three-block protected bike lane project was installed in 2015 on Laurel Street between South Howes Street and Remington Street. The project featured parking protected bike lanes, protected bike lanes, shared lane markings, green paint denoting a merge zone, and a bike box.
The Laurel Street Pilot Project completed missing segments of the City's bicycle network, while addressing one of the City's highest bicycle crash locations (College Ave. and Laurel St.). Following installation, a year-long evaluation process was conducted to support the development of best practices for future protected bike lanes and to identify if design refinements are needed to improve the Laurel Street corridor.
Laurel Street Evaluation Report