Trail System Status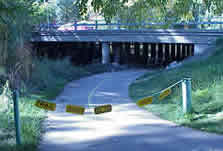 Although we attempt to keep the status of the trails updated for your convenience, sometimes closures happen quickly for safety concerns, and may not be updated on this page.
When you come upon barricades, please obey the detours. This can be an inconvenience but they are in place for your safety. Always be aware of the possibility of high water along the river and use caution when traveling along the trail at underpasses.
Please Note
: For a map of trail closures please visit the
NoCo Trail Report.
A courtesy speed limit of
15 mph max
for cyclists using the trail is strongly advised to keep ALL users safe.
Status
Trail

Open

Fossil Creek Trail

Open

Mason Trail

Open with warnings

Poudre Trail view closure details

Posted 4/12: The Poudre Trail underpass at Prospect Road will be closed for the week of April 16th – April 20thfor retaining wall construction. Trail users will be detoured to the west to the signal controlled intersection at Prospect Park Way.

Open

Power Trail

Open

Rendezvous Trail

Open with warnings

Spring Creek Trail view closure details

Posted 4/16: The Spring Creek Trail will be closed between Shields Street and Centre Avenue on the mornings of Saturday, April 21st and Monday, April 23rd for volunteer clean up efforts along the Spring Creek channel. Trail users will be detoured along Shields Street, Rolland Moore Drive, and Centre Avenue.
To report problems along the trail system, contact Parks main office at 970-221-6660 or email cGFya3Nob3BAZmNnb3YuY29t.