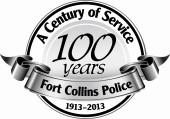 Leadership from the Beginning
Part 5 in a series of articles chronicling the history of Fort Collins Police Services
Fort Collins Police Services has had a total of 13 Police Chiefs since the department's inception, with each chief's leadership style contributing to the evolution and success of the agency.
The first chief, Albert Baker, April 1913 - January 1930, created a professional image for the department with new uniforms, established an actual budget approved by City Council, and provided training that elevated the officers' abilities. He insisted that all officers be trained in Jiu Jitsu, fingerprinting, and fingerprint identification. He also mandated that all prisoners be fingerprinted.
Baker was followed by Marion Clifton Short, January 1930 - April 1930, who started with the department in 1924, first as a patrolman and then as a traffic officer, where he remained until he became chief.
Elmer I. Cooke, May 1930 - February 1931, previously served as Larimer County's Sheriff from 1913-1921 and left that position to work as an Estes Park marshal. A year later he accepted a position as the undersheriff for Larimer County where he remained until taking the police chief position in Fort Collins. Cooke died from the flu while in office.
Fred Blumenthal, February 1931 - January 1935, started at the Police Department in 1917 but left to work in the Larimer County Sheriff's Department from 1924-1925. After his resignation, he returned to the Police Department as a patrolman. Blumenthal was shot in the line of duty, but fortunately only received minor injuries. After he retired in 1944, he was hired as the City Hall janitor where he worked until 1964 when he retired at 80 years of age, the oldest City employee with the longest service record.
Gardner R. Cushing, January 1935 - October 1936, was the first college-educated chief, having graduated from what was then Colorado A&M. He had served as a sheriff's deputy from 1922 until he went to work for the Fort Collins Police Department, where he worked as a desk sergeant when promoted to Chief. He retired Oct. 15, 1936.
Orville P. Kelley, October 1936 - October 1961, was extremely popular and earned the nickname "Pop" because he was a father figure to the officers. Kelley was a progressive man, and during his tenure provided equipment training for his officers. He also made sure that all new officers received training, which included a four-week FBI course.
Clinton E. Smith, November 1961 - May 1964, was previously the Chief of Police in Olathe and Wichita, Kansas. He convinced City Council to mark the police cars and expand the fleet.
Roy E. Hallady, November 1963 - February 1967, rose through the ranks in Oak Park, Michigan, to Deputy of Public Safety and had been a trainee instructor for the School of Police Administration and Public Safety at Missouri State University. After assuming the chief's position he proceeded to make his mark, reorganizing the department's record system, and increasing training. He retired to take a management consultant position with the International Association of Chiefs of Police in Washington D.C.
Ralph Smith, June 1967 - January 1984, was a widely popular and respected man both in the department and in the community. He was highly educated and served as the Police Chief in Liberal, Kansas, from 1963 to 1967. Smith dramatically improved the department with new equipment, vehicles, uniforms, and increased training. Smith was innovative; he and his staff reviewed any new technology, equipment or concept that came into police work. He instituted four divisions: patrol, investigations, administration, and information services. That structure remains in place today. For Smith, service to the community was a high priority and he mandated community involvement. He insisted on good press relations, made sure information was given to the public, and established an open administration in all aspects of policing. He died of a heart attack while skiing. Each year the Colorado Association Chiefs of Police presents an award to a chief for innovative implementation in Smith's honor. Smith is credited with setting the bar high in terms of education and expectations.
Bruce D. Glasscock, June 1984 - August 1990, brought a philosophy of proactive policing rather than reactive. He retired to become Chief of Police and Assistant City Manager for Plano, Texas. He is currently Plano's City Manager.
Fred Rainguet, February 1991 - July 1996, had been educated at the Denver Seminary and was previously a junior high teacher before entering law enforcement. His first police job was at the Westminster Police Department, followed by time in Longmont and Casper, Wyoming, before becoming the Fort Collins Chief. He was also director of the Center of Advanced Police Studies for the International Association of Chiefs of Police in Washington D.C. Under his direction, the Downtown District Station was opened and the feasibility study for the new police building began. Rainguet received his Ph.D. after leaving the department. He is currently the Director of the Western Slope Masters of Public Affairs program for the University of Colorado.
Dennis V. Harrison, January 1997 - April 2011, began his police career in high school, working his way up through the ranks to Captain in Scottsdale, Arizona. He worked to involve the community in finding problem-solving solutions. He continued Rainguet's effort to work on gang issues. With local law enforcement and community help, gang crime in Fort Collins was dramatically reduced. During his tenure, the Citizen Review Board was created. Harrison also instituted a mobile field force team and provided training on riot equipment and controlling large groups. Additionally, he spearheaded the Emergency Management Disaster Response Plan and was involved in the design and management of the new facility, which opened Aug. 27, 2007.
The contributions of our current chief, John Hutto, hired Dec.1, 2011, are chronicled in the next article, "Quality and Community Service Top Chief Hutto's List of Priorities".