Fort Collins Police Services Turns 100!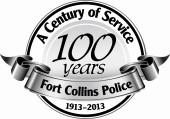 2013 marks the 100-Year Anniversary of Fort Collins Police Services (FCPS) with celebrations throughout the year. Highlights include:
Redesigned Patrol Cars are being transitioned to a black & white color scheme as existing cars are retired and new ones added to the fleet. The new color scheme and design make patrol cars more visible and instantly recognizable.
City Council Proclamation declared April 21 as Fort Collins Police Day and encouraged residents to join the City in celebrating our Century of Service.
"A Century of Service" Car Decals are adhered to all marked police cars for the year.
Museum Displays at both the main police station and the District One office have been refreshed with new artifacts and information.
Street Banners adorn the intersections of College Avenue & Foothills Parkway and College Avenue & Laurel Street at various times throughout the year.
Commemorative Uniform Badges and Anniversary Name Plates are worn on all police officers uniforms during the year.
Anniversary Pins are worn by all civilian employees throughout the year.
4th of July Parade down Mountain Avenue will feature FCPS with Chief John Hutto as the parade Grand Marshall. The parade, showcasing the agency and honoring a Century of Service, is a family event starting at 9:30 a.m. Come line W. Mountain Avenue, cheer, and thank the police for all they do to protect and keep the community safe.