Electric Vehicle Group Buy Program to Launch at the City!
The City of Fort Collins is excited to announce the 2019 Electric Vehicle (EV) Group Buy program! In collaboration with Drive Electric Northern Colorado (DENC), the EV Group Buy program makes purchasing an electric vehicle significantly more accessible and affordable with steep discounts of up to 52 percent off of 2019 BMW i3, i8, and 530xe.
By participating in this program, participants are also helping to make Fort Collins a cleaner, quieter and more forward-thinking city! The program begins October 1st and ends October 31st, or while supplies last. Interested participants must print out or download the flyer on their phone and show to the dealer in order to be eligible for the discount:
To learn more about the City's efforts to promote electric vehicle ownership in Fort Collins, take a look at the Electric Vehicle Readiness Roadmap, completed October 2018.
Electric Vehicle Readiness Roadmap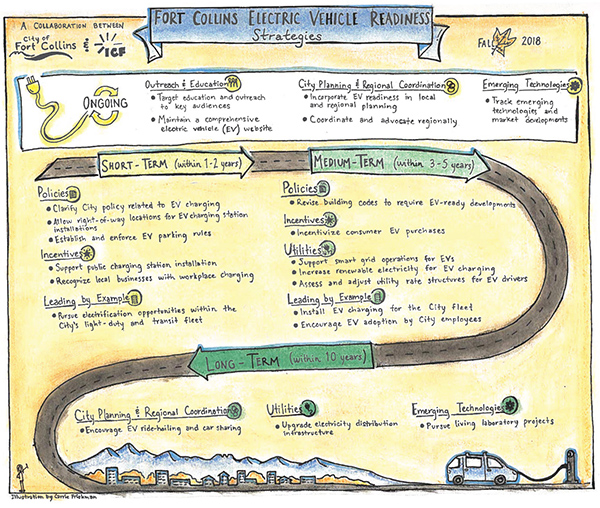 Project Overview
In 2018, the City of Fort Collins developed an Electric Vehicle (EV) Readiness Roadmap to support current and future EV adoption in our community. The Roadmap establishes a vision, goals, and clearly defined roles for City of Fort Collins Departments, the private sector, and the Fort Collins community. The Roadmap includes:
Action items for City efforts to inform policies and programs
Strategies for increasing and leveraging investment in EVs and charging infrastructure
EV charging station research and EV adoption forecasts to inform infrastructure needs and equitable placement locally and regionally
Best practices for education, outreach, and addressing barriers to EV adoption
Regional coordination strategies
Objectives
Increase EV use in Fort Collins by providing the clarity and direction needed to advance Fort Collins to the next level of EV adoption
Help Fort Collins achieve their 2015 Climate Action Plan goals by reducing the carbon emissions and local air quality impacts of vehicles used within the city
Inform and align with ongoing planning efforts, including the ongoing City Plan and Transportation Master Plan update, and the upcoming analyses of the electric grid distribution system planned by Fort Collins Utilities
Timeline
The project began in January 2018 and was completed at end of October 2018.
Opportunities
for

Stakeholder Engagement

The City engaged with the public, local businesses, and other stakeholders to develop an EV Readiness Roadmap that is comprehensive, holistic, and serves all members of the Fort Collins community. Stakeholders were engaged through:
An Electric Vehicle Readiness Steering Committee
Engagement during community meetings
One-on-one interviews with select stakeholders
Email, web, and social media updates
A web-based community questionnaire
Electric Vehicle Readiness Steering Committee Meeting Documents
February 2018
April 2018
June 2018
September 2018
Visit Drive Electric Northern Colorado for more information about electric vehicles in Fort Collins, including charging stations, tax credits and other ways to get involved.