Hampshire Road & West Drake Road#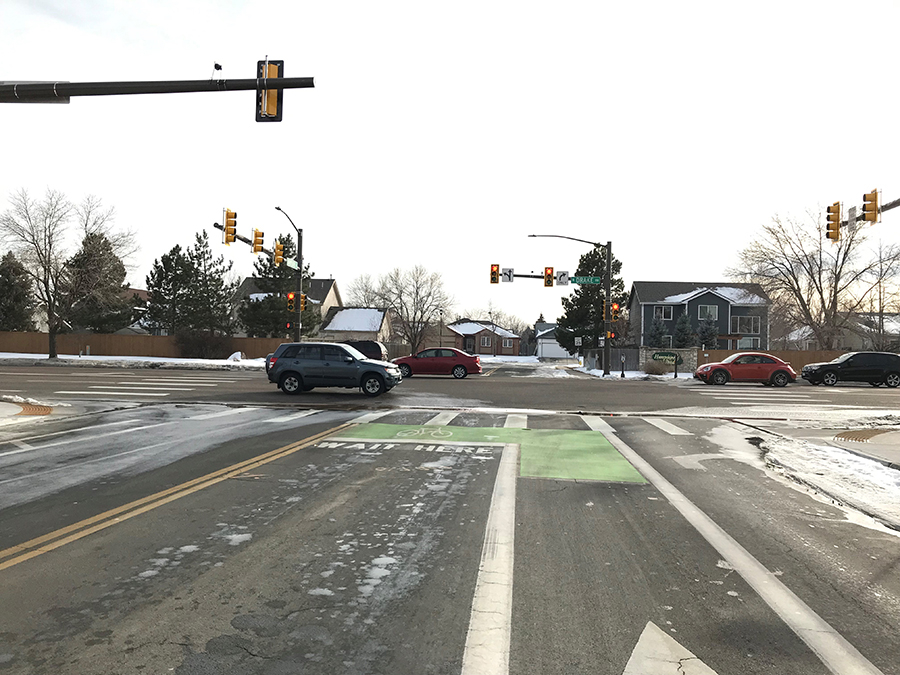 Approaching the intersection in a southbound direction.
Project Overview#
The City of Fort Collins has installed a new signalized crossing for bicyclists and pedestrians on the Hampshire Bikeway at West Drake Road and Hampshire Road thanks to grant funding from the Colorado Department of Transportation's Safe Routes to School program. The project is an important component of the city's low-stress bike network, and the crossing has made it safer and easier for students to walk and bike to Blevins Middle School and Olander Elementary.
The project includes ADA ramps at all corners, four pedestrian crosswalks, and pedestrian "walk signal" buttons.
The project also includes automatic detection and customized signal timing for individual bicyclists and groups of bicyclists (longer green light for groups of bicyclists versus an individual bicyclist). There is no need to press the ped button if you are a bicyclist. Simply pull up to the intersection where you should be as a bicyclist, and wait for a green light.
Finally, there is a green "bike box" at the intersection to allow bicyclists to get out of the blind spot of cars waiting at the intersection and to have first priority at crossing the intersection when the light turns green.
Project Schedule#
Construction began in winter 2021/22 and was completed in spring 2022. The project is fully operational, with just a few minor improvements pending, including the elimination of low-profile utility-hole covers (to bring them up to road-surface level).
Contact#
Nancy Nichols | Safe Routes to School Program Manager | 970-416-2357 | saferoutes@fcgov.com
Cortney Geary | Active Modes Manager | 970-416-2471 | cgeary@fcgov.com