Capital Improvement Plan (CIP)#
The Transportation Capital Improvement Plan (CIP) is an inventory of all multi-modal transportation needs throughout the City and is an appendix to Transportation Master Plan (TMP). The CIP was updated using an inter-disciplinary team and "triple bottom line" approach that includes environmental, economic, and social factors as project prioritization criteria in conjunction with the traditional transportation criteria.
How Our Plans Work Together#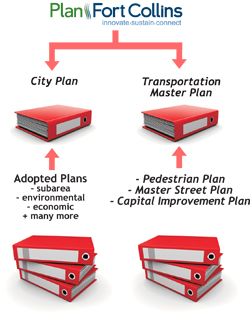 The focus of the 2012 update was to ensure that the CIP is accurate, up-to-date, and more user-friendly. The update also supports the action steps specified in the 2011 TMP/CIP. This is an administrative update to the CIP.