Protect Yourself with the Four D's!
Drain: Mosquitoes breed in water! Drain any standing water in your yard each week. Bird baths, clogged gutters and kiddie pools are common breeding sites.
Dress: Wear lightweight, long-sleeved shirts and long pants while outdoors. Spray clothing with insect repellent since mosquitoes may bite through clothing.
Defend: Apply insect repellent sparingly to exposed skin. Use an approved repellent according to its label. Find the repellent that is right for you.
Dawn/Dusk: Limit time spent outdoors at dusk through dawn, when mosquitoes are most active and feeding.
West Nile Virus Technical Advisory Committee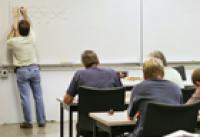 The West Nile Virus Technical Advisory Committee meets to discuss the previous mosquito season and considers recommendations for future response guidelines. The committee is composed of City-appointed experts who provide technical expertise and make recommendations to City Council regarding the City's West Nile Virus Management Policy. Visit their webpage for meeting minutes and to get notifications when new minutes are available.
Upcoming Meetings:
October 18
November 15
December 13
January 17
February 21
All meetings are held from 4:30 - 6:00 PM in the Parks Department Conference Room, 413 S. Bryan Ave.
Take a moment to sign up for community alerts for West Nile virus (WNV) spraying at Larimer Emergency Telephone Authority (LETA911).
LETA911, is the Governing Authority for 9-1-1 in Larimer County Colorado. LETA911 provides oversight to 9-1-1, the equipment, and the programs funded by LETA. This includes non-emergency or community alerts for WNV adulticiding.
Create an account and under "My Alert Subscriptions" click "Community Alerts" and then check the "Fort Collins | Poudre Fire Authority" box and check "West Nile Virus Spraying" to receive alerts.

If you are a business or laboratory you can apply to opt out of our adulticiding (spraying operations). Please keep in mind only commercial businesses able to prove a long-term negative financial impact to their business will be considered. To apply, enter your business and contact information. Applicants will receive an application via email with the requirements and details of the opt-out.
West Nile Virus Poll
As a data driven organization the City of Fort Collins is gathering information from the community about the level of awareness of West Nile Virus. Please take a moment to fill out the following poll in order to help use provide the community with better information on this disease.

Take the WNV Awareness Poll
West Nile Notify: Subscribe to Receive Spraying Notifications
The City of Fort Collins developed a system, West Nile Notify, to send out emails in advance of our spraying operations. Simply subscribe by adding your email to our list. West Nile Notify allows citizens to be notified as early as possible to scheduled mosquito adulticiding. This service is free of charge and subscribers can choose to receive notifications on any or all of the six spraying areas. If you do not have an email address, please call Vector Disease Control International at 970-962-2582.
Weekly Vector Index
The City of Fort Collins tracks measures (in four separate zones) to assist in the determination to spray for adult mosquitoes. In addition to a recommendation by Larimer County, prior to commencing adulticide treatment, the incidence of human WNV infection must be confirmed in the City. Confirmation will occur upon more than one human case being reported per week in Fort Collins OR more than one positive human blood donor reported for the season, in conjunction with evidence suggesting Culex mosquito populations are increasing at or above historical levels, in which case spraying will commence in any treatment zone where the vector index meets or exceeds .75
Testing for the presence of West Nile Virus will continue in June 2018.
VECTOR INDEX:
NW Zone:
NE Zone:
SE Zone:
SW Zone:
Human Cases
Human Cases within the City of Fort Collins this week: 0
Positive blood donors this season: 1
Weekly Trap Data Reports
Trap Reports are updated weekly. These reports show the total number of mosquitoes trapped during the previous week at 53 trapping sites throughout the city. Typically non-WNv carrying Aedes (known as floodwater mosquitoes) species mosquitoes comprise the majority of June counts, with Culex (WNv carrying) mosquitoes accounting for higher counts in July - August.
West Nile Virus Risk Map
View the West Nile Virus Risk Map to understand where testing indicates the presence of West Nile virus positive mosquitoes. The City of Fort Collins operates 53 traps throughout the community to provide up to date information on the severity of West Nile virus.
New Interactive Mosquito Surveillance & Control Map
Our mosquito control contractor, Vector Disease Control International, has a NEW interactive mosquito surveillance and control map.