Soapstone Prairie Natural Area
Trail Status
Closed in December, January and February. Soapstone will reopen March 1 pending weather conditions. Applications for limited pronghorn hunt open until 2/28 at https://www.larimer.org/naturalresources/parks/red-mountain/hunting
Description
Soapstone is extraordinary with over 28 square miles of wide open vistas, nearly pristine grasslands, miles of trails and world-renowned cultural resources. It is truly a place to treasure! Visit Soapstone Prairie to meet the past, enjoy the present and preserve the future.
Visit with Respect
Respect the cultural heritage at Soapstone Prairie! You must stay on trails which have been planned to avoid sensitive areas. In the unlikely event you see an artifact, leave it alone. Artifacts are part of the legacy of people who were here before us, and leaving artifacts alone demonstrates respect for the people who made them or owned them. Leaving artifacts in place allows other visitors to enjoy them today and in the future. According to Colorado State law, it is illegal to take artifacts, or excavate, damage, or destroy any prehistoric or historic resources. Offenders may be charged with a misdemeanor and may face a fine, jail time or both. Remember, once an object is removed from its context, it loses its ability to educate us about the past.
Cultural History of Soapstone Prairie Natural Area
There is an extensive and diverse human history at Soapstone Prairie - exceeding 12,000 years - from PaleoIndians of the Ice Age to millennia of American Indian groups, to more than a century of homesteaders and cattle and sheep ranchers. The most famous cultural site at Soapstone Prairie is the Lindenmeier archeological site, a National Historic Landmark. Excavations in the 1930s by the Smithsonian and Colorado Museum of Natural History conclusively dated human habitation in North America to at least 10,000 years ago and gave new insight into the Folsom culture. Needles, beads and stone tools were found, making the Lindenmeier site the most extensive Folsom culture campsite yet found. Learn more about the excavations in this booklet about the excavations. Other human history at Soapstone Prairie includes possible Clovis complex sites, numerous stone rings, sheep camp rock cairns, ruins of historic homesteads, ranches and their associated buildings, the foundation of a schoolhouse, and roads and trails. Learn more by watching Speaking History video Fort Collins Museum's Soapstone Prairie Oral History Project or Meeting in the Center with Respect video.
Safety at Soapstone Prairie
Be prepared! Soapstone Prairie offers a remote, backcountry experience. Emergency response can take an hour or more. Be prepared! Visitors tend to underestimate the scale of the property and the trail system. Start early in the day, plan for the weather and carry a trail map. If you are traveling alone, let someone at home know your travel plans and estimated return time. Bring more than enough water, food and clothing. Cell phone service is not reliable, but there is an emergency call box at the entrance station. This is rattlesnake country so watch where you put your hands and feet and stay on established trails. Check the trail conditions page before you come. More about safety >>>
A Link in Mountains to Plains Conservation
Soapstone Prairie Natural Area is an integral piece of the Laramie Foothills Mountains to Plains Project, a partnered conservation effort to create a corridor of protected lands, linking the mountains to the plains. These lands are home to many species of wildlife, such as pronghorn, elk, swift fox, burrowing owls and golden eagles, and rare and threatened plants. Funding for Laramie Foothills Mountains to Plains properties came from Fort Collins and Larimer County dedicated open space sales taxes, Great Outdoors Colorado, The Nature Conservancy, Legacy Land Trust and private landowners.
Seeing Bison
Now that bison (buffalo) have taken their place on the prairie, visitors may see them in their fenced pasture from March-November (Soapstone Prairie and Red Mountain Open Spaceare closed in December, January and February). There is no trail access but you may see them from the road. Directions: From Rawhide Flats Road/CR 15 junction, go about 4.5 miles north on Rawhide Flats Road and look to the west. The bison pasture is 1,000 acres, so they may not be visible. Stay on the roadway and out of the pasture for your safety and the safety of the bison. In the future, the pasture may be expanded to the north, and at that time, bison would be more visible from the Cheyenne Rim Trail. More information is in the Soapstone Prairie site brochure. You can learn more about the bison project here.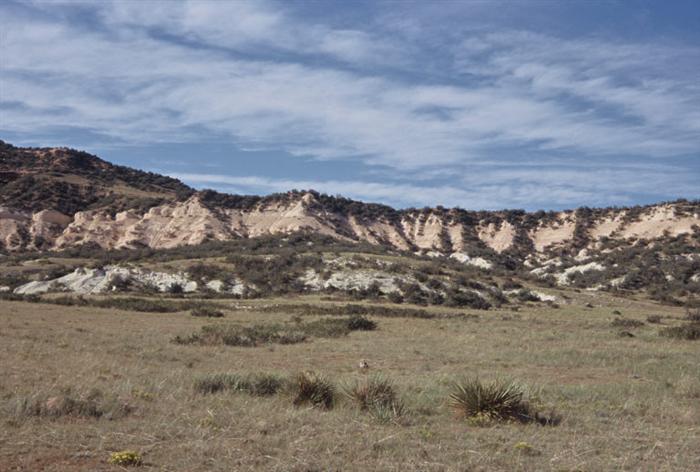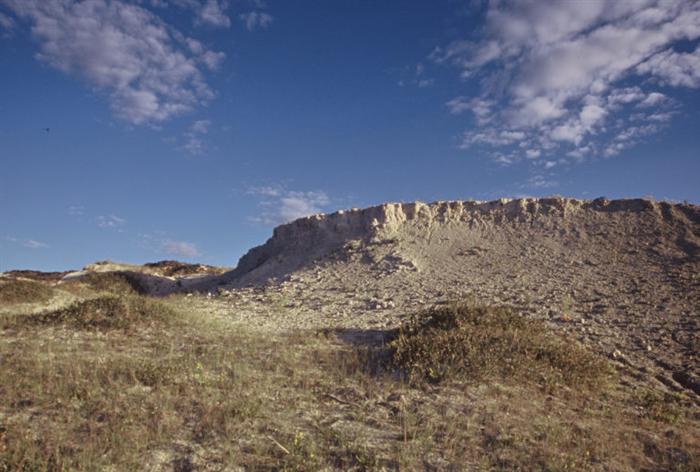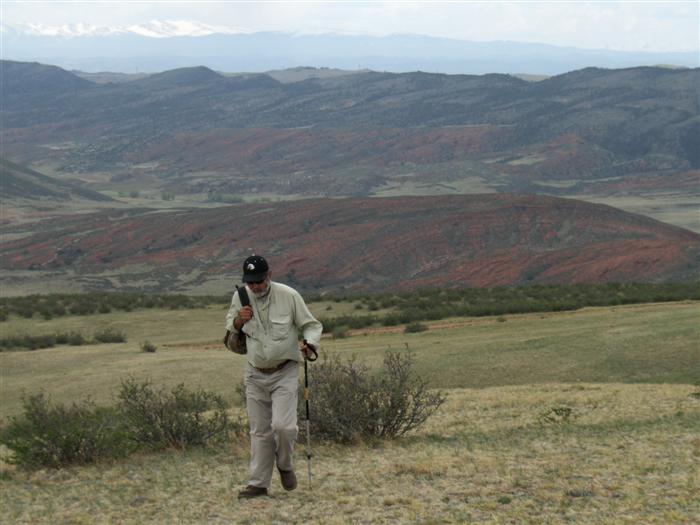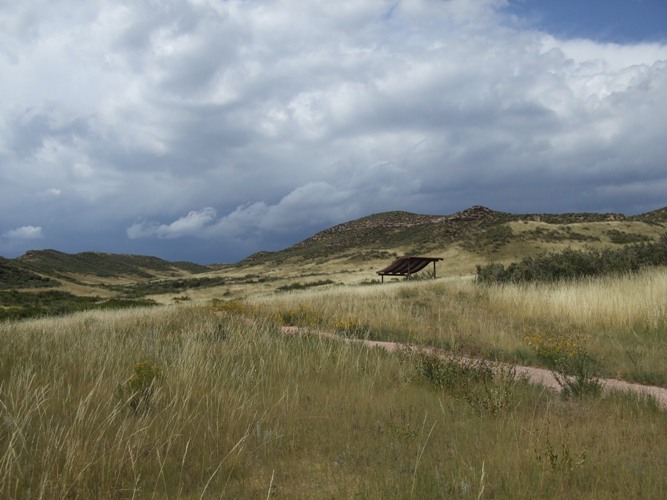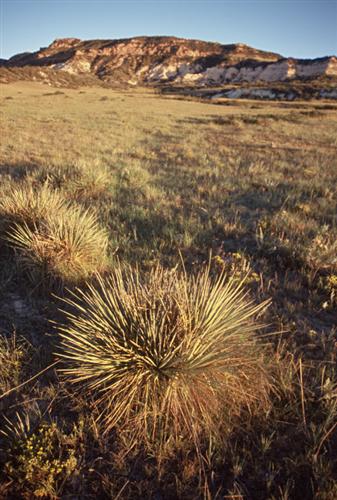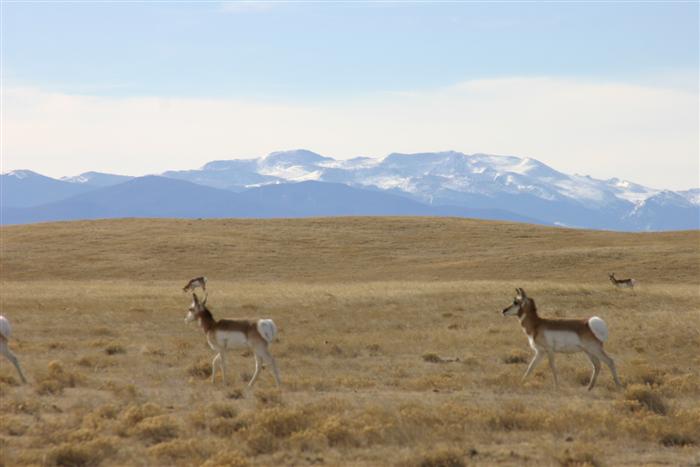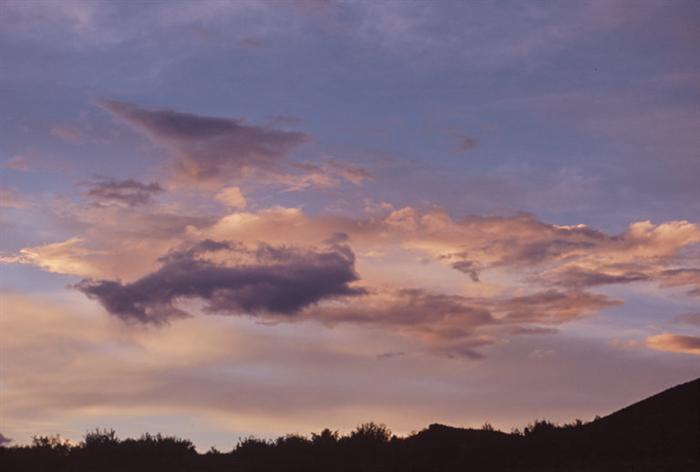 Trails
Click here for Soapstone Prairie Trail Map/Site Brochure (pdf)
Be prepared! Soapstone Prairie offers a remote, backcountry experience. Emergency response can take an hour or more. More about safety >>>

Trails From the South Trailhead Trails open to horseback riding, cycling and hiking.
Cheyenne Rim Trail, 11.7 miles with connection to Canyon trail and Red Mountain Open Space.
Pronghorn Loop, 7.5 mile loop with connection to Plover Trail and Sand Wash Trail
Plover Trail, 7 miles, closed April 1- July 15 for grassland birds, connects to Pronghorn Loop and Sandwash Trail
Equestrians must use the South Trailhead, 16 horse trailer parking spots are available. If the parking lot is full, please come back another time.
All trailheads have a picnic shelter, vault toilet, information kiosk and parking.


Trails from the North Trailhead Trails open to cycling and hiking (no horses)
Lindenmeier Overlook, 1/4 mile paved trail to pavillion with interpretive signs and seating
Mahogany Trail, 5 mile "lolipop" trail with connection to Canyon Trail and Pronghorn Loop
Towhee Trail, 3 mile loop hiking only, with connection to Mahogany Trail and Canyon Trail
Canyon Trail, 5 mile trail on north edge of property with connection to Plover Trail and Red Mountain Open Space
Sand Wash Trail, 1.5 miles connects Canyon Trail and Pronghorn Loop
All trailheads have a picnic shelter, vault toilet, information kiosk and parking.
Click here for Soapstone Prairie Trail Map/Site Brochure (pdf)
Hours
Soapstone Prairie's hours now vary seasonally:
Winter (November 1- November 30) 7 a.m.- 5 p.m.
Spring (March 1- April 30) 6 a.m.- 8 p.m.
Summer (May 1- August 31) 5 a.m.- 9 p.m.
Fall (September 1- October 31) 6 a.m.- 8 p.m.
No entry is permitted after sunset.

Soapstone Prairie is closed in December, January and February.
Hunting
No hunting is allowed except a limited pronghorn hunt by specially permitted hunters in December. Learn more here.
Directions
Soapstone Prairie is 25 miles north of Fort Collins, allow about an hour travel time. From Fort Collins, take Hwy 1/ Terry Lake Road to County Road 15 north (towards Waverly). From CR 15, turn north onto Rawhide Flats Road and continue north to the entrance station. There are nine miles of gravel road that can be dusty, rough and bumpy. Please respect our neighbors and be safe by observing the speed limit.
From I-25, take exit 288 (Buckeye Road) west to County Road 15. Go north on CR 15 and turn north onto Rawhide Flats Road. Follow Rawhide Flats Rd to the entrance station. Soapstone Prairie is not accessible via I-25 exit 293 (CR 126/CR 5).
Events and Activities
Free educational activities and events in June-October are listed in Tracks & Trails booklet guide.
Last minute activity additions, trail recommendations and events offered between November-May are in our free monthly electronic newsletter- sign up in the upper right-hand corner of this page.
Explore with Free Customized Activities and Guided Hikes
-Human history from 12,000 years ago
-Archaeological history at the Lindenmeier Site overlook
-Wildflowers and rare plants
-Hikes with a spectacular view
-Ranching, prairie, and open spaces
-Pronghorns, jack rabbits, birds of the prairie and more
To schedule a free program and/or hike with a volunteer Master Naturalist for your group, please contact Sue Kenney at c2tlbm5leUBmY2dvdi5jb20= or call 970-224-6118. At least two weeks notice is required.