Mountains
to

Plains Zone#
Visiting Soapstone Prairie Natural Area will take your breath away.
Soapstone Prairie is the only City of Fort Collins-owned site in the Mountains to Plains Zone. It is 22,497-acres and is located about 25 miles north of Fort Collins. It is roughly 75% the size of the city of Fort Collins!
Soapstone Prairie Natural Area is located on part of the ancestral homelands of the Apache, Arapaho, Cheyenne, Comanche, Crow, Kiowa, Lakota, Pawnee, Shoshone, and Ute tribes.
Wildlife and native plants thrive at Soapstone Prairie due to the large, open grasslands and foothills setting.
Soapstone Prairie Natural Area is free and open from March to November each year.
Mountains
to

Plains Zone#
The Mountains to Plains Zone contains some of the last remaining intact, high-quality shortgrass prairie and foothills shrublands along the Front Range of Colorado. Nestled north along the Colorado-Wyoming border, Soapstone Prairie is part of a quilt of open space owned by different land management agencies spanning from the mountains to the prairies. Large expanses of native prairies and foothills carpet the north end of the zone; the southern end is dotted with irrigated agricultural fields, reservoirs, ranches, and the rural towns of Wellington and Livermore.
This map illustrates the network of conserved open space in the zone, owned and managed by diverse partners including the City of Fort Collins, Larimer County, the Nature Conservancy, and conservation easements on privately-owned land. Soapstone Prairie Natural Area is the only site owned by Fort Collins Natural Areas Department (FCNAD) in this management zone. At 22,497 acres, it is the largest natural area stewarded by the FCNAD.
This area is part of the ancestral homelands of the Apache, Arapaho, Cheyenne, Comanche, Crow, Kiowa, Lakota, Pawnee, Shoshone, and Ute tribes. Soapstone Prairie contains excellent examples of native ecosystems which provide critical habitat for wildlife and native plant species.
Soapstone Prairie Natural Area was purchased in 2004 and opened to the public in 2009.
Visit the Soapstone Prairie Natural Area website to learn about recreation opportunities, hours, and related information.
Community Feedback#
During the spring of 2022, Natural Areas gathered feedback from the community regarding the Mountains to Plains Zone Update.
Ecological#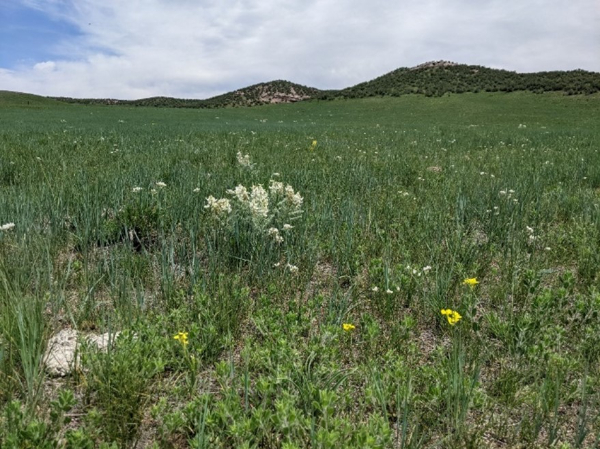 Ecosystem
The Mountains to Plains zone contains some of the last remaining intact, high-quality shortgrass prairie and foothills shrublands along the Front Range of Colorado. Soapstone Prairie contains excellent examples of these native ecosystems which provide critical habitat for wildlife, including pronghorn, mule deer, northern leopard frog, endangered black-footed ferrets, and northern redbelly dace. Native plant species provide over 70% of the vegetation cover. Over 300 species of plants, 135 types of birds, and 30 mammal species rely on Soapstone Prairie to survive.
Vegetation Communities#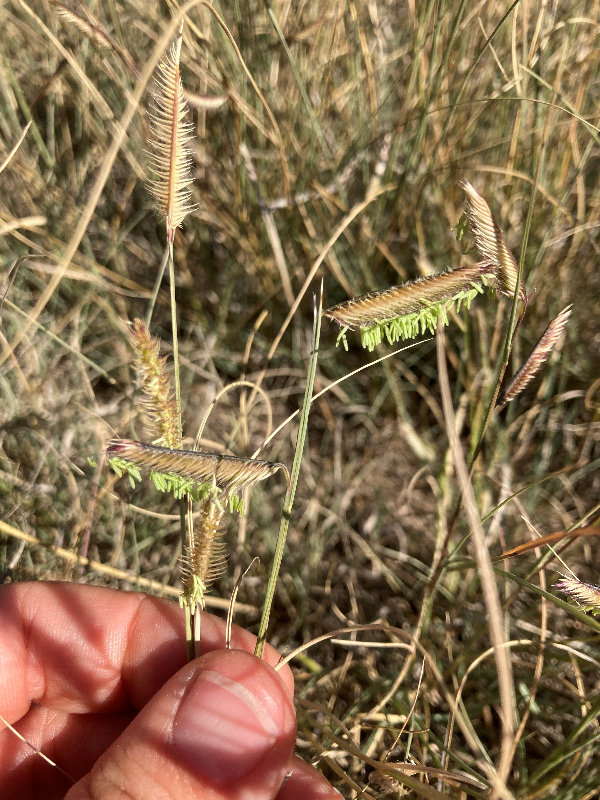 Vegetation Communities
Soapstone Prairie is dominated by three major ecological systems: shortgrass prairie, foothills shrublands, and riparian wetlands. Several smaller habitat types are present, including a small ponderosa pine stand and pockets of groundwater-fed wetlands. The plants in these ecological systems store organic carbon in their roots through a process called carbon sequestration. This process traps and stores carbon dioxide that would otherwise be released into the atmosphere and trap heat. Carbon sequestration helps mitigate the impacts of climate warming.
Fort Collins Terrestrial Greenhouse Gas Inventory and Mitigation Potential Report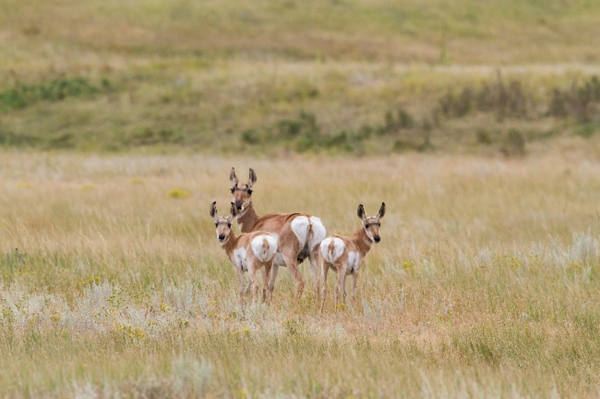 The shortgrass prairie is the most common habitat type found at Soapstone Prairie. Few other sites in northern Colorado host the incredible abundance of native prairie plant species. Blue grama (Bouteloua gracilis) and buffalograss (Buchloe dactyloides) are two common native prairie grasses that form a state-imperiled plant community at Soapstone Prairie. Pronghorn can be found grazing these native prairie grasses at Soapstone Prairie, along with wildflowers like scarlet globemallow (Sphaeralcea coccinea), and high-protein shrubs like winterfat (Krascheninnikovia lanata) that provide critical winter forage for pronghorn, mule deer, and elk. Unlike many other grasslands in Colorado where grazing has eliminated winterfat, it is abundant at Soapstone Prairie due to a history of sustainable grazing. Winterfat forms a globally rare dwarf-shrub grassland community with blue grama and western wheatgrass that is found only in Colorado and New Mexico.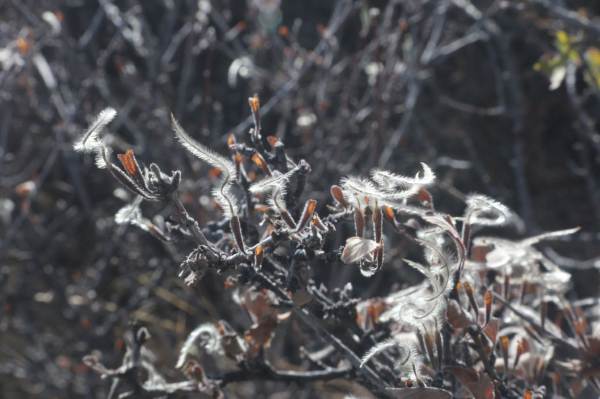 The foothills shrublands are dominated by mountain mahogany (Cercocarpus montanus), a woody shrub that covers the foothills on the northwestern side of Soapstone Prairie. Mountain mahogany shrublands are important for birds like the spotted towhee and the broad-tailed hummingbird. Beautiful, tall native grasses like New Mexico feather grass (Hesperostipa neomexicana) and thickspike wheatgrass (Elymus lanceolatus) are present within this habitat type, forming two distinct globally rare shrubland communities that have disappeared from most of Colorado's Front Range.
Riparian wetlands can be found along Rawhide Creek, Graves Creek, Sand Creek, and Spottlewood Creek at Soapstone Prairie. These drainages have intermittent surface flows but provide a critical water source for wildlife. The northern leopard frog is one of the rarest animals that live in the riparian wetlands. It has been identified as a Tier 1 Species of Conservation Concern by Colorado Parks and Wildlife (CPW), and it relies on a mosaic of wetlands and uplands at Soapstone Prairie to carry out its life cycle. FCNAD biologists are working with CPW to better understand habitat needs for Soapstone's northern leopard frogs.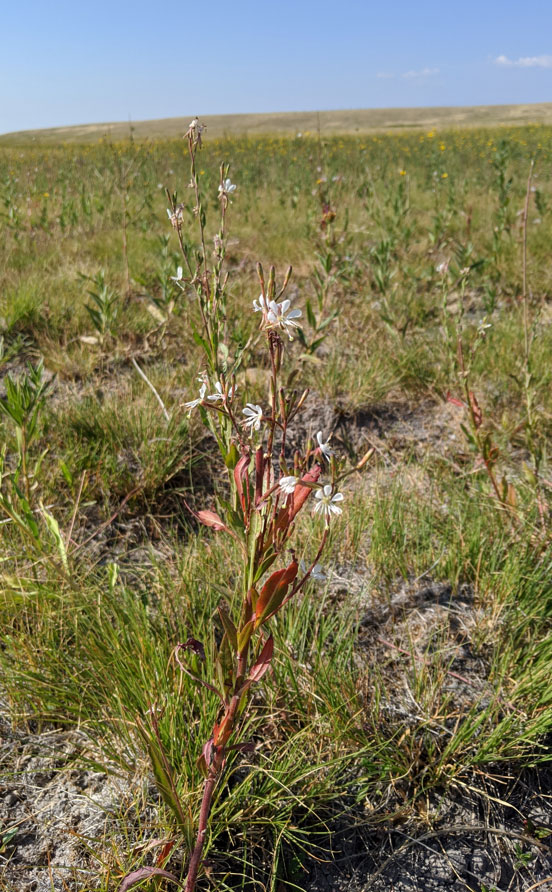 Rare Plants and Plant Communities
Soapstone Prairie is home to 29 globally rare plant species. The Colorado butterfly plant is the most well-known rare plant at the site. Formerly listed as Threatened by the U.S. Fish and Wildlife Service (USFWS), this plant grows in wet meadows at Soapstone Prairie alongside two other rare plant species, pale blue-eyed grass (Sisyrinchium pallidum) and Rocky Mountain blazing star (Liatris ligulistylis). FCNAD staff monitor the Colorado butterfly plant through a partnership with USFWS to report population trends. In 2021, NA staff counted 30,000 individual plants, indicating that the population is stable at Soapstone. Flash grazing and fire are used as natural disturbances to help maintain population levels. Cattle are used in the spring for a very short period then removed from the site to allow the plant to flower and produce seeds.
Wildlife#
Soapstone Prairie is home to abundant wildlife. The Natural Areas and partnering research organizations have spent fifteen years since the City's purchase of the property monitoring and documenting wildlife at the site, but there are still new discoveries to be made in species group like small mammals, reptiles, amphibians, and invertebrates.
Mammals
A total of thirty mammals have been documented at the site, including the reintroduced federally endangered black footed ferret, swift fox, coyote, mountain lion, elk, bats, pronghorn, and mule deer. Camera traps at the site help Natural Areas staff understand wildlife use patterns. Many mountain lions, apex predators, have been photographed on wildlife cameras at Soapstone. This indicates that there is enough prey at the site to support mountain lions, a sign that the ecosystem is well functioning.
List of Soapstone Prairie Natural Area Mammals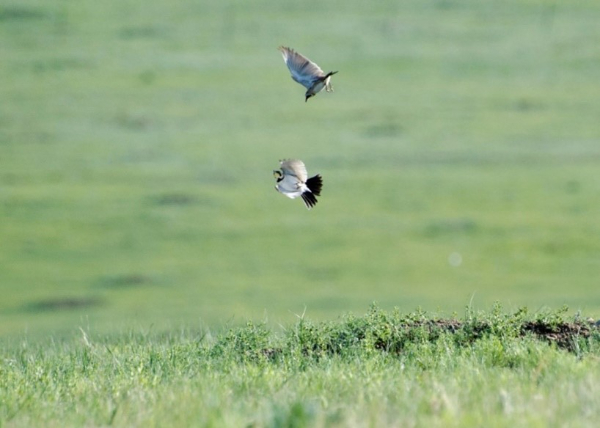 Birds
Soapstone Prairie's high-quality shortgrass, foothills shrubland habitats, and wetlands support rich bird diversity. Several raptor species use the cliffs and arroyos for nesting. Visitors in the spring and summer are treated to a chorus of bird songs. Thick-billed Longspurs, which have a limited Colorado range, can be heard along with Lark Buntings (the state bird), and other grassland specialists on the property. Additionally, species more closely associated with Foothills shrublands are well represented like Green-tailed Towhees and Broad-tailed Hummingbirds.
Grassland bird species are among the most imperiled groups of birds in the United States, making the high-quality prairies at Soapstone Prairie critical habitat for helping these birds complete their life cycle. FCNAD and its partners actively maintain habitat for grassland birds at the site. Since 2006, FCNAD has partnered with Bird Conservancy of the Rockies (BCR) to monitor species richness, abundance, distribution, trends, and habitat requirements of breeding birds at Soapstone. Results from these surveys documented 135 bird species, including 18 high-priority grassland and shrubland species, depend on Soapstone Prairie for nesting. Species include: Ferruginous Hawk, Swainson's Hawk, Golden Eagle, Northern Harrier, Loggerhead Shrike, Burrowing Owl, Mountain Plover, Prairie Falcon, Common Nighthawk, Virginia's Warbler, Lark Bunting, Thick-billed and Chestnut-collared Longspur, Long-billed Curlew, Vesper Sparrow, Grasshopper Sparrow, Brewer's Sparrow, and more recently Baird's sparrow.
Bird Conservancy Soapstone Prairie Report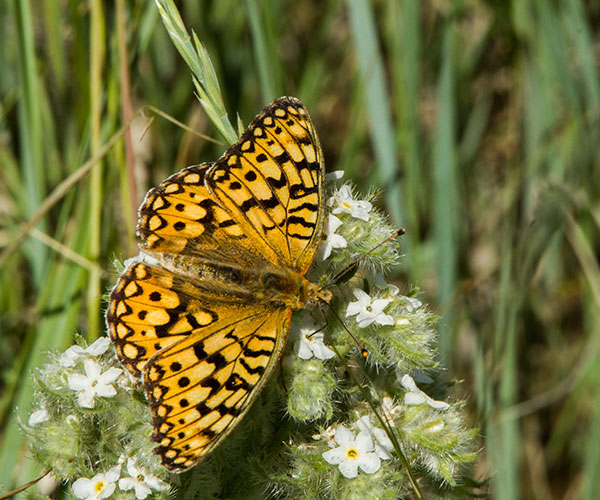 Invertebrates
Invertebrates are central to the ecological function of Soapstone Prairie. They serve as a valuable food source for wildlife and carry out pollination and dispersal for hundreds of plant species present at the site. Developing a deep understanding of the invertebrate community at Soapstone Prairie is challenging due to the highly technical nature of species identification. Natural Areas staff continue to find ways to document invertebrate diversity at Soapstone, and in the past decade have focused on documenting and monitoring two key groups of invertebrates at Soapstone: butterflies and aquatic macroinvertebrates.
Butterflies: In 2004, the Colorado Natural Heritage Program (CNHP) conducted butterfly surveys and documented 18 species. A second survey by CNHP in 2007 documented 54 species, including the Colorado blue, which is a rare sub-species of the Rita blue butterfly. In 2021, FCNAD staff launched an effort to monitor butterflies at Soapstone. A total of 36 species were documented.
Aquatic Macroinvertebrates: In 2011, Colorado State University biologists conducted a baseline survey of aquatic macroinvertebrates at Soapstone. Using three sample sites (Graves Creek, Spottlewood Creek, and Jack Springs), a total of 254 species were documented including 26 rare taxa. Future surveys will focus on bumblebee species diversity.
Soapstone Prairie Butterfly Species List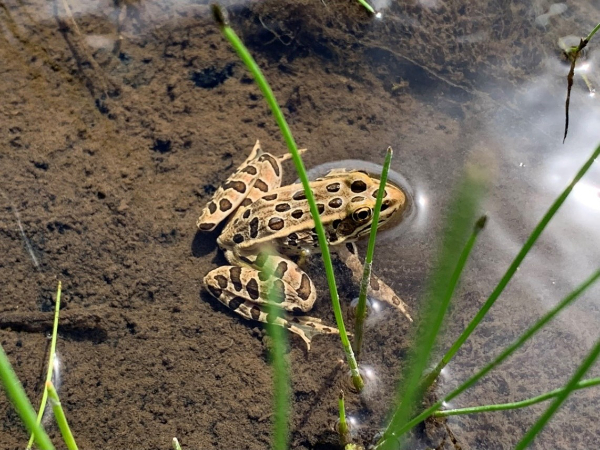 Amphibians & Reptiles
Prairie rattlesnakes, short-horned lizards, North American racers, western terrestrial garter snakes, Woodhouse's toads, and northern leopard frogs all inhabit Soapstone. In 2018 Colorado Natural Heritage Program surveyed sites at Soapstone Prairie most likely to support amphibians. Boreal chorus frogs, and Woodhouse's toads were detected. Natural Areas biologists are focusing conservation efforts on the northern leopard frog, a species that is in decline across its range in the northern and western United States and Canada. Colorado Parks and Wildlife classify northern leopard frogs as a species of highest conservation priority. Once common across the Front Range, most populations in Larimer County have disappeared due to habitat loss, disease, non-native species, and climate change. Natural Areas biologist annually collect monitoring data on northern leopard frogs in Spottlewood Creek and are
working together with Colorado Parks and Wildlife to test resident frogs for a deadly disease called chytrid fungus, which is responsible for amphibian declines and extinctions. Fencing exclusions were installed along riparian habitats at Soapstone Prairie to decrease cattle grazing pressure on northern leopard frog habitat. This action has allowed vegetation to grow taller and provide cover and foraging habitat for the species.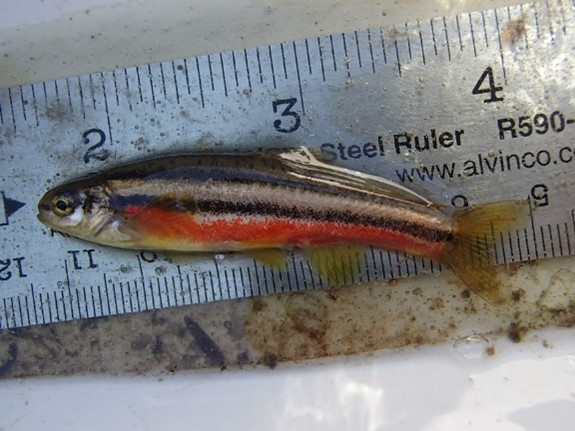 Fish
Only one species of native fish occurs at Soapstone: the northern redbelly dace. This rare, native plains fish species was reintroduced to Spottlewood Creek in 2012 by Colorado Parks and Wildlife (CPW). Survey data in 2019 from CPW showed over 2,000 individuals were present in the creek, evidence of the successful establishment of the species at Soapstone. The rarity of this species makes the Soapstone Prairie population significant, and important to the conservation of northern redbelly dace in Colorado. Natural Areas is working with CPW to explore potentially introducing other endemic plains fish in need of conservation.
The Natural Areas Department uses grazing, prescribed fire, weed management, water resources management, and plague management to protect the health of the ecosystems at Soapstone.
Grazing
Cattle and bison graze at Soapstone Prairie to help maintain plant diversity. The Folsom Grazing Association leases a portion of the property for cattle grazing, helping to maintain natural levels of disturbance at the site.
Bison were reintroduced to Soapstone Prairie in 2015 through a partnership between the Natural Areas, Larimer County, and Colorado State University. The Laramie Foothills Bison Conservation Herd now roams across approximately 2,450 acres of Soapstone Prairie.
.
Prescribed Fire
Fire is a natural disturbance in the prairie and foothills ecosystems at Soapstone. Prescribed fire is the intentional use of fire in a pre-planned area to improve habitat. Natural Areas staff, along with its collaborating partners, have used prescribed fire to burn 2,177 acres at Soapstone Prairie to improve habitat conditions for mountain plovers, nesting grassland birds, and prairie dogs, and to stimulate growth of blue grama, buffalograss, and Colorado butterfly plant.
Weed Management
In general, there is less cover of weedy species at Soapstone Prairie than many other natural areas. Therefore, staying on top of weed control at the site is a major priority due to its great recovery potential and wildlife value. One of the main priorities for weed management at the site is cheatgrass. Cheatgrass is an annual grass that grows rapidly in the spring and dries out in summer. Its early emergence in the spring means that it drains water and nutrients away from later-blooming native plants, outcompeting them. By summer, cheatgrass creates a continuous stand of fuel for wildfires and offers little to no value for wildlife forage. In 2021, 200 acres were treated aerially for cheatgrass using the herbicides indaziflam and imzapic. These pre-emergent herbicides work in the soil to prevent the germination of cheatgrass and are not active on established native vegetation. Previous treatments have shown significant reductions in cheatgrass cover, which help improve native plant cover for wildlife habitat.
FCNAD staff target the following plant species at Soapstone Prairie for weed management: cheatgrass (Bromus tectorum), smooth brome (Bromus inermis), diffuse knapweed (Centaurea diffusa), Dalmatian toadflax (Linaria dalmatica), houndstongue (Cynoglossum officinale), kochia (Kochia scoparia), Russian thistle (Salsola tragus), bull thistle (Cirsium vulgare), and Canada thistle (Cirsium arvense).
Water Resource Management
Water is a precious resource on dry prairies and foothills. To "preserve the natural environment" of Soapstone Prairie, FCNAD secured in-stream water rights for Graves Creek and Spottlewood Creek in 2015. The water rights are held by the Colorado Water Conservation Board for the sole purpose of protecting the water from future depletions.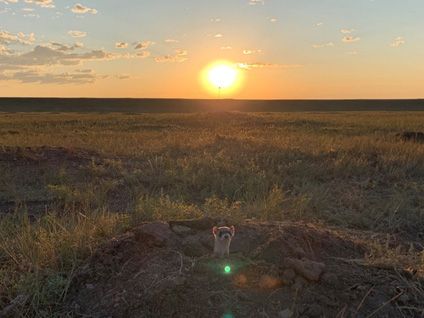 Plague Management
Black-tailed prairie dogs support a myriad of wildlife species on contiguous, less fragmented landscapes, like Soapstone Prairie. Many of these species are highly associated with, and/or dependent on prairie dogs, including one of the most endangered mammals in North America: the black-footed ferret. Once thought to be extinct, this member of the weasel family was reintroduced at Soapstone Prairie in 2014. Black-footed ferrets cannot survive without prairie dogs as their prey. Prairie dogs are significantly impacted by the disease sylvatic plague. During plague outbreaks, 90% mortality can occur on a prairie dog colony (USGS 2012). The disease is transmitted via fleas; thus, FCNAD staff annually treat prairie dog burrows at Soapstone Prairie with an insecticide that kills fleas. This management action has proven to be very effective in maintaining prairie dog populations and supports the recovery of black-footed ferrets. Keeping prairie dogs on Soapstone Prairie's grasslands also benefits other wildlife species like swift foxes and burrowing owls that use their system of tunnels and burrows for habitat. Soapstone Prairie also served as a research site for Colorado Parks and Wildlife biologists who are working to develop a plague vaccine for prairie dogs.
Scenic Resources
Visitors are awed by the open, sweeping views at Soapstone. It is one of the site's most precious assets. In 2007, the Soapstone Prairie Management Plan laid out careful plans to create parking lots, trails, and visitor amenities that minimized impacts to the site and its beautiful views. Soapstone Prairie was officially open to the public in 2009, complete with two parking lots, 44 miles of trail, and an overlook at the Lindenmeier archaeological site with sweeping views. Since the original purchase of 14,539 acres in 2004, an additional 7,958 acres have been purchased by FCNAD, further buffering the area from development.
Soapstone Prairie has less light pollution than nearby Fort Collins due to limited development near the site. The dark skies at Soapstone Prairie are important for supporting the reproductive, foraging, and sleep cycles of wildlife.
Visitor Experience
FCNAD welcomes visitors to find their own connection to Soapstone Prairie. Many visitors enjoy mountain biking, hiking, and wildlife viewing.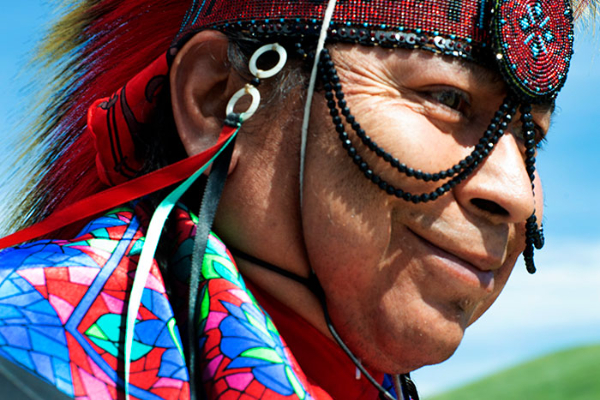 Humans have occupied Soapstone Prairie for at least 12,000 years. The Lindenmeier Archaeological Site tells the story of those early occupants. The site is the most significant cultural feature on Soapstone Prairie and is a National Historic Landmark. Recognized worldwide as one of the most well-preserved and extensive Folsom occupations in the American West, the history of the Lindenmeier Archaeological Site dates back over 12,000 years to a group of ancient hunters, storytellers, and bead workers known as the Folsom people. The site was excavated in the 1930's by the Smithsonian Institution and the Colorado Museum of Natural History (now known as the Denver Museum of Nature and Science), and many of the artifacts collected at that time are archived and on display at the City of Fort Collins Museum of Discovery. Most of the collection is at the Smithsonian Institution, and a smaller collection is housed at the Denver Museum of Nature and Science and in the private collection of the Lindenmeier family. In addition, archaeological surveys conducted in the summers of 2006 and 2007 by researchers from Colorado State and Southern Methodist Universities documented numerous sites of other cultural interest on the property.
Native Nations and Peoples
Soapstone Prairie is culturally significant for Native Nations, their citizens, and their descendants. FCNAD strives to recognize indigenous connections to Soapstone Prairie and has completed several projects in partnership with Native American tribes.
Meeting in the Center with Respect (video), produced in 2009, is an exploration of the long-standing relationship Native peoples have with the northern Colorado area. The purpose of the film is to help protect ancestral sites and artifacts by exploring -- in the voices of Native Americans -- the Native view of the land and their ancestors who came before, traditional notions of place, and how individual and collective identities are formed through these ties despite cultural and environmental changes over time. Understanding the ethical and spiritual responsibility we all have to protect the land and treat it with respect, we can find our own "spirit-filled" place in the natural world. Partners: Northern Ute Tribe, Northern Cheyenne Tribe, Fort Collins Museum of Discovery, Fort Collins Natural Areas Department, Larimer County Parks and Open Lands, City of Fort Collins Fort Fund. Produced by the Fort Collins Museum & Discovery Science Center.
Speaking History: The Soapstone Prairie Oral History Project (video) was produced in 2006 as part of a research grant project that collected oral histories from people with ties to the City of Fort Collins' Soapstone Prairie Natural Area. The video features insights from archaeologists, Native Americans, and ranchers who speak about the land and the deep connections people have felt to it for over 12,000 years.
American bison were reintroduced to Soapstone Prairie in 2015. Returning this keystone species to its homeland was achieved through the hard work and passion of many partners in norther Colorado, including Colorado State University, Larimer County, FCNAD, CSU's Native American Cultural Center, and the U.S. Department of Agriculture Animal and Plant Health Inspection Service. During the 2015 bison release event, members of the Crow Nation in Montana, and local leaders of indigenous peoples provided prayers, songs, drumming, and blessings to welcome the bison back to the shortgrass prairie of Soapstone after over 100 years of absence.
Trapper, Traders, and Homesteaders: In the beginning of the 19th century, trappers and fur traders roamed Larimer County in search of pelts. The fur trade attracted a diverse mix of ethnic and cultural groups: French-Canadian, American Indian, African American, Hispanic, British, Irish, German, and Russian trappers and traders all worked side by side with Missourians, Ohioans, Pennsylvanians, and Virginians. More information about fur trappers in Colorado can be found at History Colorado.
Homesteaders arrived after the trappers in the late 19th and early 20th centuries. They occupied Soapstone Prairie and the surrounding area, raising livestock, gardening, and growing hay. Detailed accounts of early European settlers at Soapstone Prairie can be found in Pioneer History of Soapstone by local historian Suzy Riding.
View all Plans and Policies
View additional plans and policies for Natural Areas such as the master plan, zone management plans, policies, and research.