Plans, Policies & Guiding Documents#
Documents used by the Social Sustainability Department are listed below, categorized by "Current," "Historical," and "Posters." If you are looking for a document you don't see listed here, please contact us at 970-416-8055.
Fort Collins Social Sustainability Gaps Analysis - 2020 Update#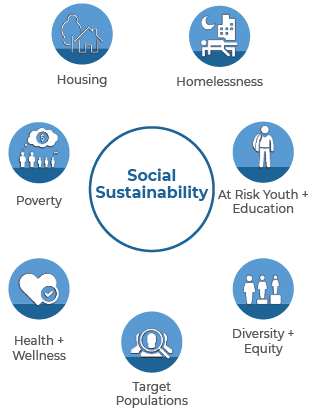 The City of Fort Collins is eager to share this comprehensive data study that analyzes social sustainability gaps in our community, focusing on seven priority areas: Housing, Homelessness, Poverty, Health & Wellness, Education and At-Risk Youth, Diversity & Equity, and Target Populations.
View the webinar recording that features data highlights and how the research findings may be applied.
HUD-Related Planning Documents & Reports for CDBG & HOME Funds
| | |
| --- | --- |
| | FY2020-2024 Fort Collins' 5-Year Consolidated Plan |
| | FY2022 Annual Action Plan |
| | FY2021 Consolidated Annual Performance Evaluation Report (CAPER) |
| | FY2021 Annual Action Plan |
| | FY2020 Consolidated Annual Performance Evaluation Report (CAPER) |
| | HOME-ARP Action Plan |
| | Analysis of Impediments to Fair Housing Choice, 2020 |
| | HUD Citizen Participation Plan, 2020 |
Social Sustainability Plans, Policies, and Guiding Documents
| | |
| --- | --- |
| | Housing Strategic Plan 2021 |
| | Fort Collins Social Sustainability Strategic Plan |
| | Impact Fees Study: Feasibility for Inclusionary Housing and Affordable Housing Linkage Fees |
| | Fort Collins Social Sustainability Gaps Analysis - 2020 Update - Final Report |
| | Executive Summary: Fort Collins Social Sustainability Gaps Analysis - 2020 Update |
| | Rental Market Report: Market Trends, Occupancy Ordinance, and Short-Term Rentals - January 2019 |
| | Provincetowne: When You Sell |
| | |
| --- | --- |
| | 2015-2019 Affordable Housing Strategic Plan - October 2015 |
| | Land Bank Property Disposition Study - July 2015 |
| | Human Service Partners - A Community Snapshot - May 26, 2015 |
| | Needs and Opportunities in Housing and Care in Larimer County: Next 25 Years - May 2, 2015 |
| | Social Sustainability 2014 Year in Review - Fall 2014 |
| | Fort Collins Housing Affordability Policy Study - Sept 5, 2014 |
| | Fort Collins Social Sustainability Gaps Analysis - April 30, 2014 |
| | Redevelopment Displacement Mitigation Strategy - March 2013 |
| | Early Childhood Care and Education Snapshot Report - 2011 |
| | Affordable Housing Strategic Plan 2010-2014 - July 2010 |
| | Housing Affordability Index Model - Multifamily - August 9, 2006 |
| | Housing Affordability Index Model - Single-family - September 21, 2005 |
| | Land Bank Feasibility Study - December 2000 |