Contact Information
Dept Head: Emily Allen
PO Box 580, Fort Collins, CO 80522-0580
Neighborhood Services E-newsletter
Neighborhood News
Come See Us at Campus West Connections!
Lexi Adler | Community Liaison - Neighborhood Services and CSU Off-Campus Life | YWFkbGVyQGZjZ292LmNvbQ==
If you've been past the corner of Elizabeth and City Park Avenue you've probably seen a new Campus West Connections sign - maybe you're wondering what's going on over there?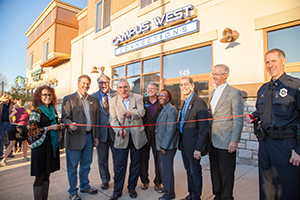 Campus West Connections is dedicated to building strong connections and promoting neighborhood quality of life by engaging the Campus West community through accessible services and proactive education, information, and outreach.
The space is a collaboration between Fort Collins Police Services, City of Fort Collins Neighborhood Services, CSU's Off-Campus Life, CSU's Student Resolution Center and CSU Campus Police Services.
Some of the resources we offer in the new space include housing and neighboring information, filing police reports and police records, Neighborhood Enforcement Team, code compliance information, restorative justice and mediation services, educational classes/workshops, party registration, and much more!
This space is newly opened and we would love to answer your questions. Come see us at 1335 W. Elizabeth between 8 a.m. and 5 p.m. Monday, Wednesday and Friday and between the hours of 8 a.m. to 6 p.m. Tuesday and Thursday.
Save Money with the Solar Affordability Program
Pete Iengo | Utilities | cGllbmdvQGZjZ292LmNvbQ==
The Solar Affordability Program (SAP) is an educational energy efficiency program that provides monthly solar bill credits for one year (July-June) for income-qualified electric customers. The credits typically range from $20-$30.
In exchange for the credits, SAP participants agree to attend a series of free energy efficiency education classes and work with partner organizations that provide home efficiency upgrades and retrofits at little to no cost for homeowners. The program components are designed to reduce overall energy use and costs for long-term savings.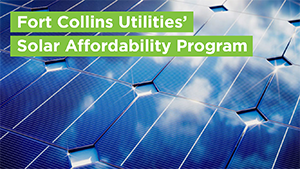 To be eligible, participants must receive Low-Income Energy Assistance Program (LEAP) help for electric heating costs the winter before the application process opens. For example, to apply for SAP in 2018, households must receive LEAP help in the 2017-2018 LEAP cycle.
If you would like to participate in SAP for the 2018-2019 year, make sure to apply for LEAP beginning in November. Applications for SAP will be accepted starting in May 2018.
For more information about LEAP, visit www.colorado.gov
You are Invited to Experience Eagle Watches!
Sue Kenney | Natural Areas | c2tlbm5leUBmY2dvdi5jb20=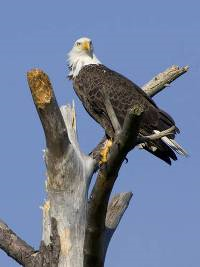 You can see the bald eagles that make Fort Collins their winter home and learn about them during free Eagle Watches at Fossil Creek Reservoir Natural Area. City of Fort Collins Master Naturalist volunteers will help you appreciate and understand these majestic birds and look through the spotting scopes and binoculars that are provided. Drop in any time during the program. Free, no registration is required but you can get a reminder and notices about cancelations by signing up at fcgov.com/register. If temperatures are below freezing, or it's windy or foggy, the Eagle Watches may be canceled so be sure to visit www.fcgov.com/naturalareas for weather cancelations and updates before you go.
Dates and Times:
Friday, December 15, 3 - 4:30 p.m.
Saturday, December 16, 3 - 4:30 p.m.
Friday, December 22, 3 - 4:30 p.m.
Saturday, December 23, 3 - 4:30 p.m.
Friday, December 29, 3 - 4:30 p.m.
Saturday, December 30, 3 - 4:30 p.m.
Eagle Watches continue through mid-February, check the schedule at fcgov.com/register
Solar Rebates Available
Leland Keller | Utilities | bGtlbGxlckBmY2dvdi5jb20=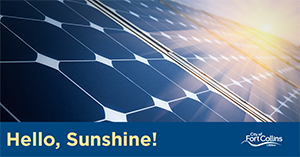 Have you been thinking about getting solar for your home or business? Well, now's the time! We're offering rebates of $0.50/watt up to $1,500 for electric residential customers and $100,000 for commercial accounts. Applications must be submitted by Dec. 1, 2017. Approximately $140,000 in rebates remains for 93 residential PV projects, and $443,000 for commercial PV projects. As of Oct. 27, 172 residential projects and one commercial project have been completed.
Applications are online at fcgov.com/solar-rebates and can be submitted electronically to dXRpbGl0aWVzQGZjZ292LmNvbQ==. Financing also is available (fcgov.com/financing).
For details, application and qualifications, visit fcgov.com/solar-rebates, email dXRpbGl0aWVzQGZjZ292LmNvbQ==, call 970-221-6857 or V/TDD 711.
11th Annual Winter Bike to Work Day
Nick Heimann | FC Bikes | bmhlaW1hbm5AZmNnb3YuY29t
Winter in Fort Collins is a great time to ride a bike for errands, to work, school, or anywhere! Stop at one of more than 25 free breakfast stations on Wednesday, December 13 between 7:00 and 9:30 a.m., arrive on your bike, and receive free breakfast, swag, and camaraderie with your fellow winter cyclists. 2017 marks the 11th year of Winter Bike to Work Day. Visit for more information.
Continuous Water Use Can Drain Your Wallet
Abbye Neel | Utilities | YW5lZWxAZmNnb3YuY29t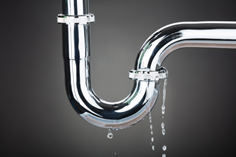 Fort Collins Utilities is reaching out to customers who might have water leaks. If your account shows continuous use of water for over 24 hours, you may be contacted by our water conservation team.
Did You Know?
If you have a sprinkler system, blow it out at the end of the season to remove all water. This helps prevent frozen, cracked, and then leaky, sprinkler lines. Unscrew hoses before a hard freeze. Frozen water in hoses also can cause water lines to crack.
One leaking toilet can cost more than $50 a month.
A leaky faucet can waste more than 3,000 gallons a year.
Residential customers can keep tabs on their account's daily water use by logging into Monitor My Use at fcgov.com./monitor-my-use. If you see continuous water use, especially at night, you may have a leak.
For more information, visit fcgov.com/high-water-use, email bGVha3NAZmNnb3YuY29t, call 970-221-6808 or V/TDD 711.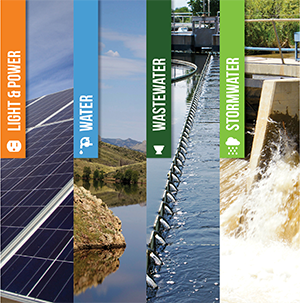 Utility Rates
Randy Reuscher | Utilities | cnJldXNjaGVyQGZjZ292LmNvbQ==
Electric, Water, Wastewater and Stormwater Residential Rates
Proposed 2018 Rate Changes
In 2018, a typical residential customer, based on average annual use in a month, could expect to see an increase of $3.70/month.
Electric: 1.8 percent increase (an average increase of $1.28/month), with 1.4 percent for higher wholesale power costs through Platte River Power Authority and 0.4 percent for electric distribution infrastructure investments.
The Colorado Association of Municipal Utilities (CAMU) compares electric rates among municipalities, as well as investor-owned and cooperative utilities. Of the 49 utilities surveyed in July 2017, Fort Collins Utilities is ranked 7th lowest in the state for residential rates. Details: fcgov.com/electric-rates-comparisons
Water: 4.2 percent increase (an average increase of $1.92/month) to support improvements from source of supply to tap, including new infrastructure and upgrades to aging facilities throughout Fort Collins.
Wastewater: 1.5 percent increase (an average increase of $0.50/month) to allow for infrastructure improvements for wastewater treatment and the replacement of aging pipes throughout the collection system.
Stormwater: No increase.
Tips to Manage Your Utility Bill
Details: fcgov.com/conserves
Monitor Your Home's Energy and Water Use
Login: fcgov.com/monitor-my-use
For more information, visit fcgov.com/residential-rates, call 970-212-2900 or V/TDD 711.
Helping Local Families When They Need It Most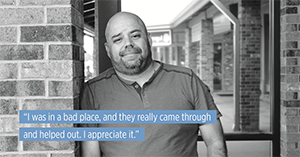 Peter Iengo | Utilities | cGllbmdvQGZjZ292LmNvbQ==
After serving in the U.S. Navy for 20 years, Joe, a single dad, wanted his family to settle down in Fort Collins. What he didn't anticipate was the high cost of living and the difficulty transitioning his military work experience into civilian life.
Even with a job, Joe lives paycheck to paycheck. Last summer, he experienced a financial setback when holiday closures reduced his work hours.
"I had to overcome my pride and ask for help, he said, describing how relieved and thankful he was that Fort Collins Utilities, in partnership with Energy Outreach Colorado, helped him catch up on his utility bill. "I was in a bad place, and they really came through and helped out. I appreciate it.
Sadly, not everyone has the same experience as Joe. Often, the need for utility assistance exceeds the available resources and people are turned away. Because of this, we are asking for your help.
Your $20 monthly donation will help one family in need avoid having their electricity or water turned off. All donations, no matter the size, make a difference. Donations can be made by adding a recurring donation to your utility bill or by credit card, cash or check. Look for a PAF donation form in your November Utilities bill. Learn more at fcgov.com/paf.
If you or someone you know needs help paying a past-due utility bill, visit for more information.
Lower Your Electric Bill For Free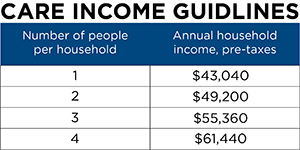 Peter Iengo | Utilities | cGllbmdvQGZjZ292LmNvbQ==
Looking for ways to save energy and lower your electric bill for free? Long's Peak Energy Conservation (LPEC) now offers the Colorado Affordable Residential Energy (CARE) program in Fort Collins for income-qualified Utilities electric customers.
Not all properties qualify for all of the improvements listed above. Any improvements that are eligible for installation will be completed at no cost to you.
To see if you qualify or to apply, visit fcgov.com/care.
Garage bands are called that for a reason. Give them a place to practice by taking your recyclables to the Timberline Recycling Center (TRC).
Alexis Hmielak | Environmental Services | YWhtaWVsYWtAZmNnb3YuY29t
The TRC is a convenient, one-stop recycling center for Fort Collins residents, located at 1903 S. Timberline Rd. You can drop off your everyday recyclables for free seven days a week. Hard-to-recycle materials can be dropped off from 8 a.m.-4:30 p.m. Tuesday-Saturday, for a $5 fee*.
*Gate fee is charged once per vehicle load, not per item. Electronics and organics (yard waste, lumber) may incur an additional processing fee - see fcgov.com/TRC for details. Paint-only drop-offs are not subject to gate fee.
Winter Recreator Registration Opens November 1, 7 a.m.
Recreation Department | cmVjcmVhdGlvbkBmY2dvdi5jb20=
Recreation is working hard so you can take home the gold this winter. Registration for winter programming begins at 7 a.m. Thursday, November 2 and is ongoing thereafter. For more information and to register visit fcgov.com/recreator.