2021-22 Winter News
for

Your Neighborhood#
Let It Snow!#
By City code, Fort Collins residents are required to keep their sidewalks "free and clear of snow and ice" within 24 hours of any accumulation. When we get snow, walking can be challenging for people of every age and ability — Please shovel your sidewalk when it snows!

The requirement to shovel sidewalks can be burdensome for people in our community who are elderly or disabled. Please consider working with other neighbors to keep the walks clear for people who might need help. If you need help and are unable to find someone to assist you, apply for our Adopt-a-Neighbor program, and we will try to find a volunteer for you. Interested in becoming an Adopt-a-Neighbor volunteer? Click here!
Here are a few tips to keep your sidewalk safe:
Try to shovel before foot traffic hits your sidewalk and before cars drive in your driveway to make shoveling easier.
Keep some ice-melt on hand for the stubborn spots. Spread out ice-melt not only during snow fall but during melting to avoid icy, dangerous conditions from re-freezing.
If water pools on your walk and turns to ice, apply a substantial amount of sand or kitty litter. If water is pooling due to a drainage issue or ice build up in the gutter call the Streets Department at 970-221-6615.
If you are on a corner, be sure to clear the corner ramps.
If you are planning to be out of town, be sure to make arrangements with a friend, family member, neighbor or landlord in the case of a rental.
If City snowplows have pushed snow onto your shoveled sidewalk call the Streets Department at 970-221-6615.
For questions or information, please contact Neighborhood Services at 970-224-6046.
Opportunity
to

Donate#
Mediation and Restorative Justice Services is being featured in a CityGive winter fundraising campaign.

The City of Fort Collins provides innovative, community-based services to address the impact of crime and conflict through the community mediation and restorative justice programs. Your gift will restore young people, victims and residents in conflict. To make a gift, click here and choose Mediation and Restorative justice in the drop down menu.
Good Neighboring Tip
from

your Community Mediation Team#
Remember everyone celebrates or does not celebrate the winter/holiday season in their own way. Avoid making assumptions about your neighbors and know that many people are going through difficult times this winter.

Tis the season to be especially friendly, kind and respectful. Smile and wave when passing by and be helpful whenever possible. A little kindness and acceptance goes a long way to making a neighborhood a safe and friendly place to live for everyone.
Immigration Legal Fund - Grant Recipients Selected#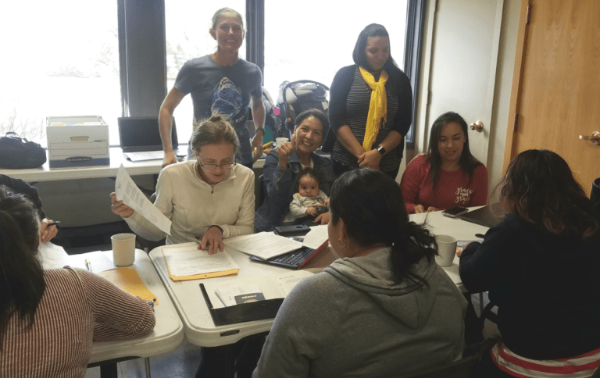 The City of Fort Collins has selected three organizations to receive funding as part of the City of Fort Collins Immigration Legal Fund. The Fort Collins City Council authorized the fund to address the limited availability of local immigration legal services. Alianza NORCO, Interfaith Solidarity and Accompaniment Coalition (ISAAC), and The Rocky Mountain Immigrant Advocacy Network (RMIAN), will each receive $50,000.00 to offer immigration-related service to residents of Fort Collins at free and low-cost. Some services are now being offered, and the full rollout is expected by the end of the year.
To find out more information about the services currently being offered and the ones starting soon, please visit:
(Photo from Alianza NORCO
Candlelight Vigil
for

2022 Dr. Martin Luther King, Jr. Celebration#
In collaboration with Colorado State University and other community partners, the City of Fort Collins is hosting a citywide candlelight vigil in honor of Martin Luther King, Jr. Day on Monday, January 17, 2022. The City's Neighborhood Services Department invites neighbors across Fort Collins to set battery-powered, tea light luminaries along sidewalks and driveways as an act of remembrance and solidarity with the work of Dr. King, past civil rights leaders, and those who continue to fight for social justice today. (#FOCOMLK2022)

These small lights throughout our city seek to honor the words of Dr. King when he said, "Darkness cannot drive out darkness; only light can do that. Hate cannot drive out hate; only love can do that."
To request luminary materials for your home or business to participate in the vigil, please fill out the form at this link. Please note that supplies are limited.
If you would like to purchase your own materials similar to those provided by the City for the celebration, you will need white paper lunch bags and flameless/battery-powered tea lights, which can be obtained locally at grocery stores or online.
The theme for this year's Dr. Martin Luther King Jr. Community Celebration is "The March is Far from Over." For more information about other activities in Fort Collins celebrating the legacy of Dr. Martin Luther King, Jr., please visit: mlkfortcollins.org.
Thank you for reading the Neighborhood Newsletter!
Click here to take our survey after you've read this edition to help make the newsletter even better!