Neighborhood News - Summer Edition#
Scroll down, or click below to learn about:
Adopt-a-Neighbor#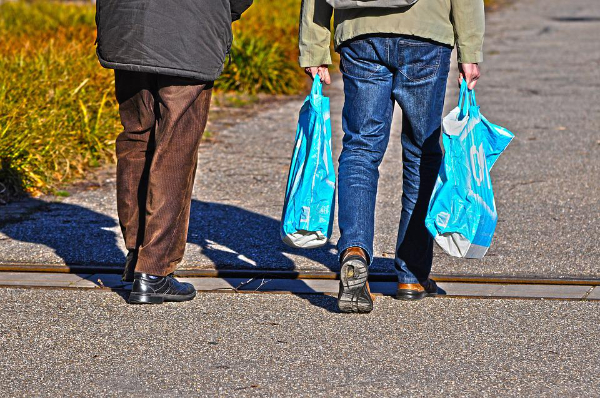 Hello from the Adopt-A-Neighbor Program! We are now in the full-swing of summer and have a multitude of tasks available to community members. Please see the tasks below to see how our program can be of assistance to you or in which ways you would like to get involved as a volunteer.
Errand running such as delivering groceries, prescriptions, etc.
Yard work such as weeding, mowing, gardening, and pet waste clean-up.
Minor outdoor home repair such as painting, fixing loose steps, fence repair, etc.
Other miscellaneous tasks that can occur outside the home, such as walking a pet.
If you would like to sign up as a volunteer, please click here to start the process and our staff will be in contact with next steps.
If you are someone who needs assistance with the tasks above, please navigate to this form to request help! We will then do our best to match you with a volunteer as soon as possible. Please note that requests must be made at least 2 weeks in advance.
Please do not hesitate to reach out with any questions, comments, or concerns by emailing adoptaneighbor@fcgov.com
Mediation
and

Restorative Justice#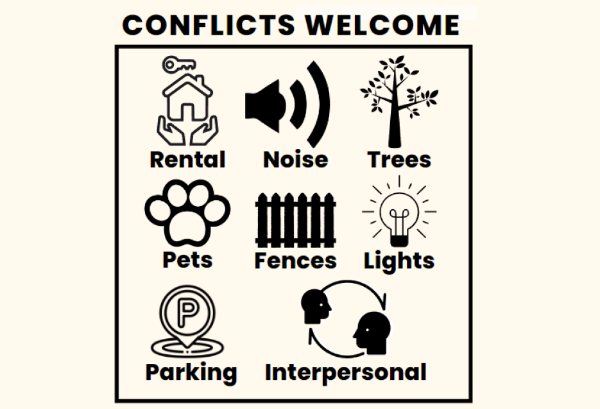 Happy Summertime from your Community Mediation & Restorative Justice Programs! This summer we're welcoming new staff and volunteers to join in the work of building community through conversations. If you're interested in getting involved, visit our volunteer application page.

Good Neighboring Tip from Mediation and Restorative Justice:

"I" messages are a powerful communication tool to make yourself understood and model vulnerability for others. Here's an idea for how to construct an "I" message:
When (describe what happened), I feel (describe the feeling you have) because (describe what life experience, value, belief or need causes you to feel that way).
By using "I" messages, you give other people the opportunity to understand the impact on you without blaming, which makes it easier for them to listen instead of defending themselves.

If you would like to talk about a how a conflict or dispute could be addressed through mediation and restorative justice, please contact us! Se hablan español.
Signs Available
for

Independence Day While Supplies Last#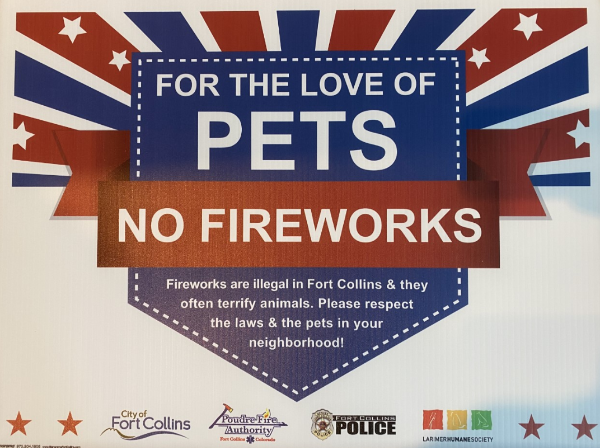 Fort Collins has some exciting programming happening for Independence Day this year, including recreation events, a parade, music, an official fireworks display and more! Details can be found here.

Please be aware that all fireworks, including sparklers and snakes, are illegal to sell, possess, or use in the city of Fort Collins. Finding a public display of fireworks to enjoy is always more safe and legal. Read about fireworks in Fort Collins here.

Fireworks can also have a negative impact on our pets - If you are interested in the yard signs shown in the photo above, they are available while supplies last in the lobby of 281 N. College Ave (open Monday - Thursday 9 AM - 12 PM and 1 - 4 PM (closed 12 - 1 PM)).
Chalk Across Fort Collins Independence Day Weekend!#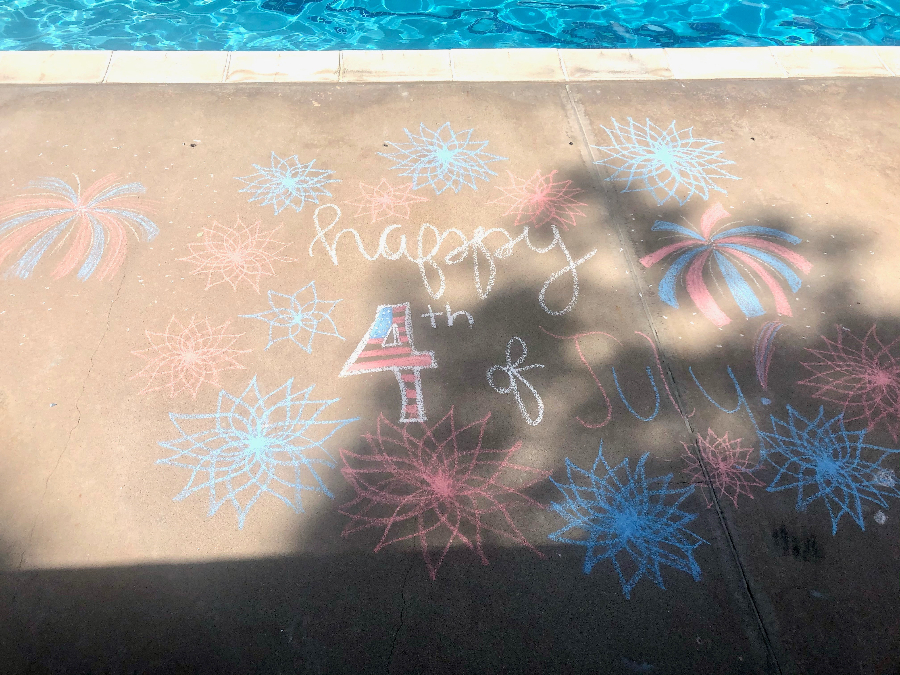 We want to see your chalk creations again this year. Get out your chalk and connect with your neighbors! Here are the details for this year's "Chalk Across FoCo" event:
2022 Theme: Fun in the Sun!
Click here to view additional tips and instructions.
Chalk pick-up available (while supplies last):
Saturday, June 25: 12:30 - 2 PM at the Xeriscape Demonstration Garden in front of City Hall (300 Laporte Ave)
Thursday, June 30: 9:30 – 11:30 AM at the Old Town Library Plaza (200 Peterson St)
Friday, July 1: 11 AM – 1 PM at the Council Tree Library (2733 Council Tree Ave #200)
Create your chalk art by noon on Saturday, July 2nd, so that neighbors can enjoy your creations during the Fort Collins Independence Day celebration. Want an extra challenge? Try to make your chalk art interactive!
Enter your chalk art for a chance to win a $50 gift card! Email a photo of your creation to NSPrograms@fcgov.com by NOON on Monday, July 4. Winners will be notified by email.
Questions? Email NSPrograms@fcgov.com or call (970) 658-0263.
Immigration Legal Fund#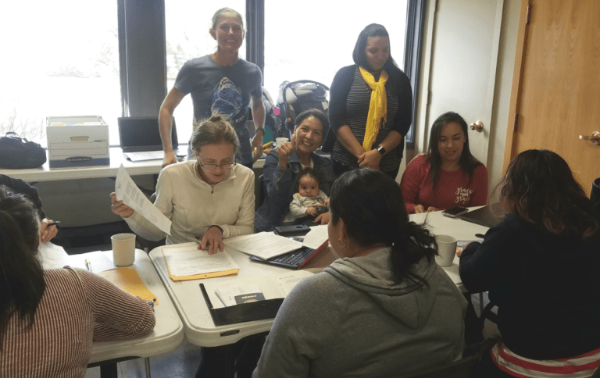 The Immigration Legal Fund provides funding for legal services for immigration issues through contract service providers. Our service providers work directly with community members to provide outlined legal services to clients at no cost. The City of Fort Collins does not provide legal advice or direct immigration legal services. Click here for more information.

Do you need Immigration Legal Services? Three nonprofit organizations are providing services for the Immigration Legal Fund. Please contact them directly for assistance.
Alianza NORCO (variety of case types and services for immigrants) AlianzaNORCO@gmail.com or 970.703.3945
ISAAC of Northern Colorado - "Interfaith Solidarity and Accompaniment Coalition" (variety of case types and services for immigrants) Contact@isaacnoco.org or 970.541.1251
Rocky Mountain Immigrant Advocacy Network - "RMIAN" (detention/deportation cases) General Information: 303.433.2812
HOTLINE for detained individuals and their families: 303.866.9308
Neighborhood Mini Grant Awards Round 2#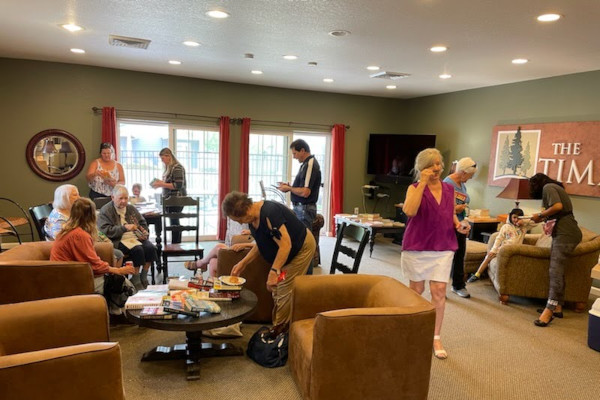 Congratulations to our Neighborhood Mini Grant Round 2 recipients! In Round 2, we received 28 applications, and the City of Fort Collins awarded $10,280 to 19 neighborhoods. Projects occurring throughout the rest of the year will include:
Block parties and Neighborhood Night Out celebrations
Language services
Clean-up events and celebrations
Kids Feeding Kids program
Music Field Day event
Tree labeling and walkabout project
Adobe project
Summer Solstice festival
Community sing-a-long events
And more!
Want to learn more about Mini Grants? Check out the Neighborhood Services grants website for additional information, and take a look at the Neighborhood Mini Grants Guide. (Photo: People swapping books and eating food together at a Book Faire event that received a Mini Grant award in 2022, Round 1)
Utilities Updates#
Moving just got easier.
Start and stop your utility services online. Complete an online service request at fcgov.com/start-stop-utilities. Start or stop utility service as early as the next business day.
Only Rain Down
the

Storm Drain#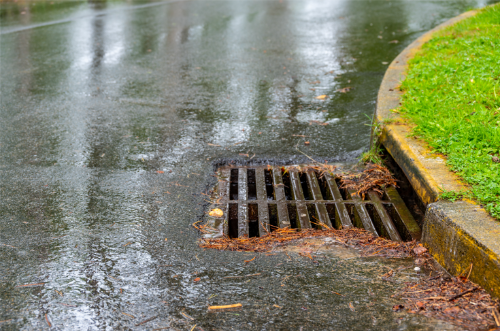 Polluted stormwater runoff is one of the greatest threats to clean water in the U.S. Water from roofs, streets and outdoor spigots goes untreated into storm drains – straight to the Cache la Poudre River and other streams, creeks, ditches and lakes – picking up contaminants along the way. We can all do our part to make sure our local waterways stay clean.  
Pick up dog waste and throw it in the trash. 
Dispose of yard waste properly. 
Clean up and report any spills. 
Take care when washing your vehicle.  
Small leaks add up. Don't drip and drive.
Trash belongs in a trash can. Don't litter.
Learn more: fcgov.com/only-rain
Thank you for reading the Neighborhood Newsletter!
Click here to take our survey after you've read this edition to help make the newsletter even better!