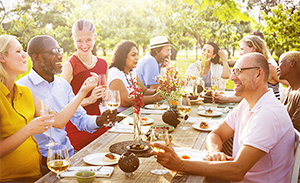 Katherine Bailey | Neighborhood Services | a2JhaWxleUBmY2dvdi5jb20=
Increasing connections in your neighborhood can be more beneficial than many of us know! Whether you rent or own, feeling connected to your neighborhood can increase safety, health outcomes, even home values and test scores! But where to begin?
The Neighborhood Connections program was designed to help Fort Collins residents connect with people in their own neighborhoods, across neighborhoods, and with the City services that exist to support them.
What does the program provide?
9 hours of free education by experts on subjects including communication, collaboration, and the basics of neighboring. Classes will cover communicating across cultural differences and how to reduce and prevent conflict. Participants will be trained on creating or enhancing a communication tool that works for their neighborhood, as well as the logistics of planning and hosting a neighborhood gathering or event.
We offer participants in our 9-hour program assistance organizing an event in your neighborhood, and even funding to offset the costs of a neighborhood gathering.
Childcare and interpretation are available upon request, and classes are held at different times and locations to make them more accessible.
Not sure if you're ready for the core classes? Want another way to get involved?
Join us for a Continuing Education class! Every month a 2-hour class or event will be held on a different subject. Coming up in 2018:
January 10th: Open House with the specialists working to make our neighborhoods stronger
February 22nd: Development Review and City Plan Update
March 19th: Open House on City Grants, Discount and Rebate Programs, and Budgeting for Outcomes
And more! All Continuing Education classes are free and open to the public, and interpretation is always available upon request.
Find more details including a calendar of events and how to register online: https://www.fcgov.com/nc And join us at our interactive portal https://ourcity.fcgov.com/neighborhood-connections-program
_________________________________________________________________________________________
State Of The City
David Young | CPIO | ZHlvdW5nQGZjZ292LmNvbQ==
The City of Fort Collins is excited to announce its annual State of the City will take place at the newly revamped Washington's this year.
This year's event, featuring the Mayor and City Manager, will focus on the City's Journey to Excellence and creating a world class community together.
It is at 6 p.m. Feb. 5 at Washington's, 132 Laporte Ave, which was formerly a bar and grill and has been retrofitted into a music venue. For more information visit fcgov.com/stateofthecity.
_________________________________________________________________________________________
Save The Date: February 12, 2018 City Plan + FoCo Creates Kickoff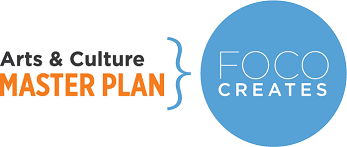 Meaghan Overton | Planning | bW92ZXJ0b25AZmNnb3YuY29t
We are excited to announce the official public kickoff date for City Plan and FoCo Creates! If you are curious about where Fort Collins has been and where we're headed, please plan to join us for an exciting exploration of Fort Collins' past, present, and future. We are looking for your ideas and feedback - What do you think is great about Fort Collins? Which issues are most important to focus on? Your input matters as we begin a community conversation about how the city could change over the next 10-20 years.
KICKOFF DETAILS
This event will be a combined kickoff for City Plan and FoCo Creates. City Plan is an update of Fort Collins' comprehensive land use, transportation, and transit plans. FoCo Creates is an update to the city's Arts and Culture Master Plan.
Monday, February 12 | 6-8pm
Drake Centre | 802 W Drake Rd | map
Stay tuned for more details and a link to RSVP in early 2018.
JOIN THE CONVERSATION
You don't have to wait until February to share your input! Join the Conversation online, where you can tell us your thoughts, ask questions, sign up for project updates, and see where we are in the City Plan process.
Thank you for being part of City Plan and FoCo Creates. We are excited to work with you on these important community plans!
_________________________________________________________________________________________
Lee Martinez Playground Update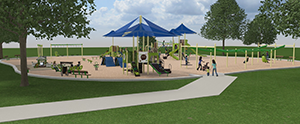 Parks Department | cGFya3Nob3BAZmNnb3YuY29t
The City of Fort Collins Parks Department is moving forward with efforts to renovate the playground at Lee Martinez Park as part of the Parks Life Cycle Program. After collecting community input and interviewing key stakeholders, the playground at Lee Martinez Park will be upgraded to provide a unique play experience that complements the existing playgrounds within the City and achieves the high standard set by other community park playgrounds within Fort Collins. The playground theme will be set around nature-based ideas and incorporate the surrounding natural environment. Construction on the renovation is set to start in late spring or early summer of 2018, with the completion occurring in fall 2018. Some of the highlighted renovations to take place include: shade structures, a 50-foot zip line, and play structures for all ages. To learn more about the playground updates and renovation progress visit fcgov.com/parks.
_________________________________________________________________________________________
Free Home Efficiency Assessments
Peter Iengo | Utilities | cGllbmdvQGZjZ292LmNvbQ==
Sign up to receive services and products to help improve your home's efficiency at no cost to you through Fort Collins Utilities' partnership with the Larimer County Conservation Corps. This limited-time offer is available through the end of April for Fort Collins Utilities customers.
During this free home efficiency assessment Larimer County Conservation Corps will:
Conduct a basic inspection of your home's insulation, appliances, windows, toilets and heating/cooling system.
Install appropriate efficiency measures based on your home's needs. These products may include: water-conserving showerheads and aerators, smoke/carbon monoxide detectors, clotheslines, LED and CFL bulbs, programmable thermostats and a high-efficiency toilet.
Educate you about water- and energy-efficiency practices and services designed to help achieve even greater savings.
Sign up for your free home efficiency assessment at larimerworkforce.org/energy.
The Larimer County Conservation Corps assessment does not qualify as a Home Efficiency Audit that is required for certain Utilities rebates. Learn more about how you can reduce costs and increase the comfort of your home at fcgov.com/home-efficiency.
_________________________________________________________________________________________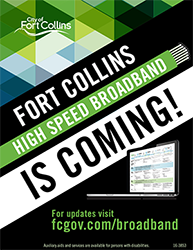 David Young | CPIO | ZHlvdW5nQGZjZ292LmNvbQ==
At the direction of City Council and voters, the City of Fort Collins is moving forward with building and implementing high speed next-generation broadband to the entire community. We're doing this because the current providers are not offering this service and have not indicated they will anytime soon.
This will not happen overnight. The fiber buildout is estimated to take 3 to 4 years and include the entire growth management area (GMA). In the retail model, the City builds out the infrastructure, known as Fiber to the Premise (FTTP), and operates as an internet service provider (ISP).
Currently the City is issuing request for proposals (RFPs) for engineering, design, equipment and marketing. In addition, the City will allocate funds to launch the startup. For more information, including an email newsletter signup, visit fcgov.com/broadband.
_________________________________________________________________________________________
Thank you for reading the Neighborhood Newsletter!
Click here to take our survey after you've read this edition to help make the newsletter even better!