Neighborhood News- Winter 2022/2023#
Let it Snow!#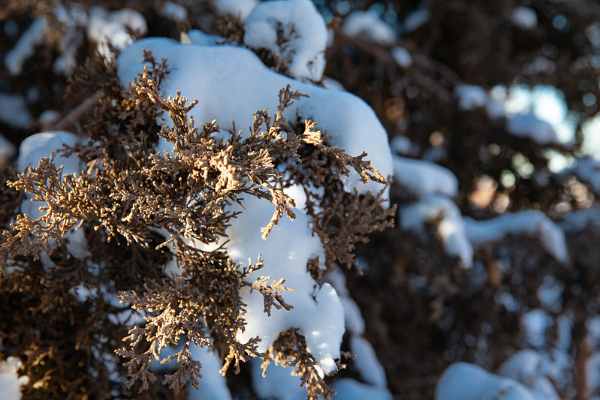 More snow will be coming soon!
Remember, Fort Collins has a code requiring residents to keep their sidewalks adjacent to the street "free and clear of snow and ice" within 24 hours of accumulation. There is no minimum amount. Any accumulation could be considered a violation.
This ordinance and expectation can be difficult for some people in our community to meet. If you have a neighbor for whom this is the case, please work with other neighbors to share the load and keep the walks clear for that individual. If you need help and are unable to find someone to assist you, you can apply for our Adopt a Neighbor program and we will try to find a volunteer for you. (More information on this program later in this newsletter!)
Here are a few tips to keep your sidewalk safe:
Try to shovel before foot traffic hits your sidewalk.
Keep some ice-melt on hand for the stubborn spots.
If water pools on your walk and turns to ice, apply a substantial amount of sand or kitty litter. If water is pooling due to a drainage issue or ice build up in the gutter call the Streets Department at 970-221-6615.
If you are on a corner, be sure to clear the corner ramps.
Clearing the patch across the driveway is much easier before it has been packed down by a vehicle's tires.
If you are planning to be out of town, be sure to make arrangements with a friend, family member, neighbor, or landlord.
If City snow plows have pushed snow onto your shoveled sidewalk call the Streets Department at 970-221-6615.
Fort Collins is a pedestrian-friendly town. When we get snow, walking can be challenging, not only for able-bodied folks but especially for the elderly, disabled, and the young among us. Please play a positive part in our community by shoveling your sidewalk when it snows.
For questions or more information, please contact Neighborhood Services at 970-416-2350.
Hello
from

the

Adopt

A

Neighbor Program!#
We are currently in our busy Winter Season and are in need of volunteers to assist neighbors with snow shoveling.
If you are an active volunteer who would like to be paired with a neighbor, please check the Adopt A Neighbor section of your dashboard to see all available volunteer opportunities.
If you would like to sign up to be a volunteer, we would love to have you! Please click here to sign up and the Adopt a Neighbor staff will be in contact with the next steps to becoming an active volunteer.
We are excited to continue supporting our fellow neighbors in need and are so grateful for all volunteer and community support! Please reach out to the Adopt a Neighbor staff with any questions, comments, or concerns by email (adoptaneighbor@fcgov.com) or phone call (970) 224-6046
The Indigenous Roots
of

Conflict Transformation#
As another year ends, we wanted to take time to reaffirm the Indigenous Roots of approaches to conflict like Restorative Justice and Mediation. The work we have done in our community for twenty-two years is based on traditional justice practices originating from Indigenous Peoples around the world. The foundational value of many of these Indigenous Justice Practices is reintegration, the idea that people who've been harmed and people who caused harm must be deliberately welcomed back into relationship with their community, their family and themselves.
Fort Collins is one of a few communities in Colorado where people have free access to Conflict Transformation services, being primarily Restorative Justice & Community Mediation, with a growing number of new programs. Volunteers who lead our work, by learning and practicing conflict transformation skills, strengthen our community one conversation at time. Mediation and Restorative Justice (MRJ) began in this community over 20 years ago, born from a grassroots community taskforce and developed with the time and talent of volunteers. We continue to accomplish our mission of empowering individuals to respectfully share perspectives and collaboratively repair harms and relationships in response to crime and conflict.
We invite conversations about new ideas and collaborations from all our partners across the city. Please reach out to Dana Henderson, (970) 657-5298 / dahenderson@fcgov.com) if you'd like to brainstorm or volunteer!
International Conference returns
to

Fort Collins: Join us!#

Colorado State University and the City of Fort Collins are proud to announce we are co-hosting the 2023 ITGA City and University Relations Conference on June 7-9, 2023, an international conference hosting university and city government officials for collaborative conversations to strengthen our communities. The International Town and Gown Association (ITGA) is a global nonprofit organization that strives to strengthen the relations between universities and the communities in which they reside. This year's conference theme is "Building Resilient Communities."
We invite you to attend the conference where you can learn about next practices and innovative solutions to issues facing municipal and university communities today.
Network with hundreds of college and university administrators, city officials, and community partners from across the country
Attend sessions on economic development, sustainability, arts and culture, relevant academic research, student housing, diversity and inclusion, quality of life, civic engagement, transportation, and much more!
Reduced In-State Registration!
All Colorado conference attendees get special in-state rates. The Colorado registration rate is valid from early registration to the date of the conference. Take advantage of participating in a conference practically in your own backyard!
Now Accepting Session Proposals: Help Us Create Our Conference Agenda!
As you may know, Fort Collins is well-known for its burgeoning breweries, platinum rated bike-friendly culture, vibrant arts and music scene, as well as for its health-conscious and "green" way of living (not to mention being home to a leading public research university). Playing off these themes, we are seeking innovative proposals on topics that provide insight into the evolving nature of the work of universities, government entities, and other community partners. Session Proposals are due by Wednesday, February 15, 2023!
Learn more and submit your proposal
For more information, please contact conference co-host chairs, Jeannie Ortega, Susan Stafford, or visit: 2023 ITGA City and University Conference.
Special thanks to our 2023 ITGA Conference Core Planning Team: Marcy Yoder, Manager, Neighborhood Services, City | Ginny Sawyer, Policy & Project Manager, City | Cynthia Eichler, President & CEO, Visit Fort Collins | Lt. Kelly Weaver, FCPS | Emily Seems, Assoc. VP for Community Affairs & Engagement, CSU | Maggie Walsh, Director of Institutional Initiatives, CSU |Jennifer Wright, Manager of Special Projects & Executive Support, CSU | Mike Katz, Director, Student Resolution Center, CSU | Lindsay Mason, Director, Off-Campus Life (OCL), CSU |Greg Over, Community Liaison Specialist, CSU/City | Nancy Rhodes, Program Asst., OCL, CSU | Jeannie Ortega, Special Projects, OCL, CSU | Beth Bagwell, Exec. Director, ITGA | Susan Stafford, Asst. Director, ITGA |
Thank you for reading the Neighborhood Newsletter!
Click here to take our survey after you've read this edition to help make the newsletter even better!