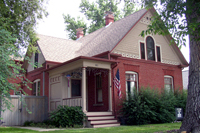 Honor Roll - This home has an orderly yard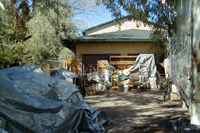 Needs Improvement - Rubbish, storage, and junk...oh my!
What
is

Code Compliance?#

This refers to how we enforce the City codes and ordinances affecting the quality of life in our neighborhoods. As a city, we want all of our citizens to be able to live happily in their homes, whether as a renter or an owner. Each one of these codes and ordinances have been established to assist in sustaining the high quality of life we appreciate in Fort Collins. We strongly suggest you take time to read each one, understand the consequences, and know how to report a violation.
How Do I File
a

Complaint or Request

an

Inspection?#

The City of Fort Collins Has developed Access Fort Collins as an easy way to send your questions, service requests and comments directly to staff.

Follow the link below to find "Nuisance Reporting" in the topic list. There you will see answers to frequently asked questions about many common nuisance topics. To report a nuisance complaint through the system, select the appropriate topic under nuisance reporting and then submit your request.

By using Access Fort Collins, citizens can be assured that their problem will be reported to the appropriate department.

Submit a request through Access Fort Collins

You may also call the Nuisance Hotline at 970-416-2200 during business hours (9 a.m. to 4 p.m. Monday through Friday).
Common Violations#
Although Neighborhood Services enforces many neighborhood codes, some violations are handled by other City departments. The list below explains our most common violations.
Public Nuisance Ordinance#
Fort Collins City Council is considering changes to the Public Nuisance Ordinance. See Public Nuisance Ordinance Information for the current Ordinance. This page will be updated with information following City Council's final decision.
Enforcing
The

Codes#

Our policies and procedures were developed to encourage compliance. This is achieved both proactively and through complaints from citizens.

Proactive Enforcement
Each day, we inspect neighborhoods throughout Fort Collins in an attempt to catch any violations before someone needs to complain. There are 4 Code Compliance Inspectors responsible for different areas of Fort Collins. These inspectors drive through the neighborhoods, normally Monday through Friday, observing and noting any City Code violations.

Complaints
When a complaint is received, that area's Code Compliance Inspector is dispatched and will conduct an inspection within one business day of the complaint.

When There is a Violation
Upon finding a violation, a letter is sent to the property owner and a courtesy copy may be sent to the tenants and/or a property management company informing them of the violation and giving a date by which the violation must be corrected. After the correction due date, the Code Compliance Inspector will revisit the property. If the violation is corrected, the case is closed. If the violation is not yet corrected, the City will resolve the problem with an abatement action.
Solution Procedures (Abatement Action)#
When a Violation is Not Corrected
After written notice, if a subsequent inspection continues to bear witness to violation of the Code, that violation will be abated (a contractor is hired to correct the problem [i.e. remove the snow and ice, mow down the weeds, remove the trash, etc.] and the property owner will be billed, or assessed, for the work, along with associated inspection fees) by the City. If you feel the solution (abatement) was done in error or if a property owner wishes to contest, challenge, or seek adjustment to an assessment invoice, there are two options available through the City: (1) A formal hearing before the Referee or (2) an administrative review by city staff. There is no fee for either option. Once the Referee or Staff enters a decision, the property owners will be notified of that decision. You should be prepared to pay the full amount of the assessment (if any) including fees and costs at the time of the decision. Unpaid assessments, including fees and costs, will be turned over to a collection agency and/or a lien may be filed against the property.
Forms
Request for Administrative Review
Assessment and Abatement Review Policies and Procedures
Complete the applicable form and return to Neighborhood Services. You have several options to get it to us, please visit our contact page.
Municipal Court
In some cases, a summons to Municipal Court is issued to the property owner and/or a tenant. The Fort Collins Municipal Court is responsible for administering the operations of the judicial branch of City government according to the ordinances adopted by City Council. Cases adjudicated in Municipal Court include misdemeanors and traffic violations. Generally, cases are brought to Municipal Court by Fort Collins Police Services, Colorado State University Police, Larimer Humane Society, City Attorney and other City departments. The fine schedule is set and periodically updated by the Municipal Judge. For municipal violations, the maximum penalty is $2,750 and/or 6 months in jail. For the current fine schedule and contact information, visit Municipal Court.
Resources
Fire Prevention Bureau Technical Information Research Request#
Technical Information Research is provided by Poudre Fire Authority's Community Safety and Service Division. All requests must be made by completing and submitting the form on THIS LINK.
Poudre Fire Authority can be contacted at 970-416-2892 for additional questions about this request form.
Notice: New Processing Fees in effect August 1st
Starting August 1, 2021,
Debit / credit card transactions: A new 2.75% debit/credit card transaction fee will be assessed on all credit card transactions processed with Neighborhood Services for invoice fees.
E-checks: E-checks are 50 cents.
You may drop paper checks in our drop box on the northwest side of the building. The blue drop box is checked throughout the day. Paper checks can also be mailed to 281 N College Ave, Fort Collins, CO 80524. There are no additional fees to process paper checks.