Mobile Home Neighborhoods#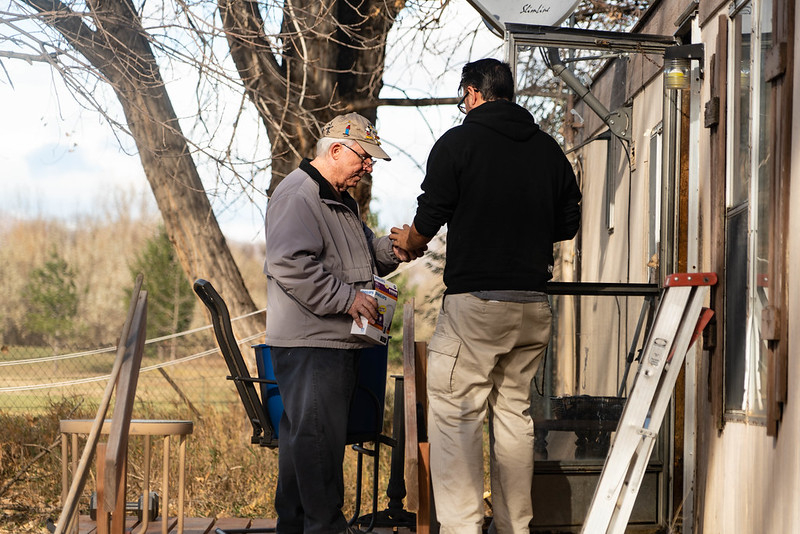 Mobile Home Parks are important private, unsubsidized, affordable housing in Fort Collins. Neighborhood Services Staff is working with Mobile Home Park residents and nonprofit community partners to address the critical need for programs focused on manufactured housing livability and safety, preservation of these as an affordable housing option, and equitable access to City resources in historically underserved neighborhoods and populations.
In addition to the relative affordability of manufactured homes, this type of housing has many benefits for
residents, including:
• Privacy and a single-family housing lifestyle
• Private or semi-private outdoor areas and gardens
• Strong sense of community
• Access to community amenities, if available (pools, playgrounds, community centers, etc.)
Mobile Home Park residents may own or rent their home, but the land underneath is rented from a community landowner.
For residents this can lead to:
• Frequent and unpredictable housing cost increases
• Housing instability and fear of potential community closure and displacement
• Difficulty and cost of moving homes
• Power dynamics with owners/operators and limited tenant protections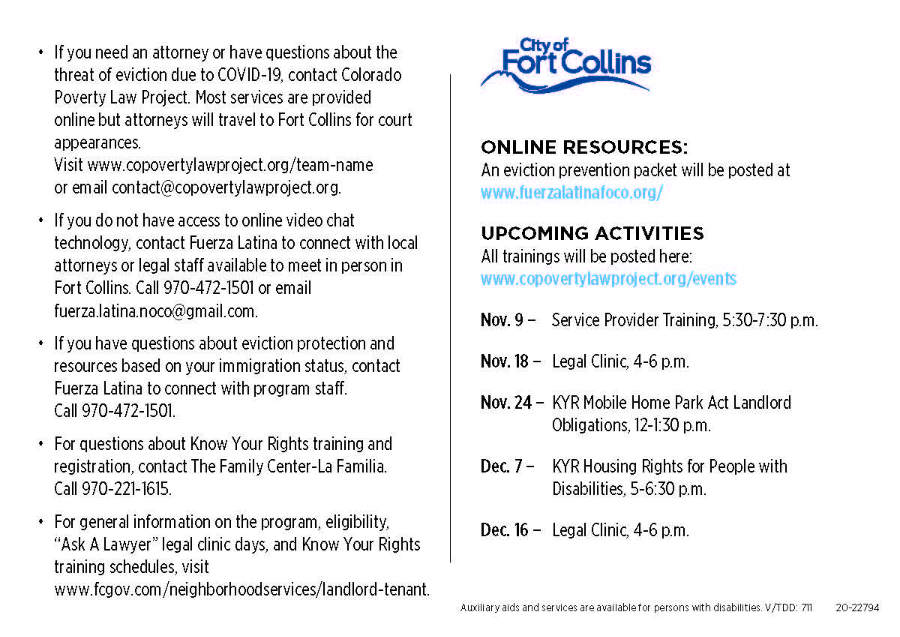 Colorado Mobile Home Park Dispute Resolution Program
New in 2020!
Mobile Home Owners, Mobile Home Park property managers, and property owners can file a complaint with the Colorado Mobile Home Park Oversight Program to report violations of state law.
The Mobile Home Park Oversight Program accepts complaints from:
Mobile/manufactured home owners;
Individuals on rent-to-own or lease-to-own agreements for mobile/manufactured homes;
Home Owners' Associations;
Mobile home park owners; and
Mobile home park managers.
The Mobile Home Park Oversight Program accepts complaints for:
Rent increase
Failure to pay rent
Lease/rent agreement
Removal of home
Park rules/regulations
Sale of park
Sale of mobile home
Health/safety/welfare of home owner/landlord
Fences
Animals
Appearance of mobile home/lot
And more!
City
of

Fort Collins Mobile Home Park Complaint System#

The City of Fort Collins can assist renters, home owners, residents, property managers, and mobile home park owners. Have concerns about your mobile home park? Questions about water utility billing? Want to start a neighborhood association? Neighborhood Services can help connect you with City resources and services.

1. Click the link below

2. Select "Neighborhoods"

3. Select "Neighborhood Resources & Support"

4. Click "Next" & Fill in your information/request

Neighborhood Services can accept anonymous requests and complaints.

Connect with Neighborhood Services through Access Fort Collins
Mobile Home Neighborhoods
in

Fort Collins#

10 Mobile Home Neighborhoods are in the City of Fort Collins. 14 Mobile Home Neighborhoods are in the Growth Management Area ("GMA") for the City of Fort Collins. The GMA is the area surrounding city limits where the City of Fort Collins expects to grow in the future and a plan for land development and annexation.