Mobile Home Neighborhoods#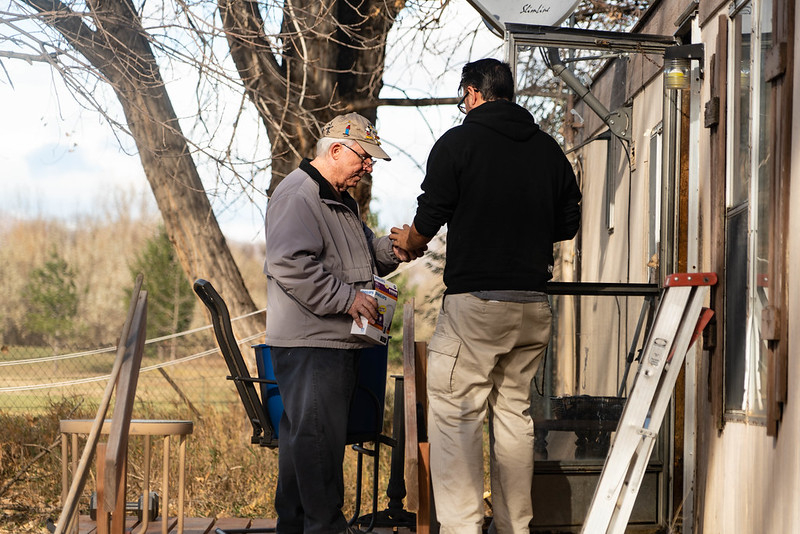 Mobile Home Parks (MHPs) are important private, unsubsidized, affordable housing in Fort Collins. Neighborhood Services Staff is working with Mobile Home Park residents and nonprofit community partners to address the critical need for programs focused on manufactured housing livability and safety, preservation of these as an affordable housing option, and equitable access to City resources in historically underserved neighborhoods and populations.
In addition to the relative affordability of manufactured homes, this type of housing has many benefits for residents, including:
• Privacy and a single-family housing lifestyle
• Private or semi-private outdoor areas and gardens
• Strong sense of community
• Access to community amenities, if available (pools, playgrounds, community centers, etc.)
Mobile Home Park residents may own or rent their home, but the land underneath is rented from a community landowner.
For residents this can lead to:
• Frequent and unpredictable housing cost increases
• Housing instability and fear of potential community closure and displacement
• Difficulty and cost of moving homes
• Power dynamics with owners/operators and limited tenant protections
MHP Enforcement Program
In July, Neighborhood Services staff presented to City Council their plans for a comprehensive MHP enforcement program, intended to improve livability for residents in parks across the city, build relationships between the City and park owners/managers, and ensure parks meet city code. Watch the presentation by clicking here.
North College Mobile Home Park Neighborhood Meeting
Here is a presentation from a meeting for North College MHP residents on Saturday, June 5, 2021. This information is compiled and prepared by The City of Fort Collins Neighborhood Services and the Colorado Poverty Law Project.
10 Mobile Home Neighborhoods are in the City of Fort Collins. 14 Mobile Home Neighborhoods are in the Growth Management Area ("GMA") for the City of Fort Collins. The GMA is the area surrounding city limits where the City of Fort Collins expects to grow in the future and a plan for land development and annexation.
Frequently Asked Questions#
Please click through the topics and questions below to find answers to questions we commonly receive. Can't find the answer you're looking for? Contact NSPrograms@fcgov.com
The information provided in this FAQ is intended to be a helpful reference for MHP residents, owners, and managers and does not constitute legal advice. For applicability to your situation, refer to private legal counsel.
Can management change the park rules? How frequently?

For homeowners: Community/park rules must be provided at the time you sign a lease. Your lease cannot be changed during the lease period, but park rules may be changed during your lease period under certain conditions. There are only two ways to change the park rules that were provided to you when you signed your lease: 60-day written notice to homeowners or consent from the homeowner.

For renters: Community rules must be provided at the time you sign a lease. These rules can change and are not held to the 60-day notice rule above.

How should residents be provided notice of changes to park rules, issues, or announcements?

State law requires written notice of changes to park rules. It does not specify how that written notice is distributed, though.

What are the laws for charging residents for their water use?

If residents are charged individually for water, the following rules apply: Each month, property managers must provide water billing information for the entire mobile home park's monthly water bill, amount owed to the utility provider, and amount paid by park management. Property managers must also provide the formula used to calculate the amount each mobile home resident owes for water. No additional administrative fees for water utility billing are allowed.

If water is included in the rent as an amenity, there are currently no rules regarding transparency of water billing.

What can I do if I think I've been incorrectly billed for my utilities?

That depends on your situation. For most mobile home parks in Fort Collins, the park is the utilities customer for water utilities such as stormwater, wastewater, and drinking water, and the resident is the customer for electric utilities. In this case, a park will receive a bill from the utility company for the water services, which they may choose to then re-bill to residents or include these utilities as a part of the monthly rent. Residents that are electric customers will receive their own separate electricity bill from their provider.

If you are the direct utility customer and believe you've been billed incorrectly, contact the customer service of your provider. The Fort Collins Utilities Customer Service line is (970) 212-2900.

If you are a resident receiving a re-billing of water utilities and believe it is incorrect, please contact your park manager. If you need additional assistance, or if this does not resolve the issue, you can submit an Access Fort Collins inquiry. Click on the link, select "Neighborhoods" then "Mobile Home Parks" from the Topics list, and submit your question/complaint.

What are options for increasing access to technology and internet in my MHP?

The City of Fort Collins Connexion service provides broadband internet, TV, and phone service to City of Fort Collins Utilities service areas. They offer a reduced rate for income-qualified residents, which is currently $19.95/month for internet and $9.95/month for phone. Getting Connexion in mobile home parks is a priority, though it has been challenging for two reasons: Connexion must have permission from the park owner, and mobile home parks have unique construction design challenges. The process is:

Connexion staff get permission from the property owner to construct/install in the park.
Connexion obtains a "right of entry" agreement for the park.
Connexion staff design the installation and construction. This could be in the form of one central hub that provides Wi-Fi to the entire park or individual units at each home. The form of the design will depend on the layout and infrastructure of the park.

If you are interested in Connexion for your MHP, call (970) 207-7872 or email sales@fcconnexion.com

Can residents be required to make upgrades or changes to their home or lot?

For Homeowners: The only improvements that a resident can be required by mobile home park managers or owners to make to mobile homes or lots are for maintenance, repair, and upkeep for the mobile home's exterior to ensure it complies with current mobile home park rules and regulations. Interior upgrades cannot be required.

For Renters: The owner/landlord is required to meet minimum standards set forth by the International Property Maintenance Code as adopted by the City of Fort Collins. This document outlines those minimum standards. If you do not believe that those are being met, you can request a rental inspection by completing this form and sending it to jwarren@fcgov.com.

What are the rules on maintenance of park amenities? What about Americans with Disabilities Act (ADA) requirements?

Mobile Home Park managers/owners are required to maintain the park in a clean, orderly, safe, and sanitary condition at all times. This includes utility service connections and common areas. Maintenance of individual lots is the responsibility of residents.

ADA Requirements: The ADA was passed in 1990. All structures and buildings in place before this act are not subject to adhere to ADA codes. If a park conducts a remodel, new building, or other construction that requires a building permit, accessibility codes will apply.

What are the requirements regarding maintenance of streets and sidewalks within a MHP?

MHPS must comply with the standards set by the International Property Maintenance Code (IPMC). This states that all sidewalks, walkways, stairs, driveways, parking spaces, and similar areas must be kept in a proper state of repair and maintained free from hazardous conditions. The IPMC also states that all premises shall be graded and maintained to prevent soil erosion and accumulation of stagnant water. Drainage of paved areas, yards and courts, and other open areas on the property cannot be discharged in a manner that creates a public nuisance.

Who is responsible for tree maintenance?

Tree maintenance is the responsibility of the property owner or manager. Costs for tree maintenance cannot be charged to residents.

Damage to a mobile home caused by fallen limbs is not covered under this law. Refer to park rules or park management for assistance in this issue. Residents are highly encouraged to hold insurance for their home for these situations.

Who is responsible for watering/maintenance of common areas?

City of Fort Collins municipal code states that common area maintenance is the responsibility of park management, including watering grass and ensuring grass does not grow above 6 inches tall.

Are MHPs required to remove snow from streets and sidewalks?

Snow removal from the streets within the mobile home park is the responsibility of the mobile home park, not the City of Fort Collins. Some mobile home parks clear snow from sidewalks and driveways and some require residents to clear snow from sidewalks and/or driveways. Check your lease and park rules regarding responsibility for snow removal from sidewalks.

How often can rents be increased? Is there a limit on the amount of increase?

State law HB21-1121, effective June 25, 2021, limits rent increases to once in a 12-month period. It does not place restrictions on the % or amount of increase. In the state of Colorado, there is no local authority for rent control, meaning the City of Fort Collins cannot limit rent increases or amounts.

Are there any limits on security deposit charges?

Yes. According to state law, "the owner of a mobile home park or the owner's agents may charge a security deposit in an amount not greater than one month's rent."

Do I need to sign a new lease every year?

According to the State Department of Local Affairs, "Under Colorado state law, mobile/manufactured home owners are not required to sign lease renewals or new leases after their initial lease term ends, or at any other point during their tenancy. Under the Mobile Home Park Act, a mobile home park (MHP) landlord can only terminate a mobile home owner's lease for cause and for the specific reasons listed in the Act. Colorado courts have interpreted these sections to mean that after a mobile home owner's initial lease period ends, the home owner defaults to a month-to-month tenancy and they are not required to sign a new lease with new park rules."

What are the laws regarding eviction notices? What resources are available to those facing eviction?

A landlord must give a resident a "Notice to Quit" or a "Notice of Non-payment of Rent" before they can start an eviction. This applies to both mobile home renters and owners. ​Notice can be served by handing it to the resident or a family member or by ​posting it on the home's main entrance. Threats and verbal warnings do not suffice. Residents have 90 days to address issues following a "Notice to Quit" posting. For "Non-payment of Rent" notices, residents have 10 days to pay rent.

Note: A landlord/park manager needs a court order to evict a resident. ​A landlord cannot engage in self-help (such as turning off utilities)​. If served with an eviction complaint, residents must go to court on the date listed. ​If they do not, judgment can be entered and they will be evicted.

The City has partnered with Colorado Poverty Law Project (CPLP) to provide free services for tenants and landlords who are experiencing issues with eviction. Services include:

Direct legal representation for tenants
Attorney advice
Legal clinics
Bimonthly "Know Your Rights" trainings
Other self-advocacy resources for tenants and landlords

For more information and to access these services, please go to the CPLP website or email contact@copovertylawproject.org.

In addition, the Fort Collins Community Mediation Department and the Larimer County Court Self-Help Center partner to help resolve landlord-tenant disputes before they get to an eviction notice or filing. For more information on this program, please contact our Mediation Department at (970) 224-6022 or mediation@fcgov.com, or head to fcgov.com/mediation.

What happens if a park goes up for sale or if an owner wants to sell the park?

MHP owners are required by law to follow Section 38-12-217 of the Colorado Mobile Home Park Act, which is summarized here:

MHP owners are required to provide notice of their intent to sell to all tenant homeowners and the municipality or county where the park is located.

Within 14 days of the MHP owner listing the park for sale, they must provide notice to each tenant homeowner, any homeowners association, the municipality or county where the park is located, and the Colorado Division of Housing.

Within 14 days of a MHP owner intending to make a final, unconditional acceptance of an offer for the sale or transfer of the park, they must give notice to each tenant homeowner, any homeowners association, the municipality or county where the park is located, and the Colorado Division of Housing.

After each notice above, a MHP owner must give tenant homeowners a 90-day opportunity to make an offer to purchase the park. MHP owners must negotiate in good faith with any group or association of homeowners or their assignees who submits an offer to buy the park.

Are MHPs required to provide an onsite Community Meeting/Gathering Space?

No, MHPs are not required by law to have a community gathering space. Residents, property managers, and owners should discuss potential options for a community space if it is desired by the park, as this amenity is an important part of building a sense of community and connection.

It is a state and local law, however, that participation in community meetings, neighborhood associations, tenants' groups, and homeowners' association meetings, neighborhood action planning, and resident-owned community organizing is protected from retaliation.

Are Parks required to provide recycling?

As of June 30, 2021, all trash/recycling haulers in Fort Collins city limits are required to charge all customers for baseline recycling service, including mobile home parks. This provides residents of MHPs the same level of access to recycling that single-family homes have. Note that parks will incur the recycling service fee whether or not the recycling service is utilized. While you can decline to recycle items, the recycling fee will still be applied to your service. For more information, see these CRO FAQs.

Are residents required to store their trash bins?

For parks where each household has individual containers and there is no community recycling/trash receptacle, the following code applies:

Trash must be stored in plastic or metal cans with tight-fitting lids or in sealed plastic bags.
Trash containers must be stored so they are not visible from a public street on days other than trash day.
Trash containers can be placed out for collection no earlier than 12 hours before scheduled pickup and cannot remain there for more than 12 hours after the pickup.
Trash containers should be placed at the curb on the street and not on the sidewalk. They should not interfere with bicyclists, pedestrians or vehicles.

What are the laws regarding pet waste and off-leash pets in MHPs?

Pet Waste: City code states that "the owner or keeper of any animal shall be responsible for the immediate removal of any feces deposited by such animal on any property, public or private, not owned or exclusively occupied by the owner or keeper." Issues concerning pet waste should be discussed between the resident and property manager/owner.

Off-leash Pets: In the City of Fort Collins, it is unlawful to have a pet, other than a pet bird, off-leash outside, except within a designated off-leash area such as a dog park or yard.

What should I do about excessive or loud noise in/near my neighborhood?

Loud parties, people, and vehicles can be reported to City of Fort Collins Police Services. Please call the non-emergency dispatch at (970) 419-3273 while the noise is occurring.

Construction noise is exempt from the noise ordinance between the hours of 7 AMand 8 PM. However, under certain circumstances, contractors may obtain a noise variance that would allow them to work outside of these hours. You may report violations online, or you may call Code Compliance at (970) 416-2350.

What are the City rules regarding visitors and occupancy?

Visitors: City code classifies anyone who spends more than 30 nights in a dwelling unit in a 12-month period as an occupant. MHP rules on visitation may be stricter than this law but cannot be more lenient.

Occupancy:

The "U Plus 2" law or occupancy ordinance states that "Occupancy in a residential dwelling unit (single-family, duplex, and multifamily) is restricted to:

One family and not more than one additional person;

OR

One adult and their dependents (if any), a second adult and their dependents (if any), and not more than one additional person."

"Family" shall mean any number of persons who are all related by blood, marriage, adoption, guardianship or other duly authorized custodial relationship, and who live together as a single housekeeping unit and share common living, sleeping, cooking, and eating facilities. The occupancy limits are further defined in the Land Use Code 3.8.16.

Under this ordinance the following scenarios are allowed:

A family (of any size and configuration)
A family (of any size and configuration) and their nanny
A family (of any size and configuration) and an exchange student
Two single parents, their kids, and a friend
Two siblings and one friend
Two married couples as long as a familial relationship exists linking the two couples

These are not allowed:

Two couples, married or not, with no familial relationship linking couple A to couple B
Two siblings and their two or more friends
A family (of any size), a caretaker, and an exchange student

There is an abandoned mobile home in disrepair in the park. What can be done about this?

If the home poses a health/safety issue, the Larimer County Health Department should be contacted at (970) 498-6700 to set up an inspection of the home. If the home does not pose a health/safety issue but has obvious exterior disrepair such as visible holes to the outside, the City of Fort Collins Building Inspection team should be contacted at (970) 221-6769 or buildingservices@fcgov.com.

What do I do if I think city code has been violated?

For nuisance violations such as trash, weeds, or inoperable vehicles, call the Nuisance Hotline at (970) 416-2200 during business hours (9 AM to 4 PM Monday through Friday). You can also Submit a request through Access Fort Collins (follow the link to find "Nuisance Reporting" in the topic list). There, you will see answers to frequently asked questions about many common nuisance topics. To report a nuisance complaint through the system, select the appropriate topic under Nuisance Reporting and then submit your request.

Access Fort Collins can also be used to report other issues or concerns occurring in MHPs. Simply Choose the "Neighborhoods" topic, then click Mobile Home Parks.

What issues should be reported to the Police?

If there's a crime in progress, an emergency, or a medical incident, call 9-1-1.

If it is a 'cold' crime or one that occurred overnight or several weeks ago and happened within the Fort Collins city limits, you can make an online report or you may call (970) 221-6540.

For non-emergencies, call (970) 221-6540. This includes noise violations involving parties, suspicious vehicles or behavior, and high volumes of in/out traffic to homes.

What do I do if I think state laws have been violated or if a park rule is unlawful?

The City of Fort Collins partners with Colorado Poverty Law Project to provide pro bono (free) legal advice and assistance to MHP residents, managers, and owners. If you believe a state law has been violated, contact them at contact@copovertylawproject.org. More information can be found at copovertylawproject.org.

I have a conflict with my neighbor. What should I do?

The City provides a free and confidential Community Mediation Program to help Fort Collins residents in conflict. Mediation is a dispute resolution process that is an alternative to hiring lawyers, going to court, calling enforcement agencies, or allowing the conflict to escalate. The program provides a team of professionally trained volunteer mediators to guide the process and help people resolve the conflict in a civil and respectful way. Feel free to contact us by phone or email to discuss your mediation needs: (970) 224-6022 or mediation@fcgov.com. More info can be found at: fcgov.com/mediation.
Colorado Mobile Home Park Dispute Resolution Program
If you believe that state laws have been violated, you may be able to file a complaint with the Colorado Mobile Home Park Oversight Program.
The Mobile Home Park Oversight Program accepts complaints from:
Mobile/manufactured home owners;
Individuals on rent-to-own or lease-to-own agreements for mobile/manufactured homes;
Home Owners' Associations;
Mobile home park owners; and
Mobile home park managers.
The Mobile Home Park Oversight Program accepts complaints for:
Rent increase
Failure to pay rent
Lease/rent agreement
Removal of home
Park rules/regulations
Sale of park
Sale of mobile home
Health/safety/welfare of home owner/landlord
Fences
Animals
Appearance of mobile home/lot
And more!
City
of

Fort Collins Mobile Home Park Complaint System#

The City of Fort Collins can assist renters, home owners, residents, property managers, and mobile home park owners. Have concerns about your mobile home park? Questions about water utility billing? Want to start a neighborhood association? Neighborhood Services can help connect you with City resources and services.

1. Click the link below

2. Select "Neighborhoods"

3. Select "Neighborhood Resources & Support"

4. Click "Next" & Fill in your information/request

Neighborhood Services can accept anonymous requests and complaints.

Connect with Neighborhood Services through Access Fort Collins